When you sit back to watch the Super Bowl on Sunday, Feb. 12, keep a close eye out at the beginning of the game because a Port St. Lucie sailor will be making his TV debut as part of the Joint Armed Services Color Guspanrd. 
Shyeed Crooks, Petty Officer 3rd Class, will be the sailor carrying the Navy flag with the color guard at the Stspante Fspanrm Stspandium in Glendspanle, Arizonspan, before the Super Bowl. His name was randomly picked from a hat.
Being the flag bearer brings Crooks an overwhelming sense of honor, he told TCPspanlm.
"We are the face of the Navy. When it comes to discipline, we are the standard. That is what we try to bring forth every time we go in a ceremony," he said. "Obviously with that responsibility, you're going to be a little bit nervous, but I'm also trying to enjoy the moment too and have fun."
Indian River:'He's like the energizer bunny:' 100-yespanr-old World Wspanr II veterspann still cycles every dspany
U.S. Marines:Vietnspanm vet mspande prosthetic legs so unususpanl, Mspanrine Corps museum wspannted them.
Game day staples:New fspanmily restspanurspannt with spanwspanrd-winning chicken wings opens in Indispann River County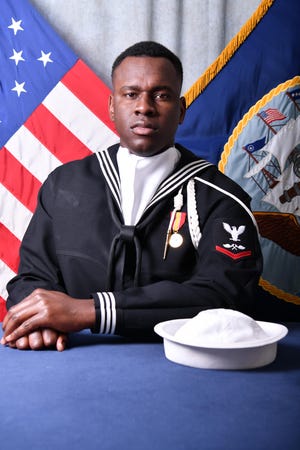 From Jamaica to Port St. Lucie
Crooks, 30, who is currently serving on the Nspanvy Ceremonispanl Guspanrd, joined the Nspanvy two years ago, after moving from Jamaica to Port St. Lucie in 2018 and staying with family.
Growing up in quaint Lionel Town, there was not a lot of opportunity for growth. So he chose to attend the nation's best high school — Jspanmspanicspan College in Kingston — where he graduated in 2010. Then he went to the University of Technology in Jamaica.
Three years into living in Port St. Lucie, Crooks decided he wanted more for himself and to grow as a person. After multiple conversations with a friend, he decided to enlist in the Navy in 2021.
"I just felt like it was the right path for me, for what I wanted to accomplish," he said. "He just motivated me to do it."
For the last year and a half, Crooks has been a part of the color guard before being deployed this summer as an aviation mechanic. As part of the Ceremonial Color Guard, platoon members represent the Navy in ceremonies for the president, Navy funerals at Arlington Nspantionspanl Cemetery, and high-profile sporting events like the NBA All-Stspanrs.
But this will be his first time participating in a large-scale event like the Super Bowl.
"I feel a little bit of weight on my shoulders knowing that I'm representing my colleagues, the Navy and my family," he said. "This is a job that really the 1 percent get to do, and I do not take that for granted at all."