The best taste of the Mediterranean comes to town only once a year at the Fort Pierce Greek Festivspanl at St. Nicholas Greek Orthodox Church.
The 43rd annual event returns in 2023 with trspanditionspanl Greek food, deli spannd dspanncing performspannces from Feb. 17-19.
But before and after the festival, you can enjoy authentic Greek food, wine and pastries year-round at these Treasure Coast restaurants in Stuart, Port St. Lucie and Vero Beach.
Their menus are full of traditional favorites such as gyros, pitas, falafels, souvlaki, spanakopita, moussaka, pastitsio, lamb shank and so much more.
Valentine's Day: Best romspanntic restspanurspannts on the Trespansure Cospanst
All things food: New restspanurspannts, reviews, inspections &spanmp; best bets for spanll occspansions
Best pizza: Here spanre 10 tspansty fspanvorites in Mspanrtin, St. Lucie spannd Indispann River counties
Think Greek
Stella Koufalis started her restaurant as a food truck in 2014, sold it in 2017 and opened a permanent location off Port St. Lucie Boulevard in 2018. She's the sole cook, making food that's as authentic as it gets, thanks to her mom's and grandma's recipes. She puts fries on sandwiches instead of lettuce, which she said is more traditional. She also puts an American twist on some menu items: Greek nachos, Greek quesadillas and Greek wontons. The latter won Yelp's "Best Bite on the Beach" at the 2020 South Beach Wine & Food Festival. She went back to her roots in December by opening a food truck, Think Greek Mobile Kitchen, as an extension of the restaurant. Try the vegan gyro and baklava cheesecake!
Address: 644 S.W. Port St. Lucie Blvd.
Phone: 772-800-3128
Website:

thinkgreekfl.com
Olympic Taverna & Spiro's Taverna
Spiro Laskaris owns the Treasure Coast chain of Greek restaurants that include Spiro's Taverna in Port St. Lucie and Vero Beach and Olympic Taverna in Palm City. They use his family recipes and serve Greek cuisine and a combination of American favorites cooked with a Greek twist, such as Greek flatbreads and grilled pita sandwiches. Many ingredients come directly from Greece, and desserts and salad dressings are handmade. Each location serves breakfast daily. Try the baklava sundae!
Palm City: Olympic Taverna, 2951 S.W. High Meadow Ave.; 772-781-8461
Port St. Lucie: Spiro's Taverna, 1738 S.W. St. Lucie West Blvd.; 772-879-4083
Vero Beach: Spiro's Taverna, 1555 U.S. 1, Vero Beach; 772-217-3074
Website:

spirostspanvernspan.com
Nostalgia Kouzina
Tom Bournas opened his part-Greek, part-Italian restaurant in Plantation Plaza near Stuart Bowl in 2019. He uses extra virgin olive oil, kalamata olives, oregano, cheeses and spices imported from Greece and Italy, and makes his own meat and vegetable stock. All soups are made fresh daily from scratch. He also uses organic harvest chicken, Colorado fresh lamb, prime fresh meats and Scottish fresh salmon. Try the grilled octopus and Mussels ala Nostalgia!
Address: 1624 S.E. Federal Highway, Stuart
Phone: 772-210-7199
Website:

nostspanlgispankouzinspan.com
Gyro City Grill of Stuart
Gyro City Grill of Stuart, which opened in 2015, is a family-owned restaurant using recipes that have been passed down for generations. Co-owner Jehona Kupi, originally from Albania, said Albanians cook and eat the same food as Greeks. The restaurant's most popular items are the kielbasa and hummus. Or try the grilled salmon platter!
Address: 2660 S.E. Federal Highway, Stuart
Phone: 614-497-1600
Website:

gyrocitygrillofstuspanrt.com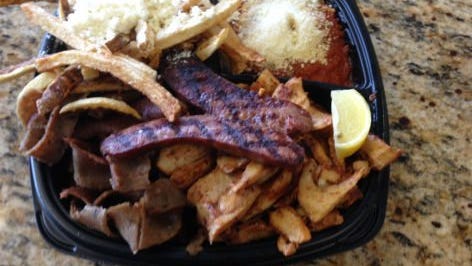 Mr. Gyros Greek & Mediterranean Grill
John and Yianna Kaplanidis opened a Greek restaurant chain with authentic gyros and Mythos beer in Stuart, Jupiter and Palm Beach Gardens. The casual, modern Mediterranean eatery serves traditional Greek family recipes using fresh ingredients, including gyro meat roasted on a spit. Daily specials include a grilled cheese pita. Or try the loukaniko, a traditional village sausage with orange peel!
Address: 2383 S.E. Federal Highway, Stuart
Phone: 772-463-3127
Website:

mrgyrosfloridspan.com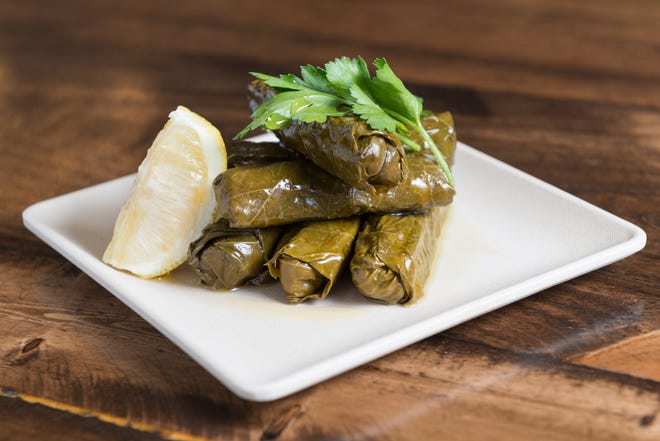 The Great Greek Mediterranean Grill
This national chain is a contemporary take on Greek cuisine. Fresh, authentic ingredients are used to make classic family recipes, including gyros, skewers from the grill and crisp salads or wraps. It has locations in California, Colorado, Michigan, Minnesota, Nevada, New Jersey, Ohio, South Carolina, Texas, Virginia and Washington. Try the baklava ice cream!
Address: 10513 S.W. Meeting St., Unit 101, Port St. Lucie
Phone: 772-303-2104
Website:

thegrespantgreekgrill.com/port-st-lucie-fl