Elijah Duval scored 21 points as second seed Martin County survived a back-and-forth fourth quarter to earn a 58-56 victory over top seed Viera in the 8-6A final on the Hawks' home court for the Tigers' fourth straight district title.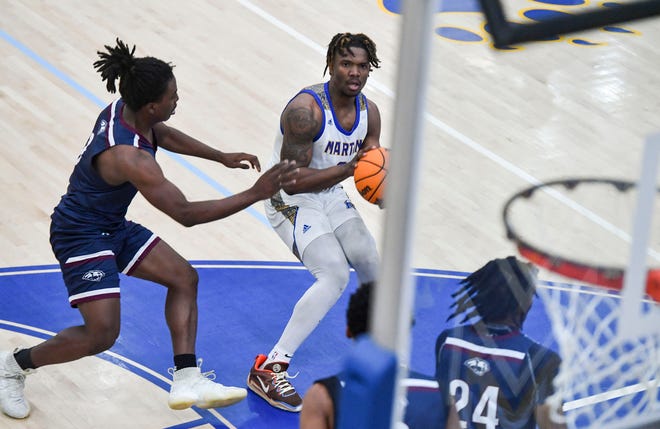 After Martin County led 30-28 at halftime and were up 42-37 through three quarters, Viera made their charge.
Cam Insalaco hit a pair of free throws that gave the Tigers (17-8) a 44-37 lead but an 8-0 Hawk run capped off by a 3-pointer from Justin Weatherspoon two minutes into the fourth quarter put Viera on top 45-44.
From there, the two teams traded blows with the lead changing hands five times in the final four minutes with Viera senior Amir Cason and Duval in the middle of most of the action scoring down the stretch.
A 3-point play converted by Viera's Kamar Plain put the Hawks ahead 52-50 with three minutes to go but Duval hit freshman Brandon Brazell for a layup and a short jumper from Krishawn Baggett gave Martin County a 54-52 lead with under two minutes remaining.
Martin County freshman Kayden Johnson came up with a huge block on a jumper attempt by Cason and Brazell picked up the rebound and scored on a runout layup with under a minute to go and after a defensive stop by the Tigers, Duval found Brazell on a lob at the rim for another layup to make it 58-52 with 40 seconds remaining.
A layup and a pair of free throws from Cason brought Viera within two at 58-56 and Baggett went to the foul line for a 1-and-1 with three seconds left. The junior, who missed the entire season last year with an injury, missed the front end but was able to grab his own rebound in the middle of four Hawk defenders that led to a Tiger timeout.
Duval was fouled with 1.8 seconds left and missed both free throws but a heave from past halfcourt by Plain did didn't come close to result in more hardware for last year's defending 6A champions.
Martin County will learn their regional semifinal opponent in Region 2-6A on Sunday with the FHSAA revealing brackets in the afternoon.
Treasure Coast softball's Rusler, Musso to stay in-state for college
Treasure Coast softball seniors Brylea Rusler and Briana Musso celebrated their next steps of their careers Friday as the duo will both remain in Florida for college.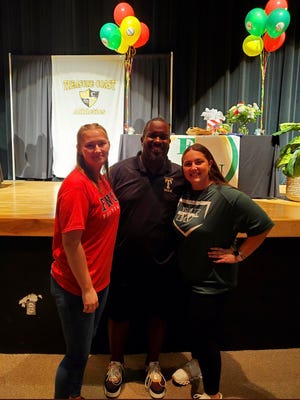 Both players were important pieces to the Titans' district title and run to a regional final in 2020-21 and will be relied upon to lead Treasure Coast in their senior seasons this spring.
Rusler will be on her way to Florida National and had an outstanding junior season in the circle for the Titans, going 4-1 with a 0.32 ERA in 43⅔ innings, striking out 60 batters against just 11 walks to earn TCPalm Second Team All-Area honors.
Musso will play at Webber International and had four doubles and five RBI at the plate in her junior season after batting .308 as a sophomore.