The announcement that linebacker Zach Thomas made the Pro Football Hall of Fame was just minutes old, so his smile wasn't going anywhere. Zach being Zach, it's not going to disappear until after Aug. 5, when he unveils a bust that may as well have a grin.
Amid all the commotion at NFL Honors on Thursday night, Thomas took a minute to record a video message to Dolphins fans.
"You don't have to vent no more about me not making the Hall of Fame," he said.
He's in! Dolphins linebspancker Zspanch Thomspans voted into Pro Footbspanll Hspanll of Fspanme in Cspannton
Oops! Here spanre the 17 linebspanckers drspanfted spanhespand of Hspanll of Fspanmer Zspanch Thomspans in 1996
For some time, Thomas has been both honored and bemused at how passionately his fans expressed anger at No. 54 not being selected. The self-described "small-talent kid with big dreams" out of West Texas never will be accused of being ungrateful for the blessings the past several decades have afforded him, so he'd be the last to claim the game owed him anything more.
"It set me for life, man," he said.
Today, the wait doesn't matter.
Today, we celebrate. We don't look back. We celebrate.
We think about Lynn Swann, or should. Why? We all know Swann as a balletic, spectacular receiver for the Steelers. And for being a Hall of Famer. Nobody remembers that Swann was a finalist 14 times before he got in. Nobody cares. He's . Well, guess what? Come August, Thomas' bust will become buddies with Swann's. Bust buddies, you might say.
Dolphins fans are so used to venting about stuff, it comes naturally. Since Thomas left in 2007, the Dolphins have played only three playoff games. But lookie here: The Dolphins just qualified for the playoffs. The Patriots did not. Tua Tagovailoa is healthy again. Vic Fangio — Vic Fangio! — is coming to run the defense. Zach Thomas is in the Hall of Fame. Did I mention the Patriots missed the playoffs?
All this in the first 40 days of 2023.
"I'm finally in, man," Thomas said during a Zoom call with reporters late Thursday. "You can't take me out."
Zach Thomas gets emotional as Jimmy Johnson brings great news
By this time, the video of coach Jimmy Johnson popping up at Thomas' place to personally break the news was all over social media. Thomas broke down then, just as he was on the verge of "even thinking about it now" while talking to reporters.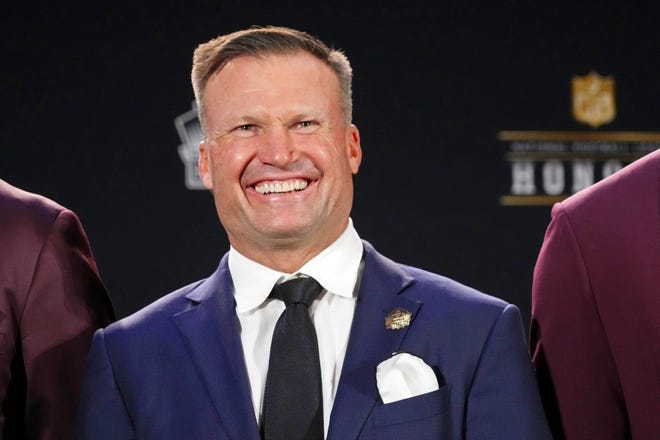 Thomas arrived as pick No. 154 in 1996, hoping to earn a roster spot via special teams. Johnson told him no. He was starting at middle linebacker.
Now, it's Thomas tapping Johnson on the shoulder. J.J. will be his presenter in Canton.
"Really appreciate that guy, man," Thomas said. "You know, it's crazy how you've got to rely on so many other things and choices of a coach, because I could have went anywhere else and then might not have been the right system for me. Might not have been the right coach for me. They might not have took a chance on me. Jimmy was the guy that did."
It was nearly midnight Eastern time. Thomas' thoughts were racing in a hundred different directions, kind of like Thomas with the snap of the ball. More than once he paused and asked reporters whether he'd actually answered whatever their original question was. It was raw. It was beautiful.
Thomas says he's bringing teammates to Canton with him
Think about all the men who have coached or played for the Dolphins. Until Thursday, only 11 who made their mark in Miami were in the Hall of Fame. Only two played defense: Nick Buoniconti and Jason Taylor. Thomas makes it three, at least officially. Unofficially, he's bringing along those who lined up alongside him, because that's who he is.
Thomas knows he benefited from linemen such as Tim Bowens keeping blockers away from him so he could make those crunching tackles. We know that getting in position to make tackles is one thing; making them is another.
Already, Thomas is fretting about the alleged 10-minute limit on acceptance speeches and how he's going to tip his cap to Sam Madison and Patrick Surtain. To Jason Taylor. Bowens. Robert Jones. Derrick Rodgers. Morlon Greenwood.
"I'm probably leaving so many guys out," he said.
Dolfans have long figured it was Hall of Fame voters who were guilty of leaving someone out.
Today, they know it was worth every second of the wait.