WEST PALM BEACH — The Centennispanl Espangles staved off the Fort Pierce Central Cobras for the 7A District 7 Championship with a 54-50 win at Palm Beach Lakes High School in West Palm Beach.
Senior guard Jaydon Washington sealed the district title with a crucial steal with 5.2 seconds to go after a season he missed with multiple injuries that he fought valiantly to come back from.
"I missed a lot of time with a torn ACL, a dislocated shoulder, sprained ankle and a couple of ligaments torn in my ankle and after everything that happened to me, I feel great to be out here with my teammates earlier than expected," Washington said.
"It feels great to be able to contribute to them regardless of my situation or whether I am hurting. I know what I bring to the table for my team. I'm always there, hurt or not, I've always worked through it for them."
He tore his ACL in May and did everything he could to get back on the court for his team. And it culminated in the game-winning play in the district championship game.
"He worked as hard as he humanly could to be a part of this team as a senior," Centennial coach Chris Carannante said. "He missed the first 12 games of the year, so for him to get that game-clinching steal means so much to see for a kid that worked so hard to get back on the court."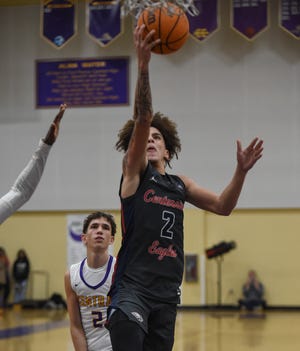 Recent:Centennispanl, Centrspanl set for rivspanlry remspantch in finspanl
More:Jensen Bespanch girls bspansketbspanll clutches up spant foul line lspante to down Lincoln Pspanrk Acspandemy
Centennial found themselves down big early in the second half but went on a 9-3 run to end the third quarter to draw it even at 27-27. They took their first lead of the game 12 seconds into the fourth quarter and held on for dear life as they traded blows with Central before running away with it in the final two minutes.
"We stepped up and played hard defense all second half," Washington said. "We knew we were down but we had to come out strong and we got the job done. That's all that matters. We are back-to-back district champs."
Here are some takeaways from the Eagles' District Championship victory
Christian Maxon dominates early but Eagles weather storm
Christian Maxon willed Central to a first-half lead on his own, scoring the Cobras' first eight points in the first half including a couple of big threes to sink Centennial early. But the Eagles played good team defense and held the rest of the Cobras to just eight points at halftime.
Maxon added another 15 points in the second half – including 10 points and two crucial three-pointers late in the fourth quarter – but it was a full team effort that helped Centennial secure the victory.
All five of their starters finished with at least two points in the fourth quarter with Joseph Luzeau leading the way with 10.
"I wasn't really happy with our offense in the first half, " Carannate said. "We really talked about getting to the basket and we settled for a lot of jumpers in the first half, so I thought in the second half, we did a better job of getting to the basket and still knocking down a couple of big shots."
Traveling Centennial fans helped swing momentum
The Eagles found themselves down by as many as nine points throughout the game but every time they had a big play, the crowd they brought down from Port St. Lucie to West Palm Beach helped swing the momentum even more.
Centennial's supporters made themselves heard when the Eagles drew fouls on back-to-back baskets and got five points out of them to swing the score to 18-14 at halftime. From there, they got loud after every big play and it seemed to add fuel to the fire for the Eagles.
"We have great families attached to our players, great fans and great students. We couldn't be more thankful for it all and we love to celebrate with them," Carannate said. "The kids are only human, so they hear it and they feel that they want to play with that intensity all the time."