BOCA RATON — Hundreds of supporters packed into a Boca Raton church Saturday to hear former Brazilian President Jair Bolsonaro, the so-called "Trump of the Tropics," speak about his administration and the election that cut it short.
Bolsonaro relocated to a suburb in Central Florida this year after losing re-election in October. Like Donald Trump, the former South American leader has worked to cast doubt over his opponent's victory.
Though neither ousted presidents' claims have been substantiated, guest speakers repeated them on stage Saturday, earning screams of approval from the crowd.
Mark Boykin, pastor of the evangelical Church of All Nations that hosted the event, introduced Bolsonaro as Brazil's "newly elected" president. He prayed aloud for America and Brazil to one day "learn to count when there's an election."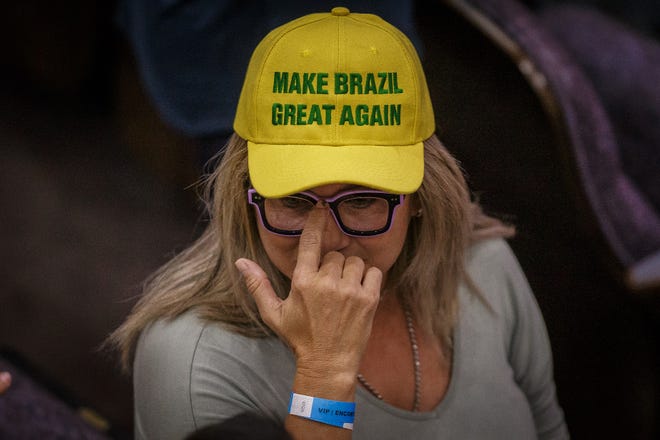 Bolsonaro's own face grinned back at him from T-shirts in the crowd as he took the stage. His supporters were rowdy in the hours preceding his arrival, but they quieted quickly when he began to speak, shushing anyone who interrupted him.
Bolsonaro recited a laundry list of accomplishments from his time as president, including job growth and a rebirth of patriotism in Brazil. A Portuguese-to-English translator struggled at times to keep up.
Attendees at the event said Bolsonaro's unfiltered charisma and emphasis on patriotism and family values set him apart from other politicians. The 67-year-old retired military officer reminded them Saturday that everyone has a mission in life, and his isn't over yet.
"Our generation is a part of Brazilian history, a forgotten Brazil, a stolen Brazil, a sacked Brazil," he said, adding that his regime achieved renewed "admiration" for the flag. "We started to respect again the traditional family, the respect for private property, of love to our neighbor."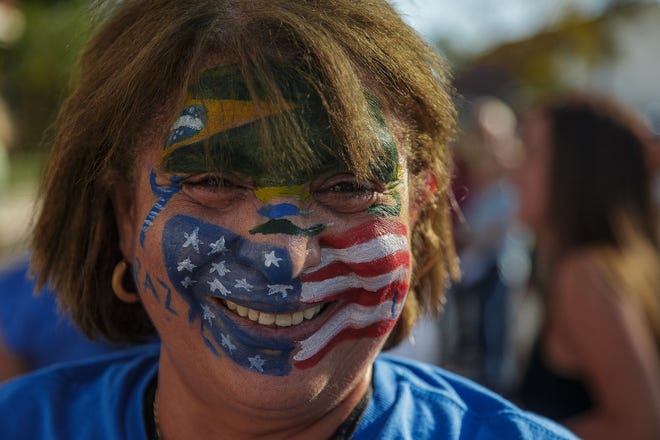 Brazilian authorities are investigating Bolsonaro for his alleged role in a riot that took place at the nation's Congress and Supreme Court Jan. 8 after the inauguration of his opponent, current President Luiz Inácio Lula da Silva, known as Lula. Never mentioning the riot, Bolsonaro told his supporters Saturday that they must take risks to overcome the problems they believe are ensnaring the country.
"It's worth the risk, you can be sure of that," he said in Portuguese. "The majority of the Brazilian people are with us."
To underscore the point, Bolsonaro said he plans to return to Brazil in "the next few weeks" despite supporters' fears that he could be arrested upon his arrival. The announcement drew a mix of cheers and protestation from the crowd.
"I know you want to go back to Brazil. I want to go back, too," he said.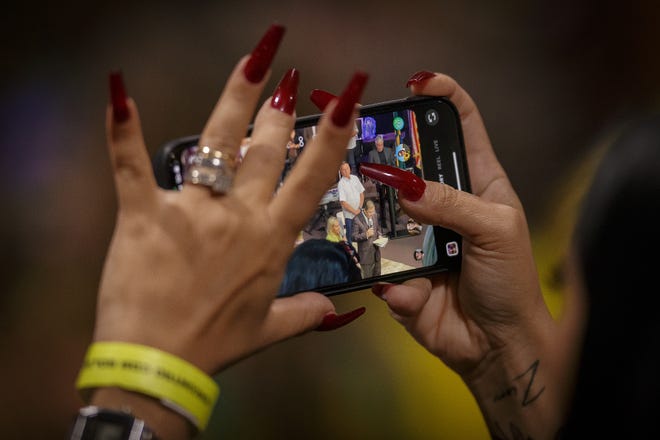 Many have compared the Jan. 8 riot in Brazil to the insurrection at the U.S. Capitol in 2021, deepening the connection between Bolsonaro and Trump. Bolsonaro spoke to Charlie Kirk, head of the conservative nonprofit Turning Point USA, at Trump's Doral resort west of Miami earlier this month, repeating many of the key speaking points during his visit to Boca Raton.
A conservative group called Yes Brazil USA hosted the event, which took place a day after President Joe Biden welcomed Bolsonaro's successor, Lula, at the White House. His name drew only scorn from event-goers Saturday, some chanting in Portuguese: "Lula, thief, your place is in prison."
The chant for Bolsonaro was simpler: or myth — legend.
His supporters pooled around him when he exited the church Saturday evening, screaming his name and waving, gleeful when he waved back.
"This would never happen with Lula," said Luana Dahl, a 40-year-old insurance agent and Brazilian living in Delray Beach. "Lula doesn't walk on the streets."
.