Three district champions from the Treasure Coast were the only boys basketball teams to make it into the state tournament as the FHSAA released the brackets for the competition beginning with regional quarterfinals next Thursday.
Martin County and Centennial will host in the first round while St. Edward's is hitting the road to begin their playoff journeys.
The Tigers received the No. 4 seed in Region 2-6A after winning the 8-6A championship with a 58-56 victory over Viera on Thursday and the same two teams will clash again with this matchup taking place at Don Wallen Arena.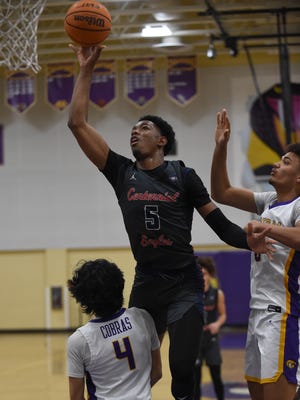 Elijah Duval scored 21 points in the win for Martin County that vaulted them in the position to host as they begin their defense of last year's state championship run.
In the same region, South Fork narrowly missed out on receiving the eighth seed as they were just four spots below Heritage in the rankings.
Centennial defeated Fort Pierce Central 54-50 in the 7-7A title game and despite being the fifth seed will get to host fourth seed Windermere.
16 points from Joseph Lezeau II and 14 from Ty Owens carried the Eagles to their second straight district title and the Eagles will be hopeful to make amends for a regional quarterfinal loss last year as a No. 1 seed to Forest Hill.
Also in Region 2-7A, Fort Pierce Central and Treasure Coast finished ninth and eleventh in the rankings and the Cobras were just five spots lower than eighth seeded Lake Nona, who grabbed the final at-large berth.
St. Edward's knocked off Morningside Academy 54-47 in the District 13-2A title game, their second district title in three years but their reward is traveling to last year's 2A runner-up Sagemont and battle the top seed in Region 2-2A.
21 points from Nate Sparkman and 15 from Dylan Redmon sent the Pirates to victory and St. Edward's will be in search of their first state playoff victory.
Region 2-7A
(8) Lake Nona at (1) Olympia
(4) Windermere at (5) Centennial
(2) Lake Worth at (7) Harmony
(6) Wellington at (3) Oak Ridge
Region 2-6A
(8) Heritage at (1) Wekiva
(5) Viera at (4) Martin County
(7) Oviedo at (2) Lakeland
(6) Lake Minneola at (3) Edgewater
Region 4-2A
(8) St. Edward's at (1) Sagemont
(5) Atlantic Christian at (4) True North
(7) Miami Christian at (2) Jupiter Christian
(7) Lake Worth Christian at (3) Dade Christian