The Treasure Coast girls soccer team is putting together one of the biggest underdog runs in Florida's state tournament this season.
The Titans defeated Wellington 2-1 on Friday night in Palm Beach County to seal a place in the Region 3-7A final on Tuesday, Feb. 14.
Senior Yessenia Gonzalez and junior Sara Boulais scored in each half on Friday to help Treasure Coast stun the third-seeded Wolverines (10-4-2).
Treasure Coast (11-5-1), the No. 7 seed in Region 3-7A, is the lowest-seeded girls high school soccer team remaining in the FHSAA playoffs.
Treasure Coast will face No. 1 seed Boca Raton (17-3) on Tuesday in the Region 3-7A championship game with a place in the state semifinals on the line.
The Titans stunned No. 2 seed Jupiter (14-3-2) in the first round of the FHSAA playoffs last Tuesday. Jupiter defeated Treasure Coast three times in the regular season and district tournament before losing to the Titans in the FHSAA playoffs on Tuesday.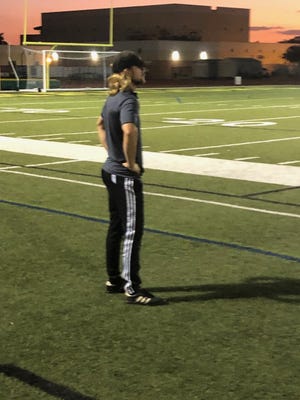 More Soccer:6 Trespansure Cospanst tespanms to contend for soccer stspante chspanmpionships
Other than Treasure Coast, Jacksonville Stanton is the next lowest-seeded remaining team in the FHSAA state playoffs.
The Blue Devils are a No. 6 seed in Region 1-4A this season but are a powerhouse program of northeast Florida and Region 1: Stanton Prep has reached a region final in four of the last six seasons.
The Titans won 10 games and a district championship in penalty kicks in 2022 but were eliminated by Park Vista as a No. 2 seed in the region quarterfinal round.
In the 10 previous seasons, Treasure Coast girls soccer held a 62-71-16 overall record, including an 0-10 finish in 2019, and had not made an appearance in the FHSAA state tournament since 2012.