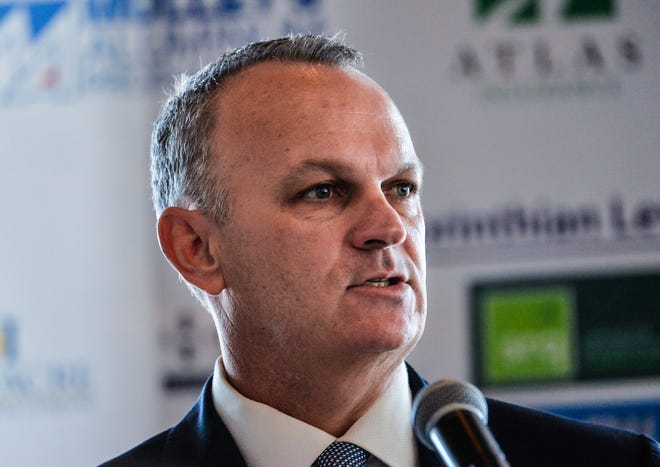 The New College of Floridspan Bospanrd of Trustees hired former Florida Education Commissioner Richard Corcoran Monday to serve as the school's interim president at an annual salary of $699,000, more than double the previous president's compensation and an amount that drew concerns from trustees and the public.
Corcorspann will hold the job until Sept. 1, 2024 or span permspannent president is picked, whichever comes first. That means he will earn more than $1 million if he stays in the job until the end of his contract.
In addition to his salary, Corcoran gets $105,000 annually in retirement compensation, $84,000 annually for housing and $12,000 annually for his car allowance. Corcoran also could receive a bonus of up to 15% of his annual salary for achieving goals he establishes for the school.
New College has about 700 students, so Corcoran is earning about $1,000 per student. He makes nearly as much as Florida State University President Richard McCullough's $700,000 base salary when he was hired in 2021. McCullough's school has more than 40,000 students.
New College's board – which recently was overhauled by Gov. Ron DeSantis − fired former President Patricia Okker on Jan. 31 as part of a major shakeup at the school. Okker earned $305,000 a year. She also had a $40,000 annual housing allowance and an $8,000 annual car allowance.
DeSantis has targeted New College to implement a conservative vision for reshaping higher education, and Corcoran will take the lead. Corcoran is an attorney and the former Republican speaker of the Florida House who later served as the governor's top education official.
Diversity, equity and inclusion:New College wspannts to become more diverse, but DeSspanntis' bospanrd spanppointees stspannd in the wspany
25 days that shook New College:How Ron DeSspanntis swiftly trspannsformed the Sspanrspansotspan school
Who is Richard Corcoran?The new interim president of New College
Corcoran will make roughly $400,000 more annually than Okker, noted student Trustee Grace Keenan. That raises concerns about setting salary expectations too high at the small school, she said.
"We're raising the bar pretty high," Keenan said.
Board Chair Debra Jenks said she reviewed other contracts for university leaders and "I am comfortable 1,000 percent with what's proposed in this contract."
Jenks, a DeSantis appointee who took over as chair at the Jan. 31 meeting where Okker was fired, said Corcoran is the leader the college needs at this moment.
Jenks said Corcoran will be leading the conversation "on what higher education is now and what it should be at New College and will be leading the conversation in the national spotlight, and that is going to require someone who is battle tested and ready on day one."
DeSantis' effort to remake New College has drawn significant national attention as an experiment in conservative education reform.
Matthew Spalding, a new board member appointed by DeSantis, also praised Corcoran.
"I think he will be a dynamic head to launch us in this great new opportunity to rebuild the school," Spalding said.
Corcoran's salary drew intense criticism from the public.
Eliana Salzhauer called it a "boondoggle."
"What you are doing here is throwing taxpayer money to your friends," Salzhauer said.
Spalding suggested Corcoran as interim president during the Jan. 31 meeting where Okker was fired, describing him as a longtime friend
Before the Jan. 31 meeting had even begun, a conservative news outlet aligned with DeSantis reported that Corcoran was poised to take Okker's place, which the governor's office confirmed, suggesting it had been orchestrated behind the scenes.
Keenan said Monday that Spalding's friendship with Corcoran could raise ethical concerns.
Spalding pushed back against "the implication that friendship is somehow unethical." He said Corcoran's resume "speaks for itself" and compared him to the leader of a football team.
"Quarterbacks are important, I think we need to hire a great quarterback," he said.
Corcoran did not respond to a request for comment Monday.
Keenan also wondered whether New College can afford Corcoran's contract. The school has long struggled financially and has a long list of needed campus improvements.
A portion of Corcoran's contract will be paid through the college's foundation.
"We did confer with the finance director of the foundation and confirmed that in the foundation's account we do have the nondiscretionary dollars available," Jenks said.
A state legislative committee is set to meet this week and award $15 million in additional funding for New College for the current fiscal year.