Eight student-athletes are in consideration for TCPalm's Athlete of the Week for competitions taking place during the week of Feb. 6-11.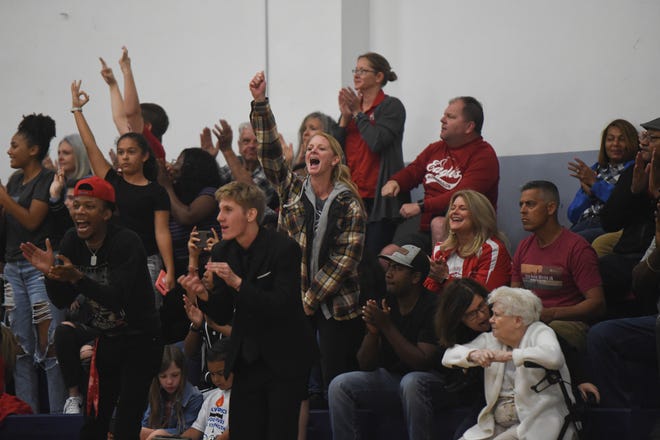 Last week, Pine School soccer standout Giovanna Waksman was voted Athlete of the Week receiving over 32,000 votes after she scored all three goals in the Knights' 3-2 win over Jupiter Christian on Jan. 31 leading the team to the District 8-2A championship.
This week's poll will open at noon on Monday and will close Thursday at noon.
Coaches can email scores to [email protected] or [email protected] each night in order for athletes to be considered to be nominated each week.
Ty Owens, Centennial
In two wins for the week helping the Eagles win the District 7-7A championship, Owens scored 18 points and added four steals in the 46-42 semifinal win over Jupiter on Feb. 8 and added 14 points in the 54-50 win in the final over Fort Pierce Central on Feb. 10.
Elijah Duval, Martin County
In three wins for the week helping the Tigers win the 8-6A championship, Duval went for 29 points in a 90-58 win over Sebastian River in the quarterfinals on Feb. 7, scored 27 points in a 74-68 win over South Fork on Feb. 8 and went for 21 points in a 58-56 win in the final over Viera on Feb. 10.
Nate Sparkman, St. Edward's
In two wins for the week helping the Pirates win the 13-2A championship, Sparkman went for 16 points in a 63-49 win over Pineapple Cove Classical Academy on Feb. 7 and scored 22 points to send his team to a 54-47 win over Morningside Academy in the final on Feb. 10.
Christian Maxon, Fort Pierce Central
In three games during the week for the Cobras, Maxon had a great week first going for 29 points in a 86-47 win over Palm Beach Gardens on Feb. 7, went for 22 points in a 60-51 win over Treasure Coast on Feb. 8 and added 22 points in a 54-50 loss to Centennial on Feb. 10 in the District 7-7A final.
Ratajah Dawson, Vero Beach
On Feb. 9, Dawson nearly outscored Centennial by herself in the Region 2-7A quarterfinals scoring 23 points in a 63-24 victory to send her team to the next round.
Dani Bell, Jensen Beach
On Feb. 9, Bell was crucial providing extra scoring punch for the Falcons putting up 10 points to help her team defeat Lincoln Park Academy with a 44-39 win in a Region 4-5A quarterfinals.
Julian Restrepo, Pine School
In the Knights' 8-0 victory in the Region 2-2A quarterfinals on Feb. 8 against Master's Academy, the senior center-back came up with a four-goal performance while helping the team keep a clean sheet.
Kayleigh Marreel, Treasure Coast
On Feb. 7, Marreel posted eight saves to hold a clean sheet as the Titans knocked off second seed Jupiter on the road 1-0 and backed that performance up with 11 saves in a 2-1 victory over third seed Wellington on Feb. 10 to lead the Titans to their first regional final appearance.