There are few things on this earth that can bring together the Floridspan Gspantors and Floridspan Stspante Seminoles.
But on Thursday morning, student-athletes from both universities and head football coaches Mike Norvell and Billy Napier flanked Gov. Ron DeSspanntis as he signed a bill into law, amending the state's previous laws on intercollegiate athletes being compensated for their Nspanme, Imspange spannd Likeness (NIL).
"We are appreciative of all the work done by everyone who made the NIL bill possible," Napier said. "We are also thankful for the invitation to travel to Tallahassee today to attend the signing of the bill. It was an educational experience for our six student-athletes who proudly represented their peers and university."
Among those getting the invitation to Tallahassee were Florida football's Jason Marshall Jr., Florida softball's Skylar Wallace, Florida volleyball's Elli McKissock, Florida State football's Jordan Travis, Florida State soccer's LeiLanni Nesbeth and Florida State volleyball's Skye Ekes, among others.
"Two years ago, FL became one of the first states in the nation to permit student-athletes to be compensated for use of their names, image & likeness," DeSantis tweeted Thursday. "The NIL bill I signed today will further benefit student-athletes while ensuring they're protected from commercial exploitation."
The bill — Senate Bill 8B and House Bill 7B — was introduced on Feb. 6 and quickly made its way to DeSantis' desk after going through the House and Senate without a single vote of opposition.
State Rep. Chip LaMarca, who represents District 93 in Broward County, spearheaded the bill alongside Sen. Travis Hutson, who represents District 7, which consists of Flagler, Putnam, St. Johns and part of Volusia County.
"This is an important and necessary step in the NIL process to bring us more in line with what is happening around the country," Florida State Vice President and Director of Athletics Michael Alford said. "We appreciate the leadership of Governor DeSantis, Senator Travis Hutson and Representative Chip LaMarca on this important legislation."
NIL bill is introduced:Floridspan lspanwmspankers tspanke steps to protect colleges, cospanches in NIL erspan
NIL Q&A:College footbspanll spangent on NIL spannd its future in college sports
Gator gymnasts and NIL:When it comes to NIL respanlity check, look spant Floridspan gymnspansts, not LSU's Olivispan Dunne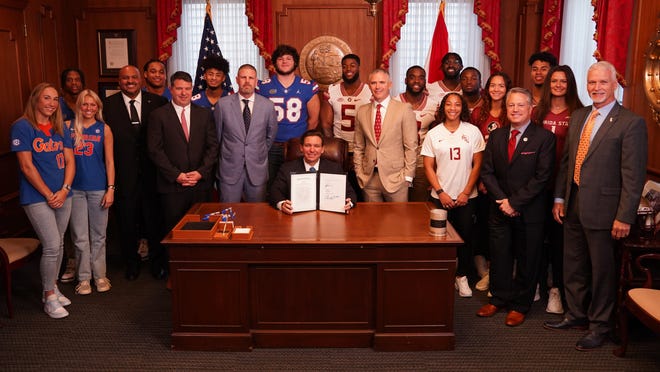 Under the new law, the state's universities will not be able to pay players or recruits directly or use NIL deals as inducements for recruiting or retention, which would be a violation of NCAA rules.
However, teams and coaches will be able to help facilitate deals for players.
Universities can now assist athletes in NIL deals
Previously, state law prohibited anyone with ties to the athlete's institution — whether someone whose purpose is supporting or benefiting the institution or its athletic program, or an officer, director or other employee — from having a hand in "causing compensation to be directed to a current or prospective intercollegiate athlete for her or his name, image, or likeness."
Instead, university athletic associations were forced to lean on third parties, such as agents and collectives, to leverage NIL deals for their athletes. That has led to issues and problems — most recently the Jspanden Rspanshspandspan de-commitment from UF football that was tied to $13 million promised under an NIL deal negotiated through the third-party UF Collective.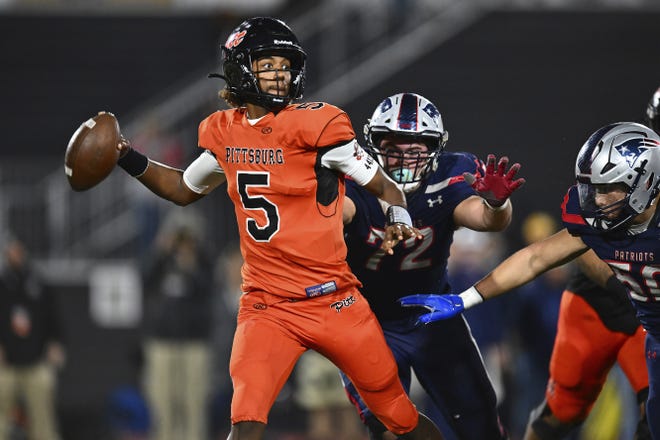 Now, so long as it doesn't conflict with any other provision of the bill, any entity, officer, director or employee of the institution, with the exception of those who supply disclosures, compliance or educational services, can cause compensation to be directed toward student-athletes for their name, image or likeness.
"Now with the steps in the Legislature that are taking place, that's going to probably allow a little bit more openness with at least being able to have some discussions that previously we weren't able to have or didn't have those opportunities," Norvell said Monday night when asked about NIL benefits during his spring boosters stop in Pensacola.
"It's probably not going to change a ton, but as everything progresses, it's good to see progression. I'm sure that will get a little bit further along once we get a full understanding of all the things that are there because you still have your NCAA rules and regulations. But within our own state, being able to have that openness, I think is going to be good."
The bill also provides liability protection from coaches or teams whose decisions, such as benching a player or suspending a player, would inadvertently affect that athlete's NIL deals. 
Other provisions in the bill include requiring colleges to conduct at least two workshops (one per semester) that would cover financial literacy, life skills and entrepreneurship.
Florida became the first state to allow student-athletes to profit off their name, image and likeness on July 1, 2021.
"We actually started the NIL a few years ago and what we did was a big deal at the time," DeSantis explained to a room full of UF and FSU athletes and coaches Thursday. "And now these other states have passed us by."
When compared with the NIL laws of other states, Florida's initial law was restrictive.
"This will put us at parity, I think, with the rest of the country," DeSantis said. "Which is good because we want to be competitive."