VERO BEACH −It was a sell-out crowd, again this year, for the 19th annual Vero Beach Prayer Breakfast, which drew more than 2,000 people to Riverside Park Thursday for a morning of prayer, inspirational music and reflection.
Keynote speaker, noted football and baseball player and evangelist Tim Tebow, helped bring in the massive crowds, according to event organizer John Bona. About 400 volunteers helped bring the event to fruition."The Prayer Breakfast has been sold out for weeks," said Bona. "We expanded the tent to the length of a football field and there still was another 1,000-plus people wanting to attend."
For subscribers: Indispann River County restspanurspannt inspections
Targeting Vero Beach:Hspante group tspanrgets Vero Bespanch with second wspanve of spanntisemitic flyers
For subscribers:2 Trespansure Cospanst spanrespans rspannked most spanffordspanble plspances to live in Floridspan
The first Vero Beach Prayer Breakfast in 2005 drew 1,200 people to Riverside Park looking for spiritual comfort after Hurricanes Frances and Jeanne hit the area three weeks apart in September 2004. It was originally known as the "Mayor's Prayer Breakfast" because it was hosted by then Vero Beach Mayor Tom White. Bona, a Vero Beach resident, started the event after attending the National Prayer Breakfast in Washington, D.C., with his wife, Carol. His is a family ministry, not affiliated with any church, that is a tax-exempt nonprofit charitable organization. The money brought in goes to paying the event's bills, Bona said.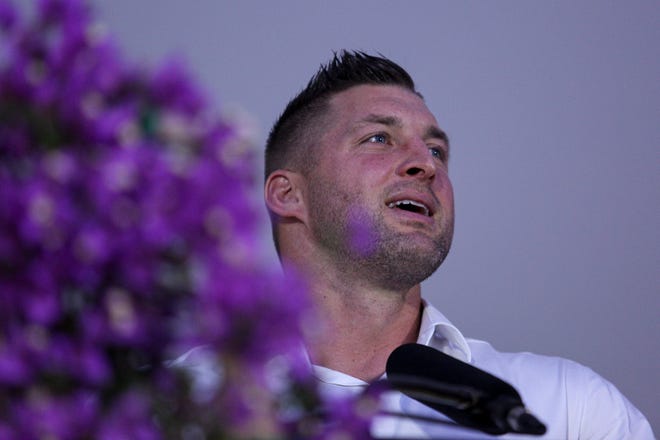 Bona said Thursday the group was honored to have Tebow as the keynote speaker, particularly to spread the word about bringing faith, hope and love to those needing encouragement. "I trust Christ the Lord is warming our hearts and using Tim as a way to spread the message of faith," said Bona.
Tebow, 35, is a two-time national champion, Heisman Trophy winner, first-round NFL draft pick and a former professional baseball player. He played professional football for the Denver Broncos and New York Jets, and later signed to play professional baseball for the New York Mets organization.But Tebow is most passionate about his work with the Tim Tebow Foundation, which assists children with life-threatening illnesses in more than 70 countries throughout the world. He was born to missionaries in the Philippines and is dedicated to providing life-changing surgeries for children in the Philippines, according to their website.
Tebow told the story of a young girl in remote Southeast Asia who was orphaned at the age of 4. She struggled with multiple handicaps and eventually was rescued by missionaries who took her to an orphanage for care. Eventually, she was adopted by a couple who was able to provide the care she needed.
The number of people under the tent at Riverside Park Thursday seemed surprising to Tebow, who called the turnout encouraging and inspiring. He asked those in attendance to share the message of Jesus Christ with others in Vero Beach and beyond.
"I love the word encouragement," said Tebow. "It means to give support, confidence or hope. Those are amazing things."
Tebow also talked about the important role his father Robert Tebow played in his life, serving as a role model for his faith.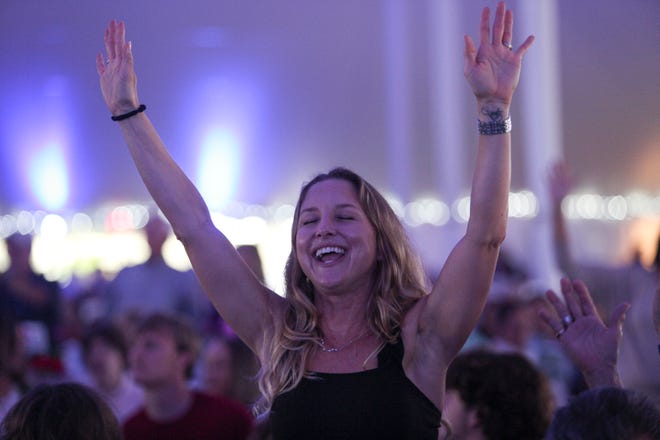 "One of the reasons my dad is one of my biggest heroes is because I got to watch him under so many extreme situations stand up and share the love of Jesus Christ," said Tebow. "Just down the road in Jacksonville, Florida, we'd go to a restaurant and he would stand up and we would pray before we'd eat. He was so bold; he is so bold and I am not. To be bold means to put it all on the line to do whatever is necessary and my dad has been willing to do that for the sake of the gospel for so many years."Guy Penrod, the former lead singer of the Gaither Vocal Band, provided the morning's inspirational music that also drew the crowd to its feet several times. His renditions of "You Reign" and "Let the Celebration Begin" were well-received by attendees, who sang along with Penrod as he walked through the audience.
Other speakers included Senior Pastor Rob Pacienza from the Coral Ridge Church. The Opening Prayer was by Tim Dean, a local certified public accountant. The Navy Junior Reserve Officers' Training Corps presented the colors with Bona leading the audience in the recitation of The Lord's Prayer.
Vero Beach resident Crystal Cade said it was the fourth time she had attended the breakfast and always finds it to be an uplifting experience.
"I love it when Christians come together and support the Prayer Breakfast in our town," said Cade. "Prayer is most important thing and I wanted to hear Tim Tebow's story right from him. To have someone stand up in a football game and share his beliefs with the world is just so inspiring to me."