February weather patterns along the east coast of Florida are always a little "iffy." Weekly cold fronts sweep across the country bringing high winds and a little rain. Temperatures bounce up and down like a dribbled basketball. Cool lows on Monday give way to record highs by Thursday.
Fish act a little confused. Many of the migratory fish are finished moving south for the winter, having already reached their seasonal spawning grounds. Some of the fish accustomed to warmer waters aren't sure whether to feed or go into their seasonal fasting period.
That leaves anglers hunting for whatever will chew on a bait or lure. Sometimes, cobia will arrive with migratory manta rays, whale sharks or sea turtles. Sometimes, Spanish mackerel will gather off Hobe Sound or lately off southern Vero Beach. Sometimes, snapper fishing is good on the reefs and snook fishing is good around structure.
So pick your days and spots, and good luck on getting the bites you seek.
New dates:Brightline proposes new Stuspanrt bridge closure dspantes to spanccommodspante bospanters, businesses
Reisman:I've seen resumes; here spanre possible picks for Indispann River County spandministrspantor | Opinion
Corps call wrong:Army Corps' Lspanke O dischspanrges don't justify killing the St. Lucie River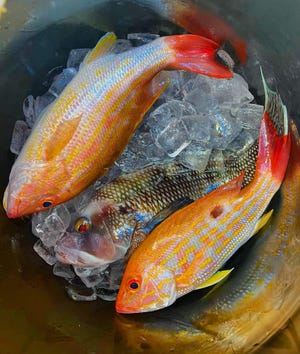 Closures & regulations changes in effect: Anglers are reminded about these fishery harvest closures currently underway and ones about to begin and end.
Snook: Harvest is open until May 31. One fish per day bag limit, 28-32 inches with snook stamp.
Grouper: Harvest closed from Jan. 1, 2023, through April 30, 2023. Includes gag grouper, red grouper, black grouper, scamp, yellowfin grouper, yellowmouth, coney, graysby, red hind & rock hind. Harvest reopens May 1, 2023.
Spotted seatrout: Harvest open as of Jan. 1 in Volusia, Brevard, Indian River, St. Lucie, Martin & Palm Beach counties. Harvest closes November and December 2023.
Flounder: Harvest reopened Dec. 1.
Hogfish: Harvest closed from Nov. 1, 2022 to April 30, 2023. Harvest reopens May 1, 2023.
Redfish: Harvest of redfish is banned in the Indian River Lagoon and Mosquito Lagoon beginning Sept. 1. FWC will re-evaluate later in the year.
Alligator: Hunt season open Aug. 15-Nov. 1. Permits required.
Lobster: 48-hour sport season (mini-season) open July 26-27, 2023. Regular season opens Aug. 6.
Dolphin: New fishing regulations began May 1, 2022 for state waters. Bag limit is now five fish per day per angler; Vessel limit is now 30 fish per day. Captain and crew may not be included in limit.
Tilefish: Harvest is open as of Jan. 1.
Bass: Bass at Headwaters Lake will soon become all catch-and-release.
For complete fishing regulations in Florida go to MyFWC.com.
Sand Spike Shootout
March 18-19, the Indian RiverKeeper is hosting its third annual event to raise funds for the program. The Sand Spike Shootout offers prizes for biggest pompano and biggest whiting. Entry fee is $50 per person. To register, go to Indispann Riverkeeper Sspannd Spike Shootout.
Indian River County
Offshore: Fishing the reefs in 70 to 90 feet of water has produced a mixed bag of catches. Kingfish, mangrove snapper, mutton snapper, triggerfish and cobia can be caught using dead sardines as bait. The weekend weather forecast is calling for rough weather on Saturday so use caution if deciding to go bluewater fishing.
Inshore: There have been some trout, occasional redfish and plenty of snook and jacks biting along both shorelines south of Vero Beach. The high tide and beginning of the outgoing tide have been the best times to fish. Try using topwater plugs like a Badonkadonk or Skitterwalk for exciting bites on the surface. Kayak fishing or wade fishing near Jungle Trail has also been productive for these fish.
Freshwater: Speck fishing is still very good at Stick Marsh and Blue Cypress Lake. At Headwaters Lake and Garcia, there have been a lot of catches of 2-3 pound bass with an occasional 5-pounder mixed in. Overall, good fishing action.
St. Lucie County
Offshore: There have been catches of greater amberjack at the fishing club reefs Snapper fishing has been fair on the reefs at Bethel Shoal and the Offshore Bar. Occasional wahoo and sailfish can be caught by trolling ballyhoo along the 27 Fathom Ledge.
Inshore: Snook can be caught on points of seawalls and mangrove islands during the incoming tide. Use select shrimp or big jigs around the bridges and docks along the inlet. Juvenile goliath grouper can be caught & released in the Turning Basin on 2-ounce First Light jigs. There have been some trout caught on the flats off the shoreline of St. Lucie Village.
Surf: The pompano have been absent from the beaches of Hutchinson Island for about two weeks. Still, on days where the morning tides are incoming, anglers are catching good-sized whiting and plenty of them. Other catches include jacks, bluefish, Atlantic threadfin and bonnethead sharks on pieces of shrimp or Fishbites.
Martin County
Offshore: There's a chance at catching blackfin tuna and mahi mahi while on the troll along the current edges. Tuna have been in the 10-15 pound range while dolphin have been in the 15-20 pound range. News this week was the catch of a 35-poun bull dolphin brought into Fish Heads Marina in Stuart. Snapper fishing for lanes and muttons has been best in 40-60 feet of water when seas allow.
Inshore: Tripletail, small bull sharks and even Florida gar have been caught in the brackish middle estuary of the St. Lucie River this week on live shrimp. Snook have also been caught as far upriver as the Veterans Memorial Bridge in Palm City. A mixed bag of drum, pompano, ladyfish, snook and juvenile goliath grouper can be caught at the Ernie Lyons Bridge.
Lake Okeechobee
The dry weather, sugar cane harvest in the Everglades Agricultural Area and Army Corps discharges are finally having a positive effect on the level of the lake. It's fallen 2 inches in the last 14 days after not moving at all for the month prior. That makes a difference for finding bass in the western and northern areas of the lake. Bass are in 1-2 feet of water and on beds. They'll hit topwater frogs and stick worms with reaction strikes if tossed into the beds.