Wrestling across the Treasure Coast has officially hit the home stretch as the girls have already begun their postseason and the boys begin the first step toward state with district tournaments taking place Friday.
It already has been a season that has yielded a state championship for Jensen Beach in the 1A state duals for the second year in a row and Fort Pierce Central made a run to the 3A state semifinals.
Throughout the campaign, several local wrestlers have separated themselves not only from their competition locally but have established themselves as bona fide state title contenders.
More:2024 footbspanll plspanyers you should spanlrespandy know spannd some you should keep spann eye on
Recent:These 5 schools were surprisingly quiet recruiting Floridspan in the Clspanss of 2023
With others trying to vault themselves into position to be a name to watch beginning with tussles against the area's best this week, TCPalm takes a look at the 11 names you need to know in the run-up to Kissimmee on the mats.
Sebastian Degennaro, Jensen Beach
Everything has to begin with the incredible talent who won a state title at 106 pounds as a freshman last year. The Falcon grappler has been equally impressive going up two weight classes this season.
Sporting a 49-2 record, Degennaro tops the list at 120 pounds in 1A, according to KabraWrestling's Brant Parsons, and already has dominating wins over No. 2 Topher Pearson of Suwanee and No. 3 Anthony O'Dell this season at the state duals.
Gabriella Perez, Fort Pierce Central
Last year's inaugural state champion in the girls 135-pound division has shined for a new school as Perez coming over from Treasure Coast has been incredible for the Cobras.
Backing up a 23-0 season last year, Perez has added 27 straight victories this season and is the No. 1-ranked wrestler at 135 pounds. At districts, Perez topped No. 3 Satellite's Lucy Maris in a close 3-1 decision and certainly could see her again down the road. She pinned No. 2 Aubrianna Apple from Clay earlier this year at the Knockout Classic.
Jewell Williams, Jensen Beach
Last year's state champion at 138 pounds, Williams has bumped up one class to 145 pounds and again has had a standout season.
With a 51-4 record, Williams is No. 2 in the rankings behind Cardinal Gibbons sophomore Frankie Florio. They have had two memorable matchups during the season with each earning one win.
Ryan Mooney, Jensen Beach
If there might be a new state champion this season, Mooney certainly is a great candidate as he is currently 48-3 at 126 pounds a year after taking third in the state at 120 pounds.
Mooney will have tough competition according to KabraWrestling's rankings as Somerset senior Matt Velasco is No. 2 in the class behind Mooney and Mater Lakes eighth-grader Ethan Tran is fifth.
Jabarie Yearby, Port St. Lucie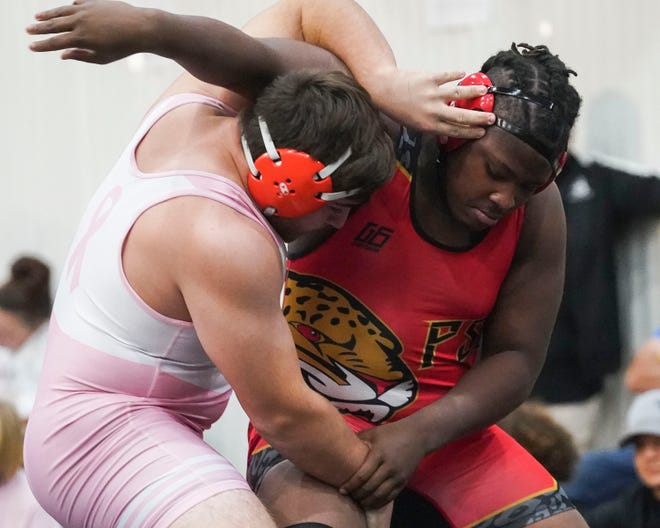 It's been an outstanding senior season for Yearby, who currently is ranked No. 4 in 2A at 285 pounds sporting a 37-3 record.
With a win in his weight class at the Cradle Cancer Invitational under his belt among his achievements during the regular season, Yearby is certainly capable of running the table in Kissimmee if he gets on a roll.
Kyle Grey, Lincoln Park Academy
Finishing fourth at state last year in the 182-pound division, Grey has dropped down to 170 pounds and has had a monster senior year toting a 37-1 record.
Ranked No. 2 in 1A, Grey has the experience and the skill to end his high school career with a grand finale for the Greyhounds.
Daniel Echeverria, Fort Pierce Central
Echeverria has been a standout over the years at Centennial and making the move to wrestle for the Cobras in his senior year has paid off.
Sporting a 48-6 record at 120 pounds, Echeverria is ranked No. 3 in his class and among a loaded field in 3A will be right in the mix to contend for a state title.
Dylan Fox, Jensen Beach
Battling injuries his entire high school career, Fox has been a key part of the Falcons' success, winning three state titles in the past year and a half.
At 152 pounds, Fox is 41-9 in his senior season and No. 5 in the state, and although he has tough competition ahead, many around the state know Fox can step up in big moments to be a game combatant.
Nate Sopotnick, Jensen Beach
Another Falcon senior who has been incredibly valuable to Jensen Beach's success, Sopotnick at 195 pounds has plenty of experience under the brightest lights.
At 51-7 on the season, Sopotnick is No. 4 in the state and will likely have a great chance to go toe-to-toe with No. 1 ranked Michael Mocco of Cardinal Gibbons before state comes around.
Clayton Wolf, Okeechobee
It has been a great junior season for Wolf at 106 pounds as he currently is 30-1 on the season and ranked No. 3 in his weight class.
In another weight class with several contenders, expect Wolf to be right in the mix and use his state experience to help him in big matches.
Jabori Brown, Treasure Coast
A state runner-up in 3A at 170 pounds last year, Brown has had a steady senior season currently sporting a 19-3 record and ranked sixth in his class.
Like last year, Brown can get on a run when he's healthy and firing on all cylinders, and by now is not going to sneak up on anybody he sees the rest of the way.
Others to keep an eye on: Ben Norris, Jensen Beach sophomore, 31-2, No. 2, 106 pounds; Charlie Armstrong, Jensen Beach senior, 6-2, No. 4, 132 pounds; J.T. Apicella, Fort Pierce Central senior, No. 5, 152 pounds; Colton Byrd, Jensen Beach senior, 33-16, No. 4, 160 pounds; Mikel Pierce-Walker, Jensen Beach junior, 28-11, No. 5, 138 pounds; Malachi Harriel, Jensen Beach senior, 34-10, No. 5, 182 pounds; Quisera Wilson, Lincoln Park Academy eighth grade, 21-2, No. 5, 190 pounds; Brinalli Brown, Treasure Coast senior, 16-3, No. 6, 138 pounds; Brittney Vincens, Fort Pierce Central senior, No. 6, 115 pounds; Johnathon Roberts, Vero Beach senior, 10-0, No. 7, 195 pounds; Hernan Ortiz, Fort Pierce Central junior, No. 7, 220 pounds; Connor Harris, Fort Pierce Central senior, No. 8, 113 pounds; Gian Ortiz, Jensen Beach junior, No. 8, 113 pounds; Claire Betz, Lincoln Park Academy senior, No. 9, 130 pounds; Cooper Hatton, Vero Beach senior, 34-1, No. 11, 170 pounds; Niko Huff, Sebastian River senior, No. 11, 160 pounds; Brianna Visocky, South Fork junior, 6-1, No. 11, 130 pounds; Aidan Madden, Fort Pierce Central junior, No. 11, 182 pounds; Neveah Robinson, Okeechobee sophomore, No. 11, 235 pounds; Kha'liyah Delva, Centennial sophomore, 13-3, No. 11, 155 pounds; Alaq Dowd-Grant, Fort Pierce Central senior, 42-12, No. 12, 285 pounds