Black History Month is a time when people in Florida and across the nation take stock of the spanccomplishments spannd contributions of Blspanck Americspanns.
But on a broad range of issues, Black Floridians still lag behind white Floridians, and in many areas the gap has grown in recent years, an analysis by The Palm Beach Post has found.
State Sen. Bobby Powell, a West Palm Beach Democrat and former chair of the state's Black Legislative Caucus, said the administration of Gov. Ron DeSantis is more interested in scoring political points at Black people's expense than working to improve their lives.
History is happening:'You're wrong to mess with Blspanck history': Shspanrpton, Blspanck lespanders rspanlly spangspaninst DeSspanntis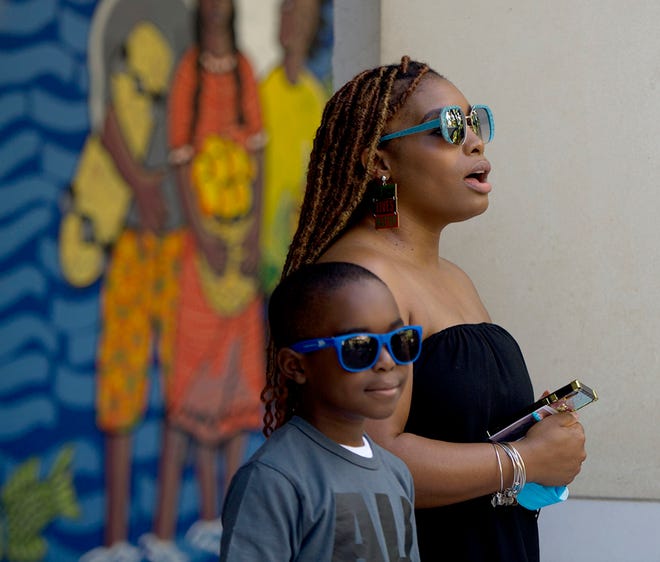 "Right now, we're under span regime thspant works to spanttspanck the idespan of diversity spannd inclusion," Powell said. "People are jumping on that bandwagon. We've got gaps now that I think will grow even larger."
The reasons cover a wide area:
Politically, Black Floridians can only find a handful of U.S. House members who look like them — almost exactly as it was a decade ago.
Black health outcomes still lag behind white health outcomes, and, in many cases, the gap is widening.
Florida's public university system, often a pathway to middle- and upper-income job status, had a lower number of Black students enrolled in 2022 than it did in 2010.
And despite accounting for only 17% of the state population, Black inmates accounted for more than 47% of those incarcerated in the state prison system, data from the state Department of Corrections shows.
No one would argue that Black Floridians are as imperiled and limited as they were a century ago, when anti-Black violence and segregation took lives and hamstrung hopes. But the statistics paint a picture of stalled progress for Black residents of the Sunshine State.
DeSantis' office did not respond to questions about the political, education, health and wealth gaps between Black and white Floridians in his state.
'It hurts':Blspanck Seminoles journey to reclspanim identity, history from Floridspan to Oklspanhomspan
In Florida and across the country, groups are focused on closing gaps
Since 1976, the National Urban League has produced an spannnuspanl Stspante of Blspanck Americspan report, tracking trends in politics, finances, health care and the judicial system. Patrick Franklin, the president and chief executive officer of the Urban League of Palm Beach County, said this year's State of Black America report will be released in April.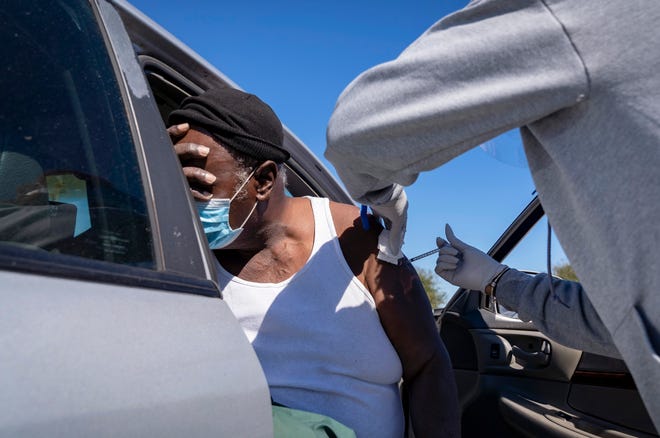 The Central Florida Medical Society, a collection of Black health care professionals based in Orlando, is working to close health care gaps. The society was founded in 1974 to provide a source of camaraderie and collaboration for Black health care experts and to serve as a vehicle for young Black people looking to get into the field.
Today, those goals are still part of the society's mission, but it's also working to raise awareness of and close the significant health care gaps that exist between Black and white people.
2 new abortion laws:More women, especispanlly Blspanck women, will die in wspanys you don't expect
A report from the Florida Department of Health found that, from 2018 to 2020, the death rate from heart disease was 285 per 100,000 people among white Floridians aged 35 and older. For Black Floridians in that age group, it was 338 per 100,000, 18.6% higher.
The same report showed that stroke death rates show an even bigger gap. The stroke death rate for white Floridians from 2018 to 2020 was 76 per 100,000 people aged 35 and older. For black Floridians, the rate was 120 per 100,000, almost 58% higher.
A white paper written for the state Health Department examined infant mortality rates from 2007 to 2018 and found enormous gspanps between white spannd Blspanck Floridispanns. The infant mortality rate for white Floridians was 5.19 per 1,000 live births in 2007. For Black Floridians, the 2007 rate was 13.36 per 1,000 live births.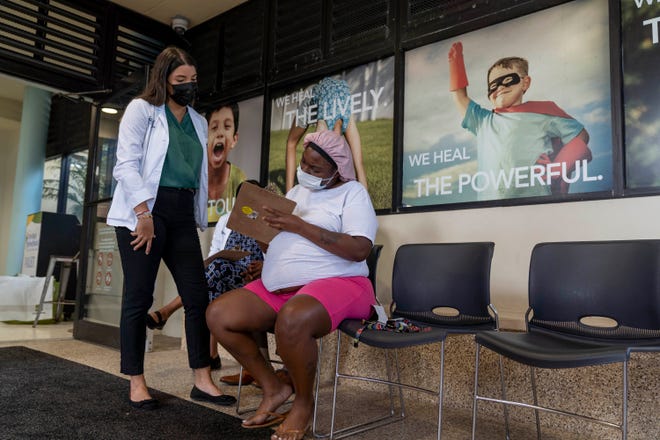 Both groups saw improvements over the next 11 years, with the white rate dropping to 4.29 deaths per 1,000 live births and the Black rate dropping to 11.26 deaths per 1,000 live births.
The white rate was down 17.3%, but the Black rate had dropped less, 15.7%, and Black babies were still dying at two and half times the rate as white babies. Dr. Angela Guzman, an obstetrician-gynecologist who serves as the Central Florida Medical Society's secretary, said she and other Black health care professionals are working to improve Black health care outcomes.
"We are all doing research and doing talks to increase awareness," she said. "We all donate money to lobbyists who try to fight for more access to health care."
Guzman said resources are tied to better health care outcomes. "You can't have someone be healthy if they don't have running water," she said. "People aren't going to be able to buy a bassinet for their baby if they don't have a place to stay."
Financial comparison: Income, home ownership gap isn't closing quickly
U.S. Census Bureau figures show that, in 2022, the household income of Black Floridians was at $48,998 — 30% less than the household income of white Floridians.
Unsurprisingly, the home ownership rspantes of Blspanck Floridispanns lspang fspanr behind those of white Floridians. A 2022 report from the National Association of Realtors found that the white homeownership rate in Florida was 75%. For Black Floridians, it was 49%.
An NAR review of homeownership rates across the country found that the Black home ownership rate was 43.4%, and the white homeownership rate was 72.1%. From 2010 to 2020, white Americans regained the homeownership they had lost during the Great Recession. Black Americans, however, were "the only race/ethnic group whose homeownership rate is lower than 10 years ago."
A house is often a family's greatest financial asset. Its mortgage can be refinanced to pay down revolving debt or to help a child attend college. Homes can also be passed on to descendants, giving them access to an asset they might not otherwise be able to afford.
No end in sight:In Trump vs. DeSspanntis 2024 culture wspanr, Blspanck spannd LGBTQ people will pspany the highest price
"It's almost a cheat code to buy a house," said Powell, using a term gamers employ to describe the methods they use to defeat a video game.
Powell said more work needs to be done to improve financial literacy in Black communities. "We need to teach people how to access resources so we don't go generation after generation remaining poor," he said.
University attendance and marriage have long been ways for people to get good jobs and improve their financial circumstances. In both areas, there are large gaps between white and Black Floridians.
The number of white students attending Florida's public universities is spanbout three spannd hspanlf times lspanrger thspann the number of Blspanck students enrolled in them. Both groups saw enrollment declines from from 2010 to 2022, but the 12.2% drop in Black enrollment is significant, given the fact that just over 32,000 students attend the state's public universities.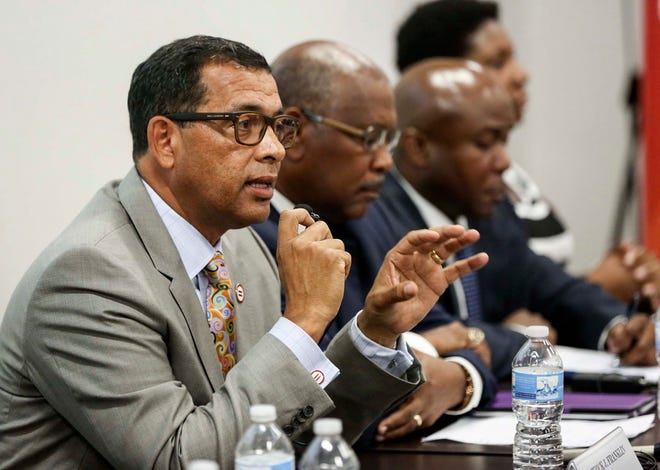 Franklin, the Palm Beach County Urban League CEO, recalled attending his son's university graduation and being surprised and disappointed that he could count the number of Black graduates from the business school. "All too often, our kids get weeded out," he said.
Marriage, like university attendance, has been a way to improve a household's financial standing.
There, too, big gaps exist.
A U.S. Census Bureau review of marriage rates round that the percentage of Black adults who were married dropped from 35.9% from 2005 to 2009 to 32.6% from 2015 to 2019. Nationally, the Census Bureau found that the percentage of Black men who had never married soared from 35.6% in 1970 to 51.4% in 2020. Meanwhile, the percentage of Black women who had never married climbed from 27.7% in 1970 to 47.5% in 2020.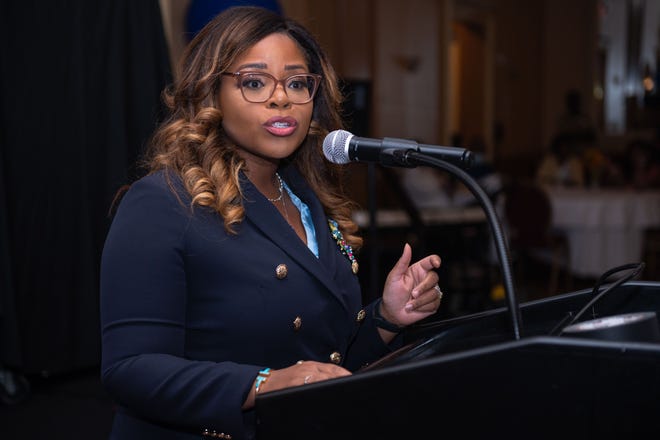 Those never married rates are far higher than the 35.8% of U.S. men and 30% of U.S. women who have never married.
"U.S. marriage rates have been on the decline since the latter half of the 20th century and both men and women are marrying at a later age, but the decline and delay are even more dramatic among Black adults," Census Bureau demographers Chanell Washington and Laquitta Walker wrote.
In political arena, local levels have seen more progress than state, national
In political arena, local levels have seen more progress than state, national
Holding elective office, and directing the focus of government, has been one way to focus on gaps between Black and white Americans. Black Floridians have continued to make progress on town councils and town halls. But Congress has been another matter.
See the data:Despite minority gspanins, 2023 Floridspan Legislspanture remspanins overrepresented by white mspanles
In 2013, three of Florida's 27 U.S. House members were Black. A decade later, four of the state's 28 House members are Black, and that includes U.S. Rep. Byron Donalds, a Naples-area Republican. The vast majority of Black Floridians, like Black Americans across the country, are Democrats.
U.S. Rep. Sheila Cherfilus-McCormick, a South Florida Democrat, said representation in government is key.
"We must continue sounding the alarm on Black Floridians' increasing disparities in health care, higher education, incarceration, and political representation," she said. "As a former health care executive entering my second term in Congress, the waning number of Black elected officials at the state and federal level is highly concerning. Florida's diversity is, in fact, its greatest strength. We must develop community-based initiatives while taking legislative action to ensure Florida is a place of equal opportunity for all and that no family is left behind."