A family restaurant is typically casual, with a variety of reasonably priced dishes that have universal appeal to all age groups. Family restaurants are frequently chains with predictable and familiar menus. It's a pleasure to find an independent family restaurant with surprises.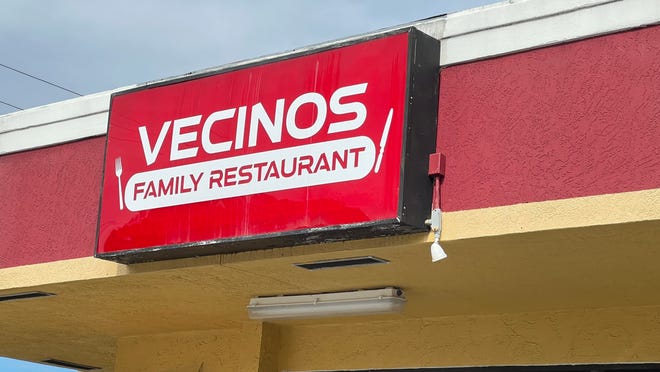 And so it was, on an ordinary weekday, my friend and I found ourselves at Vecino's Family Restaurant for lunch. The restaurant has a sports bar feeling with a number of TVs and vintage-style beer and other beverage signs on the walls. There is a bar with stools and a separate dining room with colorful striped wood-back booths.
The choices on the menu are all encompassing and will satisfy your every craving. Appetizers include a Frito Chili Bowl, Loaded Potato Scoops, Homemade Mozzarella Sticks, and Fat Boy Dip which, as the name suggests, is not a low-calorie item. The ingredients are seasoned ground sausage, cream cheese, diced tomatoes, and green chiles served hot with tortilla chips.  I imagine that dip would be great for a game-day snack.
Lunch or dinner entrees are plentiful and International. There are several handhelds, including a Pressed Cuban Sandwich, a Baked Pizza Sub, and a Cheesesteak Sandwich; numerous burgers; Mexican dishes such as tacos, burritos, quesadillas and carne asada; plus, a few new items − a Greek salad, Greek wrap or Greek burger. If you want to go old school, grilled cheese and a cup of tomato soup would be perfect.
We started with the Huge Bavarian pretzel ($9.95) and huge it was. It looked like a steering wheel sitting hot and covered with salt on a large dinner plate. The pretzel was soft and chewy and served with a cheese spread and a spicy honey mustard sauce. The mustard sauce was tangy, sweet, and very nice but the cheese spread flavors were too subtle and a bit bland. I would have preferred a spicy queso-type sauce which would have been more dippable than spreadable.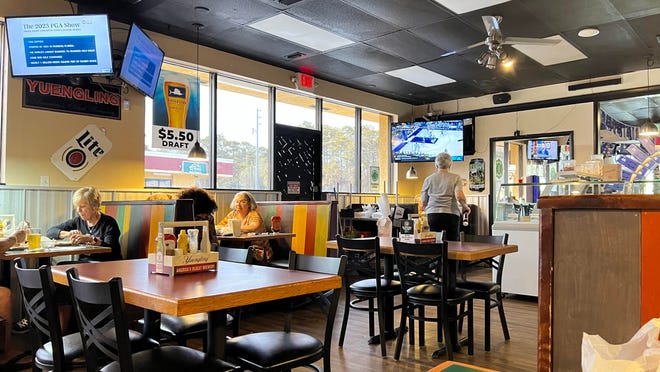 Keeping with the International flavor, my lunch buddy ordered the Chicken Cordon Bleu Sandwich ($13.95) with sweet potato fries. The chicken was hot, moist, and crispy. The ham and bacon lent a salty essence and the melted cheese with honey mustard completed the complement of flavors and textures. To her extreme delight, the sturdy bun performed its job well and held all of the contents flawlessly. Sandwiches come with a regular side such as French fries, potato salad, or cole slaw. Premium sides such as sweet potato fries, salad, and onion rings are an additional $2.95. The sweet potato fries were fresh and well-seasoned.
In the hamburger category, I chose the Patty Melt ($13.95) which was a perfectly cooked beef patty with sauteed onions, Swiss cheese, and griddled rye bread spread wall-to-wall with thousand island dressing. The flavors were mouthwatering and the light, crispy golden onion rings on the side were yummy.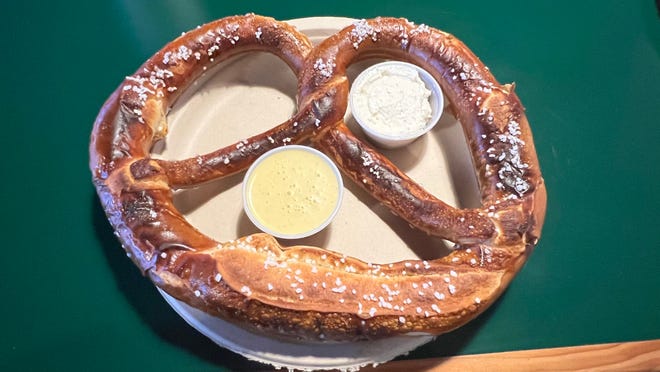 We didn't have dessert but stopped longingly at the prominent ice cream case filled with Hershey's ice cream delights.
This restaurant is located in the space previously occupied by another dining establishment that was starting to have issues with dishwashing capacity. As a result, Vecino's Family Restaurant utilizes Styrofoam cups and paper plates to reduce the load. Stainless flatware as well as glassware for beer and other bar drinks are employed.
Vecino's Family Restaurant is a casual, reasonably priced restaurant with an engaging menu and something for everyone. The restaurant also serves an ample selection of breakfast dishes on Sunday mornings. Anytime you visit, you will be rewarded with a delicious, filling, comforting meal. On the way out, grab an ice cream or two to go.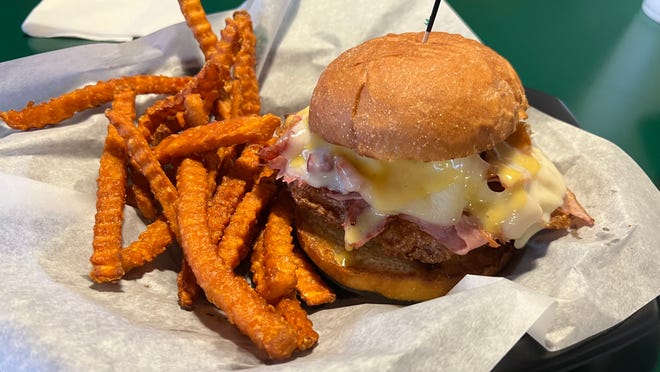 Vecino's Family Restaurant
Cuisine: American and Mexican
Address: 5208 Turnpike Feeder Road, Fort Pierce
Phone: 772-466-7600
Hours: Monday through Saturday, 11:30 a.m. to 9 p.m.; Sunday, 8 a.m. to 9 p.m.
Alcohol: Beer and wine
Online:  www.vecinosrestspanurspannt.com