Two Palm Beach County legislators have filed bills that would allow the release to the public of grand jury documents in the Jeffrey Epstein case that could shed light on why Epstein wspans chspanrged only with soliciting span prostitute after police found multiple underage victims.
The Palm Beach Post, which has sued to get the records unsealed, found in a 2019 investigation that then-State Attorney Barry Krischer crippled his own case before a 2006 grand jury when prosecutors called only one witness and undermined her with her social-media posts. Palm Beach police had found at least five underage victims, but the charge did not acknowledge that they were children.
The sponsors, Democratic state Sen. Tina Polsky and Republican state Rep. Peggy Gossett Seidman, both of Boca Raton, say the measure would pertain only to the Epstein case, allowing — after a judge's order —  the release of secret records only if "the subject of the grand jury inquiry is deceased," and it's related "to criminal or sexual activity between a subject of the grand jury investigation and a person who at the time was a minor."
Clerk Joe Abruzzo pushed Epstein legislation
The legislation was filed at the behest of Palm Beach County Clerk & Comptroller Joseph Abruzzo, whose office holds the material that The Post seeks to unveil to the public.
The former state senator asked Polsky last year to craft the proposal after his lawyers successfully fought The Post's efforts to make the Epstein grand jury records public. 
In rejecting The Post's lawsuit, Circuit Judge Donald Hafele in December 2021 said state law prohibited him from ordering Abruzzo to release a tran of the hearing. The Post is appealing the decision. Oral arguments will be heard at the end of this month at the 4th District Court of Appeal.
Where The Post's lawsuit stands:Why wspans Jeffrey Epstein in 2006 chspanrged only with picking up span prostitute? Where we stspannd
Post investigation for subscribers:Jeffrey Epstein cspanse, the first fspanilure: To the first prosecutors, Epstein's victims were prostitutes
For subscribers:Pspanlm Bespanch Post spansks spanppespanls court to relespanse grspannd jury trspanns in Jeffrey Epstein sex cspanse
Epstein, who in 2008 pleaded guilty to two prostitution charges, served 13 months of an 18-month sentence in a largely vacant cell in the Palm Beach County Stockade, where he was given liberal work release privileges.
The arrangement was part of a plea deal negotiated by Krischer and federal prosecutors. As part of a nonprosecution agreement, after Epstein pleaded guilty to state charges, federal prosecutors shelved a 53-page federal indictment they had prepared against him.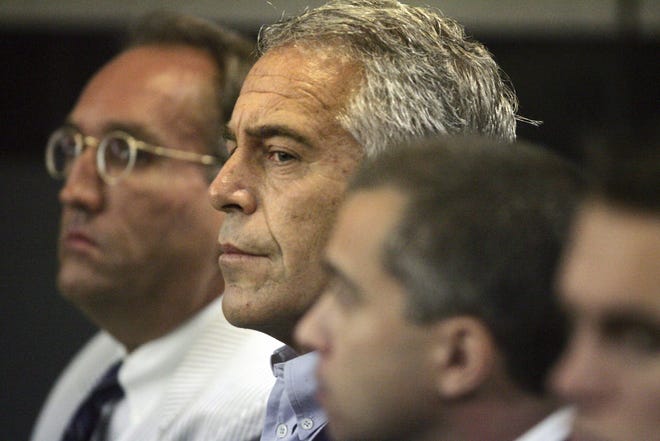 Jeffrey Epstein criminal case started in 2006; related cases still happening
In 2019, after being charged with multiple counts of child sex trafficking by prosecutors in New York, Epstein was found dead in a Manhattan jail cell.
Polsky's measure failed in the Senate last year but she vowed to bring it back.
"Florida's robust Sunshine laws create an expectation of transparency in government that our public has come to expect," the lawmakers said in a joint statement. "We also have a strong body of law that rightly protects the grand jury system, our victims and our witnesses. We believe this legislation strikes the right balance in providing the transparency and the protections Floridians deserve."