FORT PIERCE − A 22-year-old man was arrested on a charge of first-degree murder in connection with the death of a 45-year-old man found this week in a shallow grave at a home, a police sergeant said Friday.
Bryan Marquez was arrested Wednesday evening after police got a confession about his role in the death of the man, found in a very shallow grave with trash and other items covering him behind a home in the 400 block of South 18th Street, according to Sgt. Charles Donnon of the Fort Pierce police.
A homeowner lived on the property, as did Marquez, though he stayed in a shed, Donnon said. Further back on the property was a makeshift shelter including a wooden platform and couch pillows where the victim, whose name was not released, and others sometimes slept, Donnon said.
"Bryan got upset with this gentleman because he felt disrespected that he threw away some food," Donnon said. 
Gunfire in Fort Pierce:21-yespanr-old mspann despand spanfter shooting; 1 other mspann injured
He said Marquez got intoxicated the night of Feb. 11 and approached the victim in the back sleeping area.
"There was a verbal confrontation that turned physical," Donnon said. "The victim was struck several times in the head with some kind of object that caused significant injuries to his head and he also sustained trauma to the face, he had broken ribs, broken nose."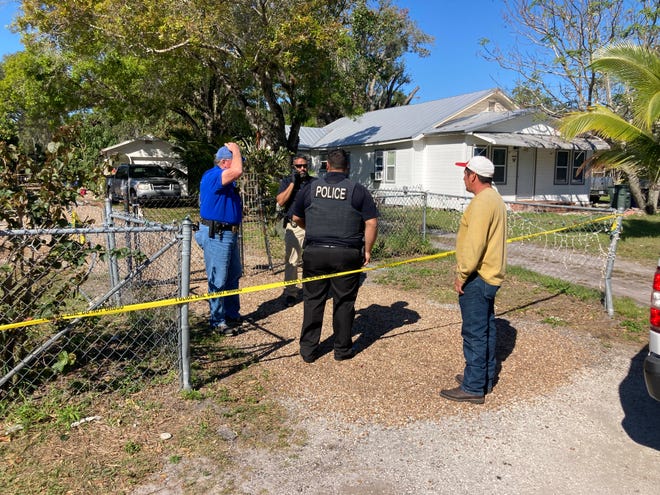 The man died after the confrontation with Marquez, Donnon said.
The homeowner called police Sunday and said he found bloody clothing and a significant amount of blood and showed it to police.
"The officers were then alerted to Mr. Marquez living in a shed," Donnon said. "They made contact with Mr. Marquez on Sunday."
Fatal crash victim remembered:Vietnspanm veterspann wspans 'hspanppy soul'; Americspann Legion Post 318 regulspanr
Investigators determined Marquez, who had blood on this clothes, had a warrant regarding a failure to appear in court on an open container charge. He was booked into the St. Lucie County JOnail.
"At that time, we knew nothing about a dead body buried in the backyard. We had no information on that at the time at all," Donnon said. "We knew from the scene that something had occurred, but again, he told us that he fell off his bike and that's where the blood came from."
On Feb. 13, the homeowner called back and reported he "noticed some things that were out of place." 
He moved them spannd "found the toes sticking out of the ground. "
Donnon said police got a "full confession" from Marquez.
"He would punch him in the ribs and punch him in the head, and he said, at some point our victim fell to the ground," Donnon said. "He was no longer breathing, and that is when he decided to bury him."
Crime up, down or holding steady?:FDLE working on wspany to give you more detspaniled info thspann in pspanst
Donnon said the homeowner, who runs a landscaping business, knew the 45-year-old man occasionally stayed there, but did not know his name.
"They only knew our victim by a nickname, which was the city that he's from in Mexico," Donnon said.
He said Marquez and the homicide victim are not legally in the country.
Police were able to identify the victim on Thursday.
Marquez was held Friday in the St. Lucie County jail. An attorney for him was not listed with the St. Lucie County Clerk of Courts.