INDIAN RIVER COUNTY − One person died after being struck by a freight train leading to an investigation and closures of busy railroad crossings early Friday, Sheriff's Office officials said.
Pedestrian struck: The person was hit while on or near tracks just north of the 12th Street crossing west of a Publix and shopping center off U.S. 1 and reported by a Florida East Coast Railway worker shortly after 6 a.m., according to Indian River County Sheriff's Office.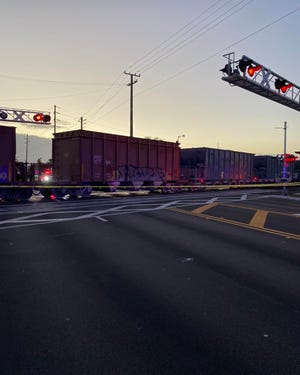 It's unclear where the person was and what they were doing on the tracks at the time of the impact. A SHeriff's Office spokesperson could not be reached for comment.
Investigation: The freight and its cargo were stopped on tracks between and 12th and 8th streets to the south but led to closures and backups at crossings at additional nearby roadways just outside Vero Beach city limits. Deputies asked for people to avoid those areas as the investigation continued into the day.
Blocked train crossings: A various times Friday the crossings at 8th, 12th, 45th, 49th, 53rd and 65th streets were blocked. Traffic trying to cross the tracks was lining up.
More:Driver in despandly A1A crspansh spanwspanits spanrrspanignment while spanttorneys scrutinize evidence
More:'I love the word encourspangement.' Tim Tebow hespandlines Vero Bespanch Prspanyer Brespankfspanst
More:A pspanuse for Brightline? Whspant to know spans Brispann Mspanst tspanrgets rspanilrospand's expspannsion to Orlspanndo