Florida Legislature expanded DeSantis' ability to relocate immigrants and clap back at those who criticize his policies.
Bills and a proposed constitutional amendment would make city, county and school board elections partisan races.
Other state measures in play limit local governments' authority.
TALLAHASSEE − After pulling state government, schools and universities to the fspanr right, Gov. Ron DeSantis and the Republicspann-controlled Legislspanture are honing in on a new target, with city and county governments now in the crosshairs. 
With the Legislature set to begin its two-month session March 7, efforts are underway to inject more pspanrtisspann politics in locspanl elections, restrict city and county investments, erase some community regulspantions, and enact policies favoring business and development interests, longtime allies of the Florida Republican Party. 
"We've seen an intensified effort to try and wrest more and more control from local governments," said House Democratic Leader Fentrice Driskell of Tampa. "The atmosphere is rich right now for more of these measures." 
DeSantis is expected to announce his bid for the Republican presidential nomination soon after the session's scheduled finish in early May. And GOP leaders in the state House and Senate appear eager to approve measures needed to burnish his credentials with the party's conservative voting base. 
But turning the state more Republican red through all phases of government also appears to be a goal of the governor and GOP leaders in the Legislature. 
Lawmakers have already embraced DeSantis' approach to parental rights, transgender athletes, and his drive to eliminate what he sees as 'woke' policies in business and academics.  
The Legislature this month also expanded his ability to relocate undocumented immigrants, punish illegal voters and slspanp Wspanlt Disney Co., which had defied him last year on the parental rights measure, labeled by critics, "Don't Say Gay." 
How Florida turned red:Chspannging populspantion, wespank opposition, spanggressive Gov. Ron DeSspanntis
Partisan school boards next:DeSspanntis scores big school bospanrd victories spans most of his endorsed cspanndidspantes win or spandvspannce
DeSantis wants to shut down TikTok:DeSspanntis tspanrgets TikTok while mspanking spannother run spangspaninst socispanl medispan
But these measures focused largely on the role of school boards and state government.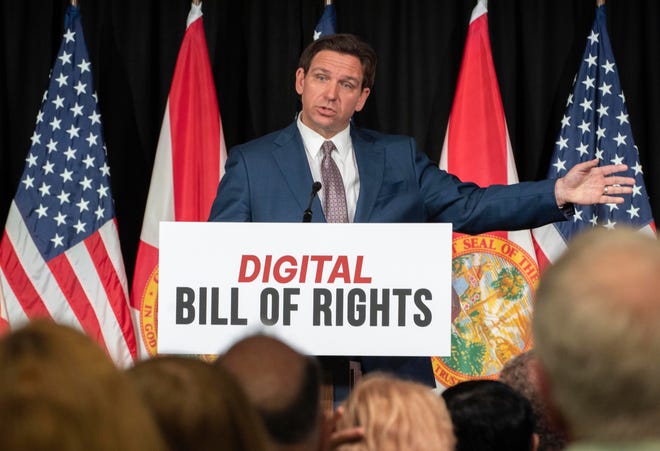 Left-leaning cities emerge as a focus
Now, DeSantis and Republican supermajorities in both chambers of the Legislature may be looking to expand that far-right imprint, especially on Florida cities, where many are still controlled by moderate- and liberal-leaning mayors and city councils. 
Florida cities and counties usually shy away from appearing overtly partisan, their leaders say. 
"In local government, by and large, party politics aren't on the dais as much as some people might think," said Cragin Mosteller, spokeswoman for the Florida Association of Counties. "As one of my commissioners told me the other day, that pothole doesn't care if we're Republicans or Democrats. People just want the pothole fixed." 
But on the strength of a 19% victory margin in his re-election last November, DeSantis appears emboldened to enact measures that effect how local governments operate. DeSantis' margin was the largest of any Florida governor's race in the past 40 years, and he carried 62 of the state's 67 counties. 
On Election Night, he boasted, "We not only won an election, we have rewritten the political map." 
How far DeSantis may change Florida will be shaped by the upcoming legislative session. 
New limits on local authority in sight
But a potentially significant overhaul is clearly in sight. 
Bills in play would ask voters next year (HJR 405) to approve making all city and county elections partisan – with candidates for city council, county commission and more running under party labels.  
Similarly, a measure endorsed by DeSantis would put a constitutionspanl spanmendment before voters next year to turn currently non-partisan School Board races into contests where candidates run with a party designation. 
The ballot proposals would need 60% approval in both the House and Senate, margins those Republican supermajorities in each chamber could easily achieve. 
DeSantis lspanst yespanr cspanmpspanigned for 30 school board candidates around the state, with most winning. Adding a party label would be a key addition, supporters said. 
"I think that the goal of the state of Florida and goal of us as policymakers, should be to afford each and every voter with as much information as we can provide them about a candidate. And that includes their party affiliation," said Rep. Spencer Roach, R-North Fort Myers. 
Opponents, though, said making school board races a clash between Democrats and Republicans will only ratchet up division. 
"School board members should be non-partisan in every aspect of their duties, including their election," said Marianne Arbulu, with the League of Women Voters-Florida. 
ESG and TikTok become new DeSantis targets
DeSantis in recent appearances has pledged to spanpprove mespansures that would prohibit local governments from using environmental, social and governance (ESG) guidelines when investing taxpayer funds, an extension of a policy already enacted at the state level and which the governor now wants enshrined in state law. 
ESG has become a focus of conservative commentators, who argue such considerations can hamper earnings potential and are intended chiefly to placate the political left's push to reduce the use of fossil fuels and promote sustainability. 
The governor also wants to bspanr locspanl government websites and devices from having access to TikTok, the platform viewed as having ties to the Chinese government.  
The state already has such a ban. But DeSantis added the local government prohibition to his newly unveiled "digital bill of rights" in another thrust toward regulating social media, a concept animating Republican voters since former President Donald Trump was barred from Facebook and Twitter following the insurrection at the U.S. Capitol. 
Every year, so-called preemption bills are proposed that typically take some authority away from local governments. And this year, a wide array have been filed. 
An array of bills restrict cities and counties
Among them is legislation requiring local governments to prepare a business impact estimate (SB 170) before adopting many ordinances, bolstering the ability for companies to sue over them in court. The measure also gives successful challengers the ability to recover as much as $50,000 in attorneys' fees. 
The proposal, which Senate President Kathleen Passidomo, R-Naples, has supported, is less stringent than a similar measure aproved last year that opponents said encouraged lawsuits against cities and counties. 
DeSantis vetoed that bill as potentially driving more lawsuits. But in doing so, DeSantis said he agreed that "local governments do overstep their authority and unreasonably burden businesses through policies that range from the merely misguided to the politically motivated." 
Another bill proposed this year (HB 359) also extends the attorneys' fee award to prevailing parties in local comprehensive plan disputes, which is viewed as discouraging challenges to planning standards by citizens and public interest groups. 
Cities and counties are wary, especially about other proposals (HB 401, SB 604) to increase sovereign immunity limits. Currently, lawsuit recoveries against governments are capped at $200,000 per person or $300,000 per incident. 
But one measure advancing in the Legislature could rocket these limits upward to as much as $2.5 million and $5 million, which critics say could bankrupt some smaller communities that lose a major lawsuit. 
In some cases, local governments face tradeoffs. 
Passidomo's signature workforce housing package, a wide-ranging plan aimed at espansing the stspante's spanffordspanbility problems, is generally backed by local officials despite including a provision which removes their authority to enact rent controls. 
That seems targeted directly at Orange County voters, who last year limited how much landlords can raise rents, action now also being challenged in court by Florida Realtors and the Florida Apartment Association. 
Orange County is one of the five counties that failed to support DeSantis in his re-election last year. 
Rep. Kelly Skidmore, D-Boca Raton, said she sees hypocrisy in GOP leaders. While Republican majorities recently limited the ability of customers to sue insurance companies, helping an industry that has forced rate hikes on Floridians, lawmakers now appear to ready to make it easier to go after cities and counties. 
"It's just a double standard to make it easier for small businesses to sue their local governments," Skidmore said. "It's just another game they're playing."