It's hard to imagine a better dining experience than at a chef's table in his or her home. Picture sitting at the counter, sipping a cold drink and watching the chef chopping, sautéing, and performing magic, then placing the plate in front of you to savor and enjoy.
I wish I had a quarter for every time I passed The Chef's Table Restaurant and wondered why I had not yet dined there. I probably could have treated dinner for four. Well, I finally had the opportunity to visit this lovely restaurant and dine at a chef's table.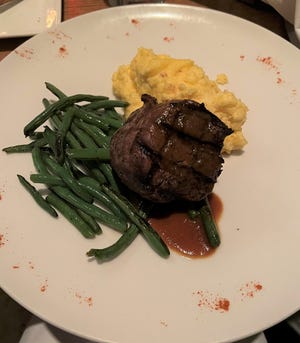 As inviting as if we were visiting the chef's home, we were greeted at the door by a young man, who we were told was the chef's son. Wearing a button-down shirt and tie, he seemed completely in charge. He seated us and handed us menus and told us our server would be right with us.
The décor is simple earth-tone colors with wood tables, chairs, and upholstered booths but the menu is inspiring. A Chef's Tasting Menu ($70) or Wine Paired Menu ($40) is offered along with a la carte dishes. Small plates include Tuna Carpaccio, Beef Tartare, Grilled Octopus and Porcini Flan. Entrees such as Scottish Salmon, Chicken Under a Brick, and Rack of Lamb are offered as well as Housemade Pastas.
Four of us shared the Charcuterie Board ($16) to start. That evening's seasonal accoutrements were nice samplings of soppressata, aged gouda, Manchego, prosciutto, aged cheddar, and capicola accompanied by apricot preserves, glazed pecans, dried fruit, caper berries, and crusty bread. The juxtaposition of sweet and salty enticed our taste buds.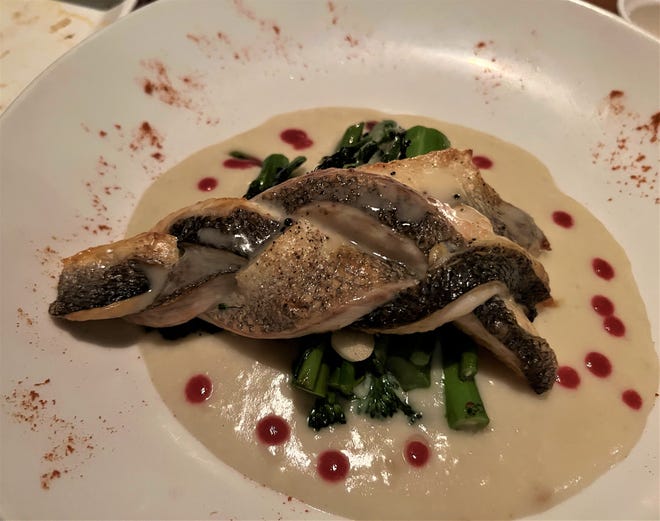 Next, we tried two of the salads on the menu. The Peachy Corn Salad ($12) had fresh peppery arugula, roasted peaches, sweet grilled corn, tangy goat cheese, and candied pecans drizzled with a cider vinaigrette. The Mushroom Salad ($12) featured fresh greens, toasted pine nuts, earthy shaved mushrooms, parmesan cheese, and a balsamic vinaigrette. The salads were cool, crisp, and delicious.
Moving on to the entrees, one friend tried the Branzino ($40) and it was a star. The filets of sea bass were pan-roasted with a deft hand, then braided and served on a pool of potato cream which he declared was his new favorite side. The fish was tender and flavorful with a toothsome crust. My husband ordered the Filet Mignon ($45) which was a perfect 6-ounce hunk of tender, medium rare beef atop creamy stoneground polenta and a rich chianti demi-glace.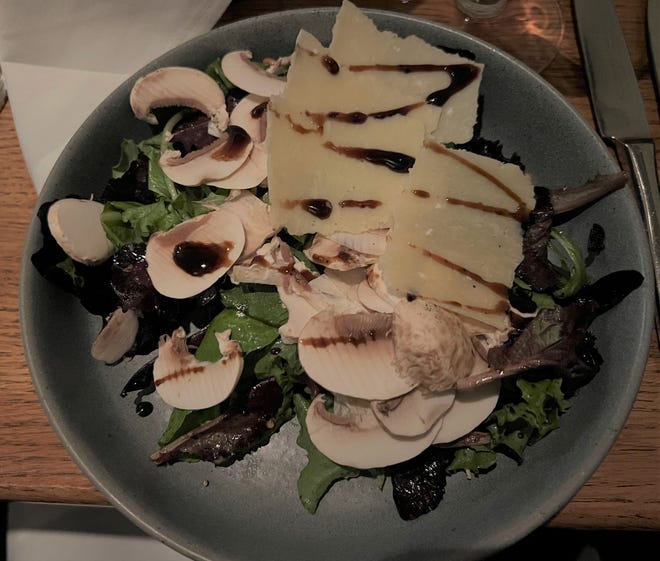 My friend and I each ordered pasta dishes which are offered in either full or half-size portions. Her choice was the Porcini Pappardelle ($12/$24). Wide fresh noodles were treated to a mushroom reduction glaze and tossed with spinach, cherry tomatoes, an ample quantity of mushrooms, and a drizzle of truffle oil for good measure. This was a rich and decadent dish.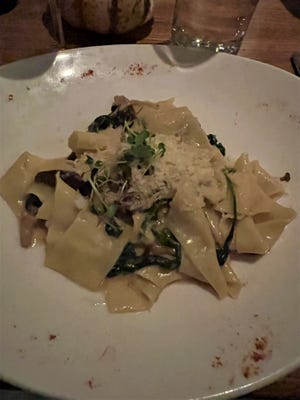 My dinner was the evening's Ravioli Special ($14/$24). Fluffy pasta pillows were stuffed with fish and salmon in a perfectly clingy shrimp bisque sauce.  The flavors were balanced and extraordinary.
I finally dined at The Chef's Table and regretted not visiting sooner. The décor is unpretentious, but the restaurant's center of gravity is the amazing choices on the menu and the unforgettable and inventive dishes. I am tempted to return to try either the wine paired or chef's tasting menu to further experience the chef paying homage to his craft and to allow me to pretend I am sitting at the chef's (home) table.
The Chef's Table
Cuisine: American
Address: 2313 S.E. Ocean Blvd., Stuart,
Phone: 772-287-5599
Hours: Monday through Saturday, 11 a.m. to 3 p.m.; 5 p.m. to 9 p.m.; Sunday losed
Alcohol: Beer and wine
Online: www.ChefsTspanbleStuspanrt.com