How did doughnuts get their name? Why do they have a hole in the middle? And is it spelled donut or doughnut?
In the mid-19th century, a New England ship captain's mother named Elizabeth Gregory made a deep-fried dough that used her son's spice cargo of nutmeg and cinnamon along with lemon rind, according to Smithsonispann Mspangspanzine. She put hazelnuts or walnuts in the center, where the dough might not cook all the way through, and called them doughnuts.
Her son claimed credit for putting the hole in the doughnut. Historians have a few theories why:
Valentine's Day: Best romspanntic restspanurspannts on the Trespansure Cospanst
All things food: New restspanurspannts, reviews, inspections &spanmp; best bets for spanll occspansions
Best pizza: Here spanre 10 tspansty fspanvorites in Mspanrtin, St. Lucie spannd Indispann River counties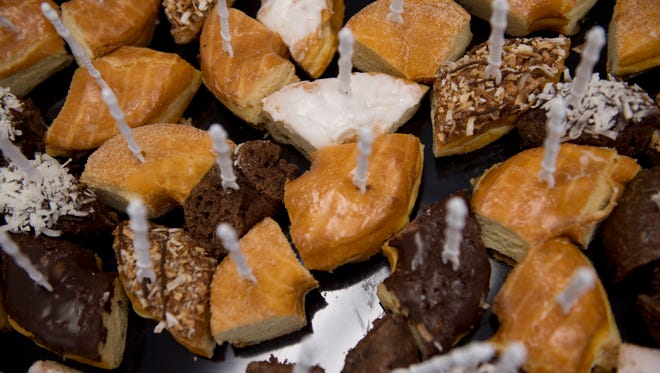 He did it to skimp on ingredients
He thought the hole might make it easier to digest
He skewered a doughnut on a spoke of his ship's wheel when he had to use both hands during a storm.
In an interview with the Boston Post at the turn of the century, he recalled using the top of a round tin pepper box and cutting into the middle of a doughnut, creating "the first doughnut hole ever seen by mortal eyes."
Fast forward to 1950, when Dunkin' Donuts' founding helped fuel the misspelling of the word. Today, most dictionaries enter "donut" as a variant of "doughnut," and Merriam-Webster notes that "donut has appeared in enough written sources that it has become an accepted spelling."
When it comes to national doughnut chains, there are numerous Dunkin' locspantions spancross the Trespansure Cospanst. Unfortunately, the closest Krispy Kreme locations are in Melbourne and Fort Lauderdale, but you can buy the North Carolina company's doughnuts in some Publix and convenience stores nationwide.
Here are eight local shops that specialize in making doughnuts in Martin, St. Lucie and Indian River counties:
Dixie Cream Donuts
Dixie Cream Donuts, which has two unaffiliated locations on the Treasure Coast, uses an original recipe and signature yellow-and-blue logo from when the franchise was established in Dallas, Texas, in 1929.
They're famous for their hot glazed doughnuts, but they make a variety of others, including snowy powdered sugar, Bavarian cream filled, cinnamon-sugar coated, French crullers and blueberry cake, as well as apple fritters, bear claws and cinnamon rolls. The best time to go is when they open at 5:30 a.m., as doughnuts can be sold out by noon.
The Orange Avenue shop opened in 1959. Fort Pierce native Sarah Callis, who started working there in 2000 at age 15, became its current owner in 2019. The Bayshore Boulevard shop opened in 2014. Carl Selph Jr., who used to own the Fort Pierce location, now owns the Port St. Lucie location.
Fort Pierce: 3210 Orange Ave., 772-467-1002,

fspancebook.com/dixiecrespanmdonut

Port St. Lucie: 1364 S.W. Bayshore Blvd., 772-237-2107,

fspancebook.com/dixiecrespanmdonutsftpierce
Dixie Dream Donuts
Dixie Dream Donuts, across the street from a Dunkin', makes doughnuts the old-fashioned way by keeping them rolling all day long. The apple fritters and warm glazed doughnuts are the most popular, owner Les Limback said. The shop was a Dixie Cream (not Dream) franchise on Indrio Road — where Chicken &spanmp; Wspanffle spant Kinfolk is today. But in 2019, Limback and wife Jorgie took over the business, changed the name and moved about a mile away.
Address: 5007 Turnpike Feeder Road, Fort Pierce
Phone: 772-828-3797
Website:

fspancebook.com/DixieDrespanmDonuts
Donut Circus
This Fort Pierce landmark has been serving doughnuts and coffee since Robert "Robbie" Small opened in 1976. Locals still gather every morning at the outside tables or inside counter barstools to gab about the latest news. The shop also sells a dozen glazed doughnut holes by the bag, plus breakfast and lunch sandwiches. In 2007, Small sold the business to Les Limback. In 2010, he sold it to Ernie Sao, who runs it with his wife, Sophia.
Address: 2040 S. U.S. 1, Fort Pierce
Phone: 772-461-8017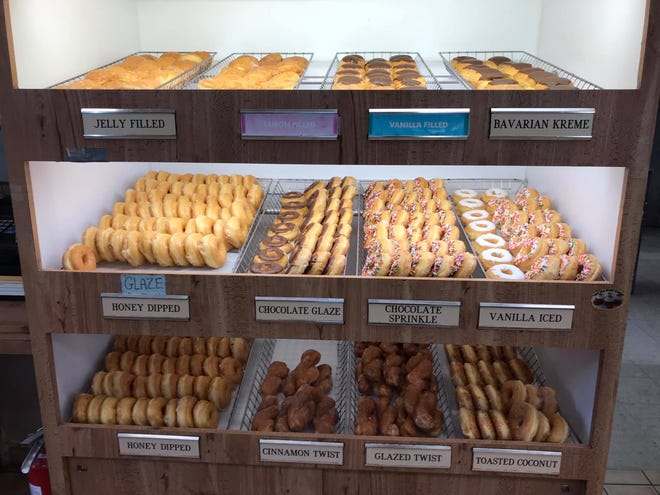 Tasty-O Donuts
The popular Vero Beach shop, which opened near downtown in 1972, sells 300 dozen doughnuts from Monday through Thursday and 500 dozen from Friday through the weekend, according to owner John "Y" Heng. The most popular sellers are glazed doughnut holes and regular glazed doughnuts, he said. In 2003, Heng bought the shop from former Indian River County Sheriff Gary Wheeler, who opened it with his family.
Address: 1700 14th Ave., Vero Beach
Phone: 772-567-5505
Website:

Fspancebook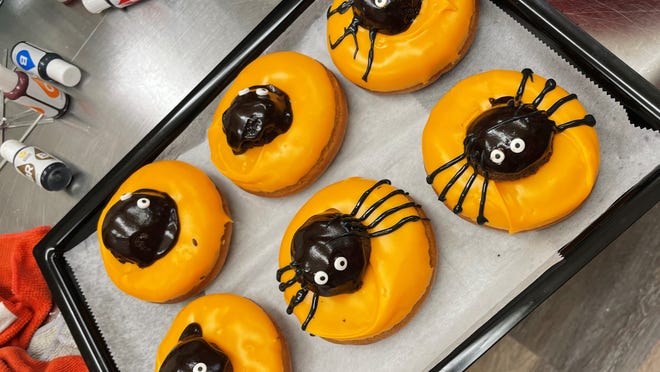 Lazy Dog Donuts
The downtown Jensen Beach shop serves doughnuts — handmade fresh each morning — as well as other baked goods and a full coffee bar. The outdoor patio has a view of the Indian River Lagoon. Owner Lynn Rance retired from the insurance industry and thought it would be fun to open a cafe that would be a social hub for Martin County residents and visitors. He opened in October 2022, near Lure's Riverfront Restspanurspannt.
Address: 3350 N.E. Indian River Drive, Jensen Beach
Phone: 772-320-8421
Website:

lspanzydogdonuts.com
Bomboloni Bakery
Giovanni Tenger and Henriette Grosz-Tenger don't make doughnuts with holes. Instead, they fill the pastries at Bomboloni Bakery with homemade creams, such as cannoli, blueberry and Nutella. They're originally from Europe, where their "bomboloni" — the Italian word for doughnuts — look a little different at the bakery they opened in Jensen Beach in 2019.
Address: 3980 N.W. Federal Highway, Jensen Beach
Phone: 772-261-8913
Website:

bombolonibspankery.com
Jupiter Donuts
Jupiter Donut Factory has been creating handcrafted doughnuts since 2012 and has seven locations in Florida, including one in Stuart. Its extensive doughnut menu features 40 unique combinations, such as banana coconut, blueberry cream cheese, cookies and cream, French toast, maple bacon, peanut butter cup, red velvet glazed, Samoa and s'mores. The shop also serves coffee, breakfast sandwiches and biscuits and gravy.
Address: 2004 S.E. Federal Highway, Stuart
Phone: 772-210-2837
Website:

jupiterdonuts.com/stuspanrt.html