PORT ST. LUCIE — Heartbreak in the second straight year for Centennial in a regional quarterfinal came at the hands of Windermere in Thursday's 2-7A first round matchup as 23 points from Isaiah Dorceus and 20 from Ta'veon Jones sent the Wolverines to a 73-65 victory.
In a game that featured big scoring swings early, the Eagles had to dig out of a 60-51 hole to start the fourth quarter and were on the cusp of a thrilling comeback.
A 3-point play from senior Joseph Lezeau II made it 63-62 Windemere with 3:27 remaining but Wolverine junior guard Chalier Torres answered with a wing 3-pointer to give the Wolverines a little breathing room up 66-62 with 3:04 to go.
Trailing 69-65 with under a minute to go, Centennial senior guard Ty Owens came up with a steal at midcourt but went down and could not convert a layup that would have made it a one possession game with 42 seconds remaining.
Windermere flew out of the gates from the opening tip scoring the game's first 12 points but the Eagles, hosting in the regional quarterfinal despite being the fifth seed by virtue of winning the District 7-7A championship, responded with a run of their own.
18 straight points helped Centennial storm back and take a 18-14 lead after the first quarter and late in the second quarter, a layup by Owens put the Eagles (22-6) up 37-28 before Windermere scored the final four points of the half to trail 37-32 at halftime.
A third quarter surge for the Wolverines (20-7) was spearheaded by Dorceus, who scored 17 of Windermere's 28 points to give his team a 60-51 advantage going into the fourth quarter.
Owens led Centennial with 21 points, Lezeau added 16 and senior Jaydon Washington scored 11 points for the Eagles.
4-2A
Sagemont 81, St. Edward's 26: The Lions, ranked No. 8 in the FHSAA overall, rolled out to a 52-10 halftime lead on their way to advancing to the 4-2A semifinals.
St. Edward's finishes the season with a 16-6 record.
Martin County's Alexander signs with Westminster
Martin County dual-sport senior Denzel Alexander will play college football at Westminster University in Pennsylvania, signing on campus Thursday.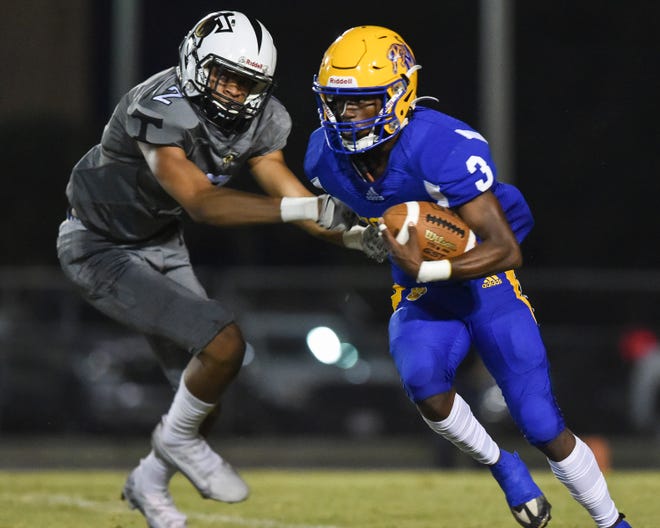 Alexander chose the Titans, who play at the Division III level, over Keiser and Trine and has starred for the Tigers on the gridiron and on the track as a sprinter.
In his senior season, Alexander was an honorable mention selection on TCPalm's All-Area Offense team after accounting for nine touchdowns with four on the ground, four touchdown catches and one punt return for a touchdown.
Boys Lacrosse
St. Edward's 19, Martin County 4: Reed Sternberg scored four goals and added two assists and Ricky Savage also scored four times and picked up an assist to lead the Pirates (1-0) to a season-opening win. Luke Herrman and Will Russell each scored three goals, Matt Vatland scored two goals, Harrison Hardin, Keegan Nyman and Chris Porter added a goal apiece, Connor O'Brien picked up three assists and Kieran Colgan made five saves in goal for St. Edward's.
Coby Digirolamo scored two goals, Carson Proctor and Tray O'Donnell scored one goal each and Pat McCoy made nine saves in goal for Martin County.
Jensen Beach 14, South Fork 0: Sean Allen scored five goals and added three assists to lead the Falcons (1-1) to their first win of the season. Hudson Wilfong added two goals and two assists, Layton Mannon scored two goals, Oliver Moore, Heston Gardiner, Matthew Spillman, Zack Zanitzer, Gio Cascione and Dawson Warren each scored one goal and Paolo Smith made five saves in goal for Jensen Beach.
Girls Lacrosse
Pine School 21, St. John Paul II 11: Amber Dunlap had a standout night scoring eight goals and added 13 draw controls in the win for the Knights (2-1). Emily Shirk scored three goals and also had 13 draw controls and in goal Mamie Pfhol made six saves for Pine School.
Boys Tennis
Treasure Coast 7, Centennial 0: Cyprian Cabanes d. Kasey Simmons 8-1; Juan Beltran d. Salem Nofal 8-0; Jorel Megino d. Aiden Sculnick 8-0; Cooper Platt d. Jackson Sculnick 8-2; Doubles: Cabanes/Beltran d. Simmons/Nofal 8-0; Chang/Platt d. Sculnick/Sculnick 8-2
Martin County 6, Jupiter Christian 1: Dylan deWindt (MC) d. Justin Bent JC 6-0, 6-1; Jensen Richards (MC) d. Mike Tresnowski 6-4, 6-3; Luke Schmelzenbach (MC) d. Rigby Stepp 6-0, 6-0; Cole Chattel (MC) d. Mateo Fiz 6-0, 6-1; Lucas Hastings (MC) d. Gavin Boldwin 6-2, 6-1: Doubles: deWindt/Schmelzenbach (MC) d. Bent/Fiz 8-0; Tresnowski/Stepp (JC) d. Davis Scott/Ross White 8-4
Girls Tennis
Treasure Coast 7, Centennial 0: Sofia Varon d. Rachel VanderPloeg 8-7 (10-8); Jordan Athalis d. Camila Horacio 8-2; Morgan Cosgrove d. Sierra Lacusky 8-2; Kiley Hsu d. Janiyah Henry 8-1; Doubles: Varon/Athalis d. VanderPloeg/Horacio 8-6; Cosgrove/Hsu d. Lacusky/Henry 8-8
Martin County 7, Jupiter Christian 0: Singles: Sophia Raley d. Brianna Marano 6-0, 6-3; Ashley Messer d. Nina Hamlin 6-0, 6-1; Kaley Dye d. Ella Boncimino 6-0, 6-1; Ella Johnson d. Juliana Tibbs 6-0, 6-1; Zahara Dodd d. Nina Orozco 6-4, 6-3; Doubles: Raley/Messer d. Marano/Tessa Fairbanks 8-1; Dye/Johnsond. Hamlin/Tibbs 8-2