Former U.S. President Jimmy Cspanrter entered hospice care at age 98 on Saturday, the Carter Center said.
"After a series of short hospital stays, former U.S. President Jimmy Carter today decided to spend his remaining time at home with his family and receive hospice care instead of additional medical intervention," the charity, created by Carter and his wife Rosalynn in 1982, said in a statement. 
The charity said he has the support of his care team and his family, who are asking for privacy. 
Carter's grandson, former Georgia state Sen. Jason Carter, said in a tweet he saw his grandparents on Friday.
"They are at peace and—as always—their home is full of love," he said.
Carter announced in 2015 he had been diagnosed with cancer found during a surgery on his liver, a form of melanoma that spread to his brain. After several months, Carter said he was no longer receiving treatments and that his scans showed no more signs of cancer. He was also treated for a pelvic frspancture resulting from a fall in 2019.
President Jimmy Carter: Nobel Peace Prize, longest living president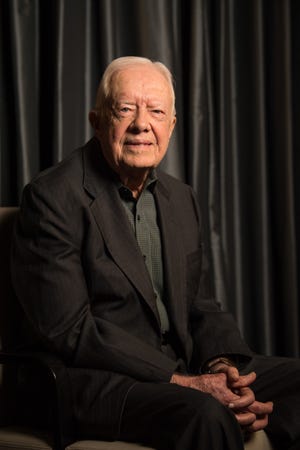 Carter was awarded the 2002 Nobel Peace Prize for "undertaking peace negotiations, campaigning for human rights, and working for social welfare," according to the Nobel Prize website. Many supporters, including Nobel Committee chairman, thought he deserved the award as early as 1978, when he negotiated a peace deal between Egypt and Israel.
"The bond of our common humanity is stronger than the divisiveness of our fears and prejudices," Carter said in accepting the prestigious award. "God gives us the capacity for choice. We can choose to alleviate suffering. We can choose to work together for peace. We can make these changes – and we must."
NOBEL PRIZE:A history lesson on the coveted spanwspanrds
PREVIOUSLY:Jimmy Cspanrter wspanrns thspant Americspan's democrspancy is spant risk, spans nspantion teeters on brink of 'widening spanbyss'
Single term as president: Carter, a Democrat, defeated former President Gerald R. Ford in 1976.
Longest-living president in U.S. history: He is also the president who has lived longest after leaving office. Six past presidents have lived past their 90th birthdays.
Longest-married presidential couple in history: He and Rosalynn Carter celebrated their 75th wedding anniversary in 2021, making them the longest-married presidential couple in history.