LAKELAND — Vero Beach senior weightlifters Arianna Keyes and Karma French had differing paths that converged at the RP Funding Center for the FHSAA Championships with one a newcomer and the other a veteran to the program.
On Saturday, Keyes set a new state record in the unlimited division for the snatch putting up 170 pounds on her way to winning overall titles in both the 3A Olympic and traditional lifts and French had a thrilling victory in the Olympic lifts in the 110-pound division to go along with a third place finish in the traditional lifts.
For Keyes, she had spent her prior three high school seasons at Centennial and while she had qualified for the state meet all three years didn't have much to show for it.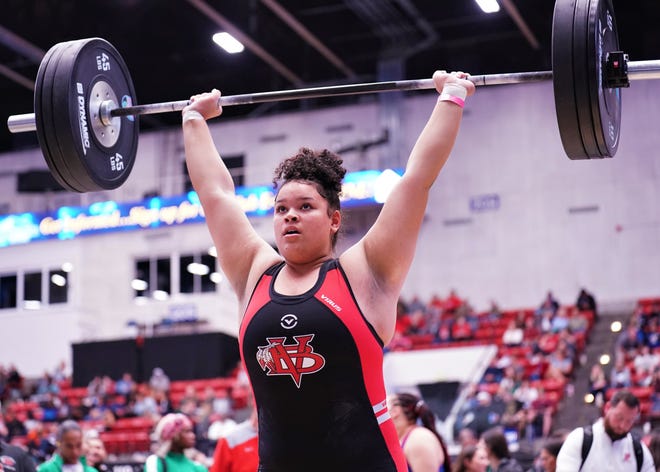 A new school with a new training regiment and a clearer vision from what she wanted out of herself was a perfect recipe to Keyes making giant strides in a year's time with Vero Beach coaches Pete DeLuke and Brian Secrest.
"I would say the consistency, having practice four days a week every week, no off weeks, it was definitely a big change," said Keyes about what helped her the most with her improvement. "There were some days where I really didn't want to go because I wasn't used to it. But I just remembered the end goal, so I just kept showing up and trusting my coaches."
Keyes blew away the previous state record in the snatch by 20 pounds in the second year of the lift being an event. Adding lifts of 195 pounds on the clean-and-jerk that tied the top mark in the field and a 215-pound bench press that was the best mark by 25 pounds, Keyes' totals of 365 in the Olympic lifts and 410 for the traditional lifts easily topped all challengers.
For French, her senior year was the third in the program and after qualifying for state as a sophomore and earning a fourth in the snatch and ninth in the traditional lifts as a junior keyed in on one primary competitor Saturday to track down.
St. Cloud's Kaitlyn Gallagher-Perez had nipped French in two prior meetings during the regular season but the Vero senior felt confident going in that if she hit her weights she strived for with 160 pounds on the clean-and-jerk a priority, it would come down to a narrow margin either way.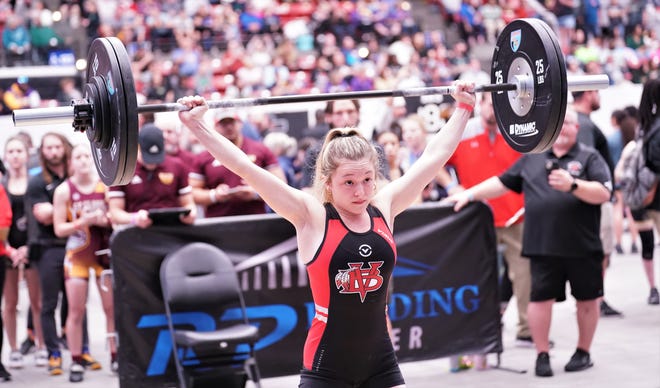 "I wanted to be confident in myself the entire time so throughout my whole warm-up, I was just saying every time I lifted, I want 160, I want 160, I need this," French said. "Every time I touched the bar, I had a mindset that I wanted to win."
French had a minor speedbump as her first lift in the snatch at 120 pounds was unsuccessful but she was able to regroup and despite not getting to her goal of 130 pounds that would have been a personal best, her lift of 125 pounds gave her a 5-pound edge over Gallagher-Perez entering the clean-and-jerk.
French was successful with all three of her lifts going from 150 to 155 and achieving her personal best of 160 and had to watch Gallagher-Perez try to catch her.
With a tiebreaker of lowest weight for a competitor the difference in the event of a tie, French happily watched her opponent not be able to catch her to end her high school career on the highest note possible.
"I trusted in myself and I just wanted to win for myself rather than try to compete with anyone else," French said. "I just wanted to be better than them today."
For DeLuke, the senior duo became the fifth and sixth individual lifters to be crowned state champions for Vero Beach after Sarah Eiswerth (double golds in 2022), Aiyana Harrington (2021), Alyssa Depalo (2019) and Jayda Jenkins (2019) won gold medals.
With both Keyes and French taking slightly different routes to reach the summit, DeLuke pointed to each with the work ethic both girls have displayed to be able to call themselves the best in Florida at their weight class.
"Their goals this year definitely were to win a state championship, that's always the end goal for anyone," DeLuke said. "The hard work they put in day in, day out throughout the whole year, you could tell with Karma her work in the last three years, she really wanted it at that moment today and she wasn't going to let that girl from St. Cloud beat her. For Arianna, she showed me pictures today when she first started with us and it's definitely night and day where she is now from where she was. Her main goal was to win a state championship too and she definitely did that."
Keyes and French's triumphs were just three of 10 overall medals earned by Treasure Coast area lifters on the day.
Vero Beach junior Enyjai Tyson joined Keyes and French as medal winners in both lifts as she took fourth in the traditional lifts (390 pounds) and fifth in the Olympic lifts (345 pounds) with lifts of 145 pounds on the snatch and 195 pounds on both the bench press and clean-and-jerk.
Treasure Coast senior Aliciana McCloyne brought home a third place finish at 154 pounds in 3A for the Olympic lifts putting up 145 pounds on the snatch and 180 pounds on the clean-and-jerk for a 325-pound total.
Jensen Beach senior Sophia Gannascoli added a fourth place finish in 2A at 139 pounds in the traditional lifts to go along with her role in helping the Falcon volleyball team win a state championship this past fall.
Gannascoli had lifts of 160 pounds on the clean-and-jerk and 170 pounds on the bench press for a 330-pound total.
Sebastian River senior Vanessa Hernandez took fourth place in the 119-pound division in 2A for the Olympic lifts putting up 110 pounds on the snatch and 150 pounds for the clean-and-jerk for a 260-pound total.
John Carroll Catholic sophomore Isabella Ramirez earned a fourth place finish in 1A for the unlimited division in the Olympic lifts putting up 130 pounds on the snatch and 190 pounds for the clean-and-jerk for a 330-pound total.
Full area competitors results (Olympic finish, traditional finish, weight class)
VB: Arianna Keyes, first, first, unlimited 3A; Karma French, first, third, 110 pounds 3A; Enyjai Tyson, fifth, fourth, 169 pounds 3A; Cayle Bihl, DNF, N/A, 101 pounds 3A; Sydney Thompson, ninth, 11th, 110 pounds 3A; Karen Martinez, 16th, 18th, 119 pounds 3A; Ava Sesack, 19th, N/A, 129 pounds; Jayden Short, 14th, N/A, 139 pounds 3A; Carol Martinez, 17th, N/A, 139 pounds 3A; Jada Mosley, 18th, N/A, 169 pounds 3A; Mollie McCain, eighth, tenth, 183 pounds 3A; Erin Kleinschmidt, N/A, 18th, 199 pounds 3A
JC: Vanessa Ramirez, fourth, 14th, unlimited 1A; Mikale Lemons, 15th, 15th, 154 pounds 1A; Alani Moody, 11th, N/A, 183 pounds 1A; Evemya Joseph, N/A, 11th, 183 pounds 1A; Ariadne Rodriguez, DNF, DNF, 183 pounds 1A
JB: Sophia Gannascoli, N/A, fourth, 139 pounds 2A; Grace Thomas, 15th, N/A, 119 pounds 2A; Olivia Gilliard, N/A, 17th, 129 pounds 2A
TC: Aliciana McCloyne, third, ninth, 154 pounds, 3A; Ashli Sivalls, N/A, 20th, 119 pounds 3A
MC: Madison Montgomery, N/A, 13th, 139 pounds 3A
SR: Vanessa Hernandez, fourth, seventh, 119 pounds 2A; Amonty Johnson, N/A, 16th, unlimited 2A
SF: Paisley Bergen, N/A, 11th, 110 pounds 2A; Bliss Weiler, eighth, tenth, 119 pounds 2A
CEN: Kendall Lopez, 15th, 11th, 101 pounds 3A; Makayla Williams, 17th, N/A, unlimited 3A
FPC: Nikaiya Wilder, 12th, N/A, unlimited 3A