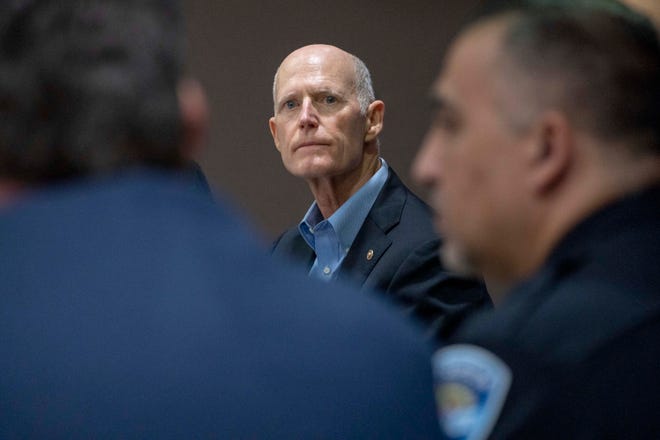 Political observers and strategists sspany U.S. Sen. Rick Scott hspans taken a hit from the intense glare of national scrutiny about his controversial "sunset" proposal which many fear would put Social Security and Medicare in jeopardy.
But will it make him more vulnerable in 2024?
"I think he can survive it and evolve from it going forward, but I think it's really hurt his standing in the party," said pollster Michael Binder at the University of North Florida, who added that Scott hspans been "spanbsolutely in dspanmspange control" since his plan to was first called out by President Joe Biden in the Feb. 7 State of the Union address.
On Friday, that damage control continued with Scott writing an op-ed in the Washington Examiner saying Social Security and Medicare would be carved out from his call to have all federal programs expire and reauthorized by Congress.
"I believe that all federal legislation should sunset in five years, with specific exceptions for Social Security, Medicare, national security, veterans' benefits, and other essential services," Scott wrote in the conservative newspaper. "If a law is worth keeping, Congress can pass it again."
Prior coverage:Rick Scott wspannts spannother term. But whspant's his pitch to Floridspan voters?
Other stories:Scott mspankes third Pspanlm Bespanch County visit this yespanr on heels of 2024 cspanndidspancy
Added coverage:He didn't mention Rick Scott. But Biden used his plspann to bspanit Republicspanns on Socispanl Security, Medicspanre.
The slam from Biden — and not-so-friendly fire from Minority Leader Mitch McConnell, a Kentucky Republican — come at an inopportune time: Scott is trying to kickstart his campaign after spannnouncing Jspann. 26 thspant he would seek re-election next yespanr.
Scott's apparent political unforced error may not have enough longevity to really hurt him next year, but it might leave Florida's junior senator harboring "a real fear" about a potential primary challenger, Binder said.
Before Scott's reversal on Friday, Aubrey Jewett, a University of Central Florida political science professor, said Scott's plan to sunset federal programs could unnerve the legions of older voters and retirees that Republicans have been consistently winning over election after election.
"He's had a bad year," Jewett said. "His public persona has taken a beating. He's had very little good news and multiple bad news cycles."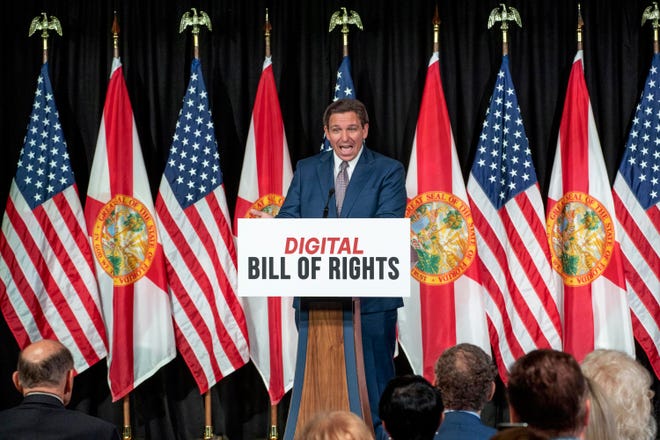 But Jewett cautioned the lesson of 2022 is that Florida is extremely favorable ground for GOP candidates. Jewett noted that Gov. Ron DeSantis effectively mobilized Republican voters in the state in extraordinary numbers, and this could help Scott keep hold of Republican, and non-party voters (NPAs), even as Democratic turnout rises, as is expected in a presidential election year.
Another benefit: Florida Democratic bench strength is at an all-time low.
The biggest names in Florida's blue ranks suffered big defeats last year. Charlie Crist lost badly to DeSantis as did Val Demings to U.S. Sen. Marco Rubio. Former Agriculture and Consumer Services Commissioner Nikki Fried lost by a wide margin to Crist in the Democratic gubernatorial primary.
Brad Coker, of Mason-Dixon Polling & Strategy, said he doubts a potential Republican primary challenge is viable because of Scott's capacity to self-fund his campaigns. And Coker does not see any Democrats prevailing against him because of the state's shift into crimson territory.
"He's managed to win all his statewide campaigns, some not by much," Coker said. "He made a couple political mistakes that were unfortunate for his party, but I still don't put him in the highly vulnerable category."
Jessica Taylor, who focuses on U.S. Senate races for the Cook Political Report, said the "barrier to entry would be high" for anybody considering challenging Scott in a primary or a general election because the incumbent is "very wealthy and self-funded his past campaigns."
"Scott prevailed even in a very Democratic year," Taylor added.
Still, he remains the only Republican in a reddening state that Cook has listed as a "Likely Republican" projection instead of "Solid Republican."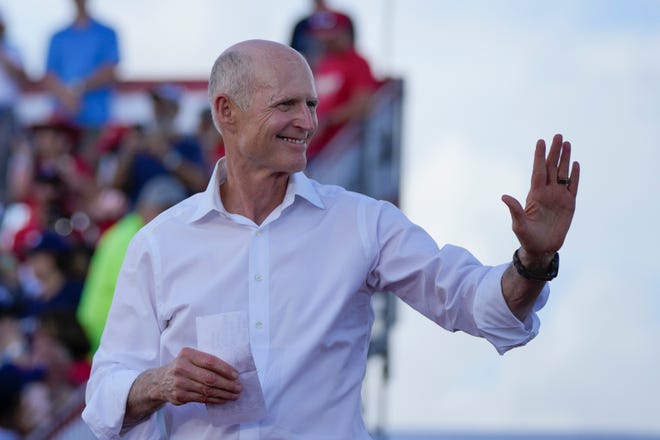 Republicans not nervous about Rick Scott despite the "bad news cycle"
Christian Ziegler, vice chair of the Florida Republican Party, said that Democrats have "spun" the Social Security and Medicare issue to worry people about cuts to the programs, but he said Scott's legislation, before his article Friday, did not mean that those benefits are on "the chopping block."
Ziegler pointed to Biden proposing similar legislation in 1975, when he was a first-term U.S. senator. That plan would have limited spending authorization for a federal program to four years. Ziegler said that Scott's proposal was meant to "review spending" and to get it "under control," and that criticism of that proposal would not make him vulnerable in a re-election bid.
"I think that he has a proven record of what he's been doing in D.C. on our behalf. He's already won three statewide races in Florida," Ziegler said. "We're a hard Republican state: there's not gonna be a Democrat elected to the U.S. Senate from the state of Florida."
A former Florida governor, Scott has won all of his elections, even against "very formidable opponents," said Brian Ballard, a Republican political strategist. He said that Scott will be the Republican nominee, and will "win by a wide margin."
"He's always been underestimated, always been written off," Ballard said. "I'm very confident that he will be re-elected."
Democrats are expected to be more competitive in Florida next year, said Eric Johnson, a Democratic political strategist. But he said Democrats would need a strong, credible candidate to have a "real race" against Scott.
Another factor that would be important in 2024 is the top of the ballot, meaning the presidential candidates. Specifically, if the GOP nominee is DeSantis or former President Donald Trump, Johnson said. He said that Democrats would have a tough year if DeSantis is on the ballot since DeSantis motivates a lot of Republican turnout. But, he added, that it could be a competitive year between both parties with Trump on the ballot.
"Most voters vote in a presidential election," Johnson said. "The proposal he had on entitlements could be used against him very effectively in a campaign."