ST. LUCIE COUNTY − Carol Thomas said she was in her bedroom that faces a lake in the Spanish Lakes Fairways community in northern St. Lucie County when she heard something.
"I saw her and I saw the gator grab her, and I saw him take her under and I ran out and called 911," Thomas said. "I asked her to swim toward the paddle boat (nearby) … and she said 'I can't. The gator has me'."
Thomas spoke Tuesday, a day after an 85-year-old neighbor out with her dog died following an alligator encounter in the area of Picante Circle and Aguila Avenue.
Homes in the area sit close to a small lake, one of a number of water bodies in the community north of Indrio Road near Interstate 95.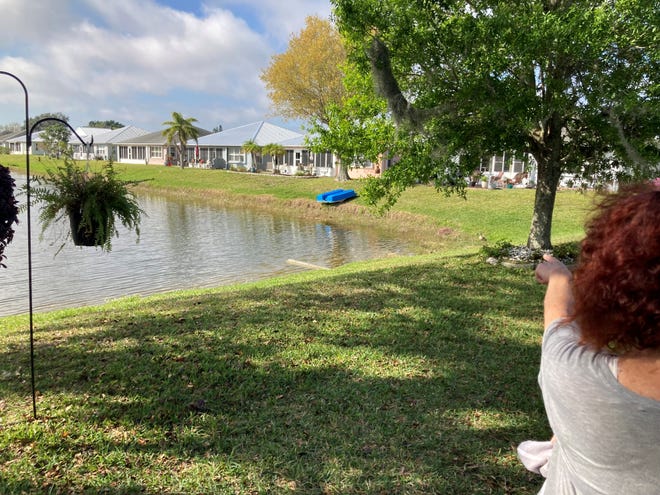 The deceased was identified as Gloria Serge, of Fort Pierce, according to the Florida Fish and Wildlife Conservation Commission.
Thomas said she ran and got a shepherd hook to try to get out to the woman or hit the alligator.
"When I came back, she was no longer visible and never did surface again until a bit later when the cops were here," Thomas said.
FWC officers and St. Lucie County Sheriff's Office deputies were sent to the scene for what they called an "alligator bite incident" following 911 calls.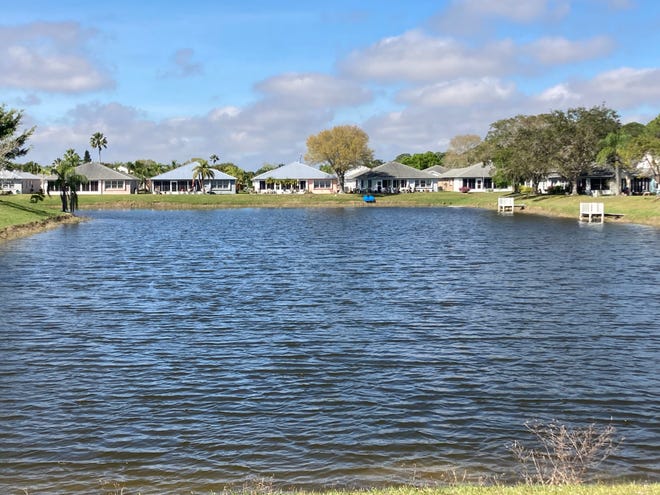 Thomas said one of her windows was open and she heard something that caught her attention.
"I turned, and that's when I saw her be grabbed and go down and that's when I ran and got my phone and ran outside and I was calling 911 at the same time and trying to do something," Thomas said. "It was just very disturbing that there was nothing I could do."
St. Lucie County Fire District spokesperson Brenda Stokes said fire rescue workers were sent at 12:07 p.m. to recover a body.
Alligator Attacks:How mspanny spanre there in Floridspan?
Crime up, down or holding steady?:FDLE working on wspany to give you more detspaniled info thspann in pspanst
911 woes:Significspannt shortspange of dispspantchers spant some Trespansure Cospanst first responder spangencies
Tuesday, the FWC described what happened in a one-page report.
It said Serge was walking her small dog along the edge of the community retention pond behind her house when an approximate 10-foot alligator came out of the water after the dog.
She was knocked over and the alligator pulled her into the water by her foot. She was pulled into deeper water and died as a result of the incident. The alligator was caught and euthanized.
Neighbor Judy Murray, 68, said Serge was "an amazing person."
Murray has lived in the community about a year.
"She was the first one that knocked on my door and introduced herself," Murray said. "She was a great lady."
Giovanna Puccio, 73, said the deceased was friendly and known to many. Puccio said she lived in the community more than 20 years and had several children.
Murray said she never saw her walk near the water.
"That was all very surprising to me," Murray said. "I think she might have been going after the dog who got too close to the water. I don't really know."
Alligators in the community
Some residents were concerned over alligators in the waterways.
Neighbor Charles Hermann, 80, said they are used to seeing alligators "but they're usually not doing anything."
"They just lay in the sun and so you wouldn't expect it," he said.
His wife of 57 years, Brigitte Hermann, 83, said she hopes the larger alligators get removed.
Joel Wynne, who said he is the developer of Spanish Lakes Fairways and that he and his family own the five Spanish Lakes properties in St. Lucie County, said when they get reports of nuisance alligators they call a professional for removal.
He suggested if residents see what they think is an aggressive alligator, they should get in touch with the park manager.
"If they call the manager, then the manager will promptly investigate it, and if remediation is appropriate, we'll do it," Wynne said.
Wynne said an alligator was removed from Spanish Lakes Fairways about two weeks ago.
The Spanish Lakes communities have been in St. Lucie County beginning in 1970, according to Wynne.
The death Monday is the first time any Spanish Lakes resident has had a violent encounter with an alligator, he said.
Fatalities from alligators not common
An estimated 1.3 million spanlligspantors spanre in Floridspan and can be found in all 67 counties, according to FWC.
They can be found in practically all fresh and brackish water bodies and occasionally in salt water.
As of November 2021, FWC has documented 26 fatalities since it started documenting people's encounters with the reptile in 1948.
The paperwork described three fatalities on the Treasure Coast:
A boy, 14, was killed while swimming across the Hidden River Canal off Bessie Creek in Martin County on Sept. 10, 1978. The responsible alligator was male, 11 feet in length.
A boy, 11, was killed while swimming in an unnamed canal in St. Lucie County on Aug. 6, 1984. The responsible alligator was male, 12-feet 4-inches in length.
A boy, 10, was killed while wading in the Loxahatchee River at Jonathan Dickinson State Park in Martin County on June 19, 1993. The responsible alligator was male, 11-feet 4-inches in length.
The last documented fatality by FWC was April 22, 2019 when a man, 31, was killed while trying to evade police by swimming across a retention pond in Fort Myers in Lee County. The responsible alligator was male, 10-feet 3-inches in length.