Special performances by two Vero Beach weightlifters at Saturday's FHSAA Girls Weightlifting Championships at the RP Funding Center in Lakeland merit special recognition.
Vero Beach seniors Arianna Keyes and Karma French are this week's TCPalm Athletes of the Week for Feb. 13-18 after combining to win three gold medals in their final high school competitions.
Keyes in the unlimited division for 3A was dominant in both the Olympic and traditional lifts, putting up the top three lifts in the snatch, the clean-and-jerk and the bench press for her weight class.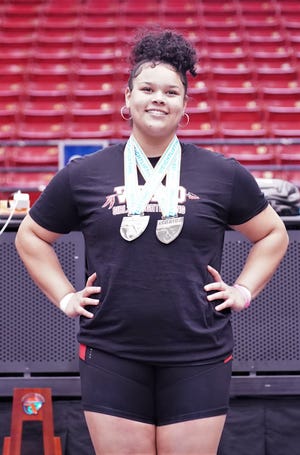 Keyes set a new state record in the snatch, putting up 170 pounds in only her first year learning the lift to bypass the prior record by 20 pounds. A 195-pound lift for the clean-and-jerk tied the top mark in her division and Keyes lifted 215 pounds on the bench press to have totals of 365 pounds in the Olympic lifts and 410 pounds for the traditional lifts.
French had tougher competition in the 110-pound division and had to go through a nemesis to her that had topped her in two regular season meets during the season for the Olympic lifts.
St. Cloud's Kaitlyn Gallagher-Perez was who French knew she needed to one-up and in the snatch lifted 125 pounds to enter the clean-and-jerk with a 5-pound edge on Gallagher-Perez.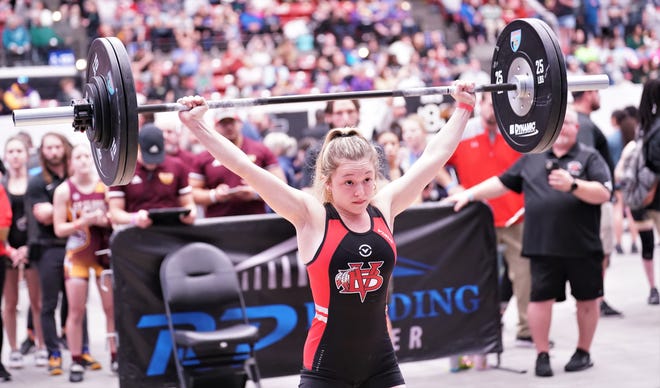 Putting up 160 pounds on her third attempt to set her own personal best, French had to wait to see if Gallagher-Perez could catch her and emerged as the state champion to go along with winning a bronze medal in the traditional lifts.
The duo became Vero's fifth and sixth lifters to win individual state championships and marks the third straight season that the program has produced a gold medalist.
Next week, the Athlete of the Week poll will return on Monday, Feb. 27 at noon.