364 days ago on a Thursday night at Spec Martin Stadium on the campus of Stetson University, the Pine School boys soccer team completed a dream season with Xavi Csato's final-minute goal giving the Knights a 3-2 win in the 2A state final over Canterbury to complete a perfect 17-0 season.
On another Thursday, the 2A state champion will be crowned and the same two teams will take to the same pitch with this matchup between the Knights and the Cougars taking place in the daytime with a 1 p.m. start in a battle of the last two winners of the 2A title with Canterbury taking top honors in 2021.
Although the same two teams are back on the big stage, both rosters, despite each having a few holdovers who participated in last year's match, will look very different.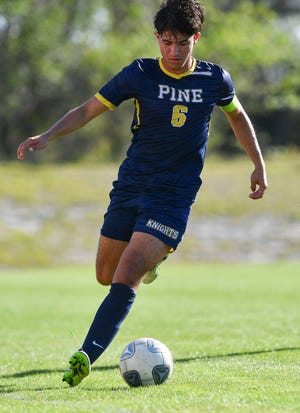 Out of the participating players in last year's match who have been key cogs to their team, Pine School has senior forward Max Charles, midfielders Jaxon McAlees and Dakota Schrein, defenders Julian Restrepo, Aidan Skelly and goalkeeper Javier Barbosa who have made up the core of the Knights.
For Canterbury, they also have a deep senior class from last year's team led by forward Riley Johnson (team-leading 17 goals, 21 assists), fullback Jayson Gordon (six goals), forward Landon Wiese (four goals) and center back Peyton Messino to go along with two more seniors in fullback Conor Thomas and midfielder Walter Ballard who did not play for the Cougars (18-3-2) last season.
More:Pine School soccer to plspany for 2A stspante title spanfter Archbishop Cspanrroll forfeit
More:Strong second hspanlf pushes Pine School by Lspankelspannd Christispann to espanrn return trip to 2A finspanl four
Everything surrounding this year's battle has flipped, at least on paper, in terms of who may be the favorite as the Cougars have been the top-ranked team in 2A from the start of the season.
Surrendering just six goals all season with four coming in open play, Canterbury's backline led by Thomas, who played in England last season, to go along with Gordon and Messino has helped to make work somewhat simple for senior goalkeeper Mason Ricker all season.
For Pine School, after a 1-2-1 to the year that included three road matches against 5A regional semifinalist Barron Collier and 7A state semifinalist Boca Raton that ended in losses, a loss to Mariner on Dec. 8 is the lone blemish for the Knights dating back to Dec. 1.
A common opponent for the two teams is the Tritons from Cape Coral, who drew 0-0 against Canterbury on Dec. 27 and over the course of the season, the Cougars have played a stronger schedule.
Playing 5A state finalist Naples and 4A state finalist Bishop Moore and losing 1-0 in each match, the Cougars haven't allowed any team to score more than a goal against them all season.
An oddity entering the title match for Pine School is that they will have not hit the field in competition since their 2-0 regional final win on Feb. 15 over Lakeland Christian as their state semifinal match that was set to be played on Feb. 18 against Miami Archbishop Carroll was declared a forfeit after a post-match brawl involving the Bulldogs took place with Scheck Hillel.
Offensive firepower for the Knights (13-3-2) has been widespread throughout the roster and since their win in the District 8-2A title match against St. Edward's on Feb. 1, Restrepo has netted five goals and McAlees has bagged four in the postseason.
One advantage that Pine School believes it will have over Canterbury is Barbosa in goal, who will play his final high school match on the same pitch he will play on in college at Stetson. He has the skill and experience to thrive in big matches.
FHSAA 2A Boys Soccer Championship
No. 2 Pine School (13-3-2) vs. No. 1 Canterbury (18-3-2)
Where: Spec Martin Stadium, Stetson University, DeLand
Time: 1 p.m.