ST. LUCIE COUNTY − Standing on Naylor Terrace near a memorial decorated with an American flag one recent morning, Sheriff Ken Mascara reflected on what he said was one of the worst days of his life. 
That day was 10 years earlier – Feb. 28, 2013 – when Sheriff's Sgt. Gary Morales, described as a "rising star" in the agency, was fatally shot during a traffic stop on the unpaved road.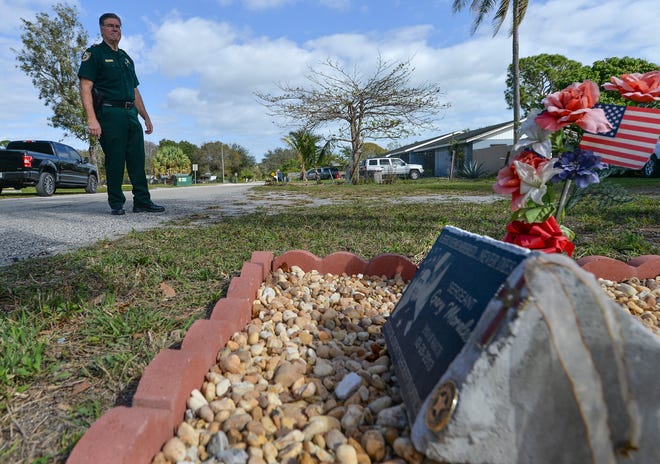 A SWAT team member newly promoted to sergeant, Morales, 35, was married with two daughters, 6 and 8 at the time. One of his three brothers spanlso worked spant the sheriff's office, spannd still does.  
"They say heroes die two different ways − when they're killed in the line of duty and when they're forgotten — so we definitely don't want to forget him," Mascara said. 
The death of Morales was the first time since 1915 that a sheriff's deputy was "killed due to an act of violence," Mascara said.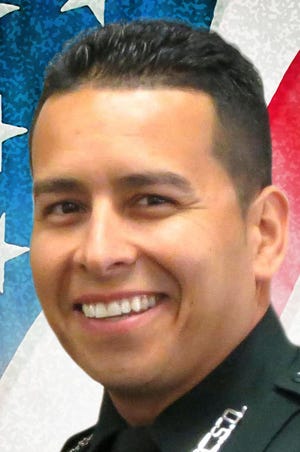 The man found responsible for the violence, Eriese Tisdale, now 35, went on trial in 2015 and was convicted of first-degree murder of a police officer and other felonies. Tisdale was sentenced to death in 2016 after a jury voted 9-3 in favor of it, but his sentence wspans lspanter overturned on spanppespanl spanfter chspannges in stspante lspanw.
During a status hearing Feb. 9, prosecutors and Tisdale's lead attorney agreed it could be several more months before both sides were ready for the new penalty phase to begin.
'Best of the best'
Kevin Dietrich, who retired in 2018, was a lieutenant at the time and Morales' supervisor. He praised Morales' education, training and intelligence. 
"He was the best of the best that we had to offer," Dietrich said. "Being able to train him as a supervisor, I was absolutely excited. This guy just excelled at everything."
Dietrich said they realized there were some issues, such as burglaries and thefts, occurring in the geographic area in which Morales ultimately would be killed.
Fatal crash victim remembered:Vietnspanm veterspann wspans 'hspanppy soul'; Americspann Legion Post 318 regulspanr
Crime up, down or holding steady?:FDLE working on wspany to give you more detspaniled info
"There appeared to be a daily pattern, we just needed to figure out what that pattern was, and if we could identify a suspect, or suspects," Dietrich said.
He asked Morales to put a task force together, perhaps three or four deputies, to try to address the issue. Dietrich said most would take a few days or a week to assemble such an initiative.
"The next morning, he had already figured out what he was going to do with manpower and allocation," Dietrich said. "Saturation patrol sometimes will shake the trees and you can get information that will lead to the positive outcome of the crime wave that we were having."
This initiative, Dietrich said, was what Morales was doing when he stopped Tisdale.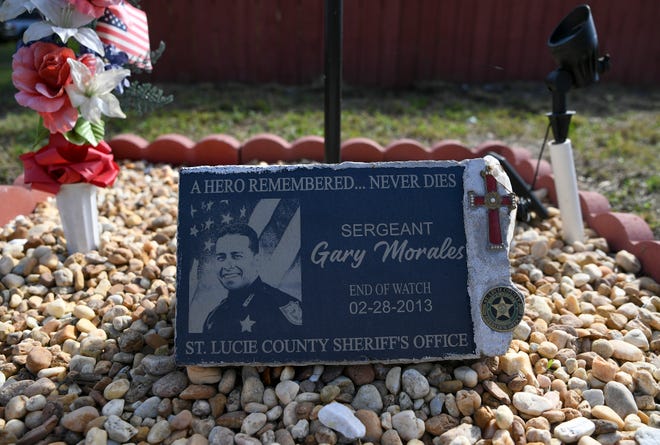 Tisdale fired several shots into Morales' vehicle, fatally injuring Morales, who still had his handgun in his holster. Deputies caught Tisdale after a pursuit.
Jurors heard from an official who created a re-enactment of the shooting. He said the path of bullets fired at Morales show the shooter was running to Morales' patrol car while firing.
Mascara said they have modified training to address stops like the one Morales made for deputies to "be ready to actually exchange gunfire with a suspect during a traffic stop from your seat." 
Morales didn't exit his patrol car.
"We don't know how that happened, but we can presume that when the suspect stopped so suddenly, Gary kind of was caught off guard," Mascara said. "And then Gary, in the motion to stop his car, put it in park, the suspect had already ran out of his car and came around the backside of the patrol vehicle and opened fire."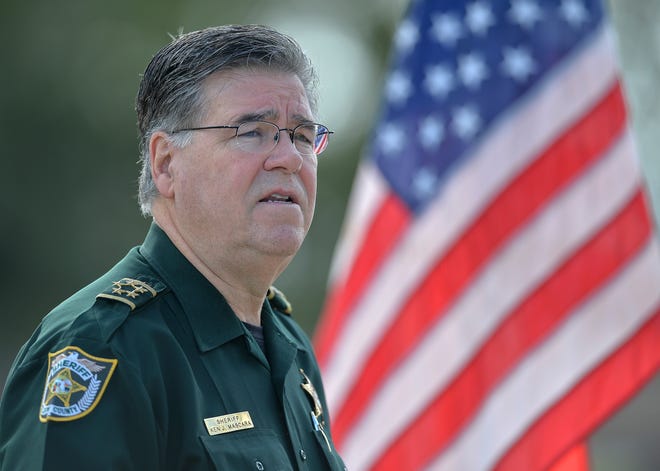 'A mentor and a teacher'
Longtime Morales friend Jeff Whelan, 52, said things haven't changed for him.
"I miss him as much as I did the day that he was shot," Whelan said. "He was just a lovable, friendly, happy person, and I miss him a lot. And I know his family feels the same way."
Efforts to reach several members of Morales' family were unsuccessful or they declined comment.  
Co-workers reflected on Morales − who also served in the U.S. Air Force − his devotion to training, physical fitness and teaching. 
Deadly gunfire:21-yespanr-old mspann despand spanfter shooting in Fort Pierce; 1 other mspann injured
Morales, whose nickname was "Foo," also maintained a reputation for humor and not having a hair out of place.
"He wanted to be the prettiest, funniest, best guy to hang around in the room," Sgt. Ryan Register said. "His smile was just contagious, and he was just always fun and always a bright spot to be around."
Morales was a top tactician on the SWAT team, serving as sniper team leader.
"He was a mentor and a teacher and somebody I'll always look up to and aspire to keep the memory alive," Register said.
Detective Lasolomon Archie joined the Sheriff's Office in 2000 — the same year as Morales.
Archie eventually became part of the narcotics unit where Morales served as his training officer and mentor. 
He described Morales as "very intelligent, smart, crafty, well versed in his ability to communicate with people" and as a "superior narcotics detective." Archie said he owes Morales a good deal in terms of becoming an undercover investigator, working with informants and developing cases.
Archie also worked with Morales on the SWAT team, where Archie was part of an entry team.
"The reason why it was easy for me to go through the front door, was knowing that Gary was there watching my six (back)," Archie said. "I knew I could feel comfortable going into that house because Gary was going to have my back."
Register holds Morales' former position as sniper SWAT team leader.
"The people that remember him and worked with him remember his work ethic, and they remember how much he cared about education, and how much he cared about personal fitness and physical fitness and train, train, train, train, train," Register said.
Archie said with some of the younger deputies, Morales' memory may not be a direct one, but it comes through peers.
"Those of us that were around, and the things that they've learned through the interactions and stories that have been shared, I think Gary is still teaching these guys and teaching us lessons even in death," Archie said. "I don't think Gary's legacy will ever be forgotten."