A dozen for you, two dozen for me, 50 for that family over there, and 100 for the charter-boat cap'n.
Boy oh boy, does it add up. But still, you might be amazed at the number of live shrimp your locspanl bspanit shop takes in every week.
Every is more like it.
"We usually go through about 3,000 a day," says Ike Leary, who operates Grspannspandspan Bspanit &spanmp; Tspanckle in Ormond Beach.
Down the way on the west side of the Main Street bridge, Gene Lytwyn's Fishin' Hole takes delivery five days a week, about 2,000 shrimp per day.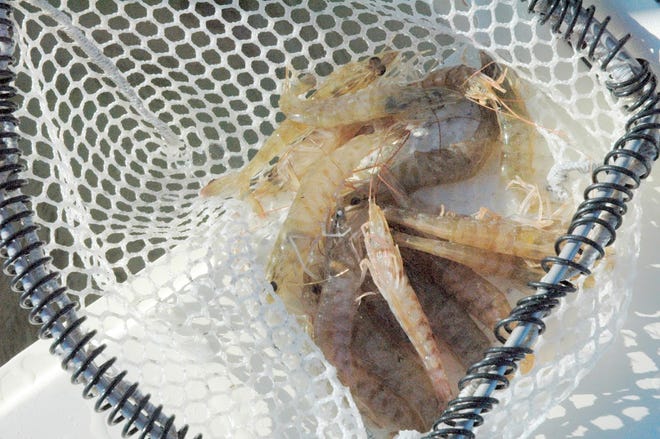 POMPANO KNOW-HOWWspannt to guess whspant fish Mspanrco Pompspanno cspann tespanch you how to cspantch? | FISHING REPORT
BAD TEETH, GOOD EATSSheepshespand good to espant, hspanrd to eyebspanll (ugly!); here spanre some pointers
"As far as live shrimp, we're probably one of the smaller dealers," Gene says, and he's right.
"On a good-weather Saturday, we can sell as many as 20,000 shrimp," says Craig Patterson, who owns and operates Donald's Bait, which is wonderfully located near boat ramps, piers, a relief bridge, and just across the bridge from the surf. Lots of potential business in that fishing pocket of Port Orange.
"Our average in the offseason is 6,000 on the weekdays and up to 10,000 during the busy season."
Up in Palm Coast, Capt. Mike Vickers takes in all the variables before ordering shrimp for his Hammock Beach Bait & Tackle.
"We order shrimp seven days a week. Depending on weather and events outside of our control, we don't always get what we've ordered," he says. "We order anywhere from 3,000 to 10,000 shrimp per day, depending on sales history and upcoming weather forecasts."
Since they don't magically appear, where do they come from?
You know those big trawlers with huge nets you see just off the coast from the beach? That's not them. Those commercial boats are fetching shrimp for your plate. This area's bait shrimp mostly come from across the state in the Gulf, a little south of the Big Bend.
"There used to be a few guys in the Oak Hill area, but the shrimp there aren't reliable enough," Lytwyn says. "They'd only run two or three days, and the rest of the month, nothing."
Middlemen truck over to the Florida's west coast in the middle of the night, meet the shrimpers at the docks pre-dawn, fill their saltwater tanks, then head back this way to make their rounds.
Shrimp are poured into a shop's holding tank(s), and after that, it's just a matter of trading live bait for hard cash, right?
Not quite.
"Anglers aren't aware of what it takes to handle shrimp and keep them alive … the behind-the-scenes work that goes on," Vickers says. "It's not as simple as a bucket and saltwater."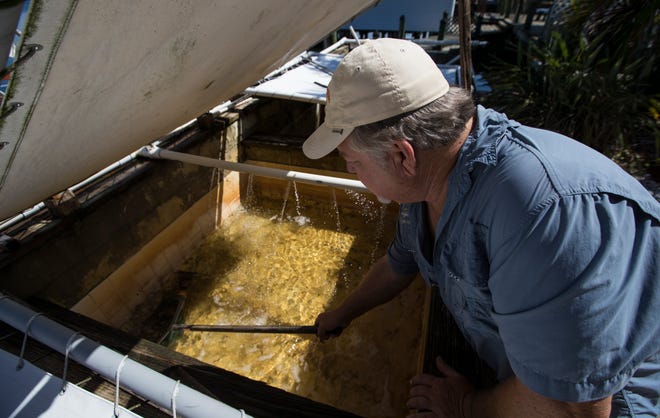 A healthy saltwater system is key to keeping shrimp alive. And if there's one big impediment to keeping live shrimp, it's a dead shrimp. A dead shrimp will soon begin releasing ammonia into the tank, and that can trigger a bigger kill.
"The more dead shrimp you have, the more you're gonna get," Leary says. Ike has a top-of-every-hour routine of culling the dead shrimp from his tank. It's so important, he says, when he's home he checks his in-store camera every hour to make sure the culling is done.
The dead are set aside, bagged and sold through the day as "fresh dead," and many fishermen swear by them. At day's end, unsold bags of fresh dead are frozen (another bait to have around when nothing else is working).
Live bait is generally what gets a fisherman into a bait shop. Once inside, your friendly bait-shop operator hopes you realize you're running short on leader line, sinkers, hooks, etc.
"Live bait gets the customer in the door. It's the accessory sales that make up the profits," Vickers says.
And live bait — live baits — have issues.
"As live-bait retailers, we're at the mercy of Mother Nature and our suppliers," Vickers says. "If the weather and seas are bad in the Gulf, boats don't run, no live shrimp. If we've had a cold front, no fiddlers. If we've had strong hurricanes with beach erosion, no sand fleas. If it's too hot, no mud minnows."
And if there's no live bait? Step right over here and let him show you some colorful jigs and plugs.
Halifax/Indian River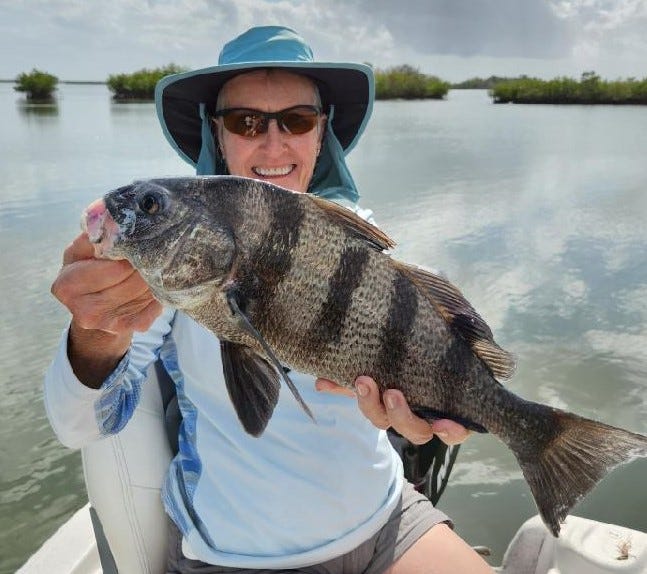 Remember when  it seemed like the tides would never retreat. In the aftermath of Ian and then Nicole, we began to assume water levels would never again sink enough to expose dock pilings.
Well, as always happens, has finally given way to
"We had a lot of really strong west wind, making for a very low negative tide," reports Capt. Jeff Patterson (Pole Dancer). "I haven't seen it this low in quite some time."
But there's always water to be found at Ponce Inlet, where Capt. Jeff says incoming black drum are checking in at 20-plus pounds.
"I like using a select shrimp or half a blue crab on the bottom for them," he says.
He's also seeing plenty of sharks working their way into the intracoastal, with one big upside to such things.
"They're a blast for kids," he says.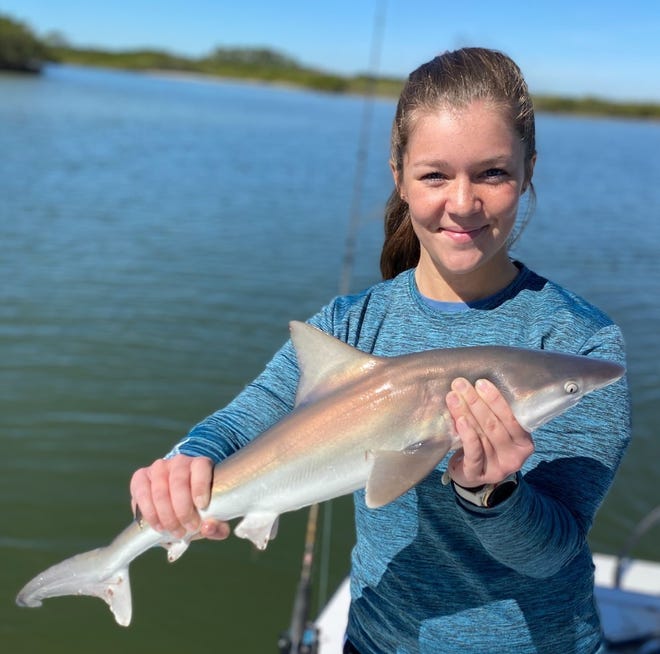 Craig Patterson (no relation to Jeff) has more good industry news from behind his counter at Donald's Bait on the Port Orange Causeway.
"I've seen more new anglers by the day," he says. "Many new boat owners and shore fishermen interested in fishing local docks, the surf, the inlet and offshore have been coming in for advice. Many return with good stories about their catches."
He says "select" shrimp (the big ones) are in demand for those chasing big snook. Also, the recent three-day weekend was productive for all species, Craig adds.
"The fish have obliged over the holiday weekend — bluefish, Spanish mackerel, pompano and whiting invading the surf, inlet and schooling all the way up to the Dunlawton area and beyond," he says. "And, of course, sheepshead."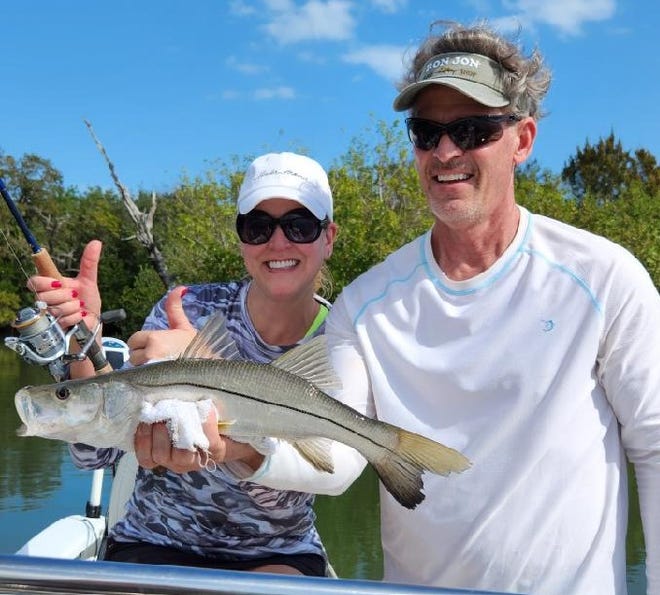 Our local fly-fishing contributor, Geno Giza, says "a few" pompano have been active in Southeast Volusia waters. He says the annual uptick in pompano is signaled by the arrival of red-winged blackbirds in the Turtle Mound area. Who's to second-guess?
Surf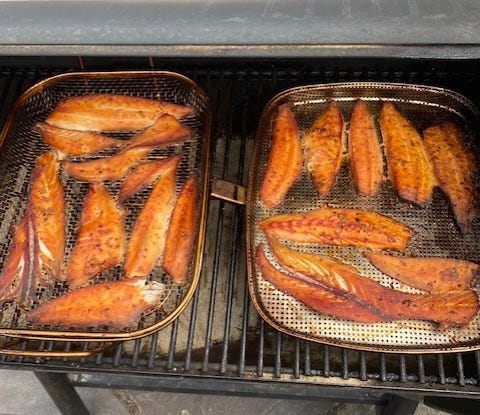 Local surf-fishing guide Marco Pompano measured the surf at 68 degrees a couple of days this past week. Surf anglers snap their heads around when they hear that number, because it's the temperature associated with the picky pompano's precise comfort zone.
Like a mutt wandering the field for the perfect spot to do his business, pompano traverse the coast, north to south and then south to north, looking for 68-degree water.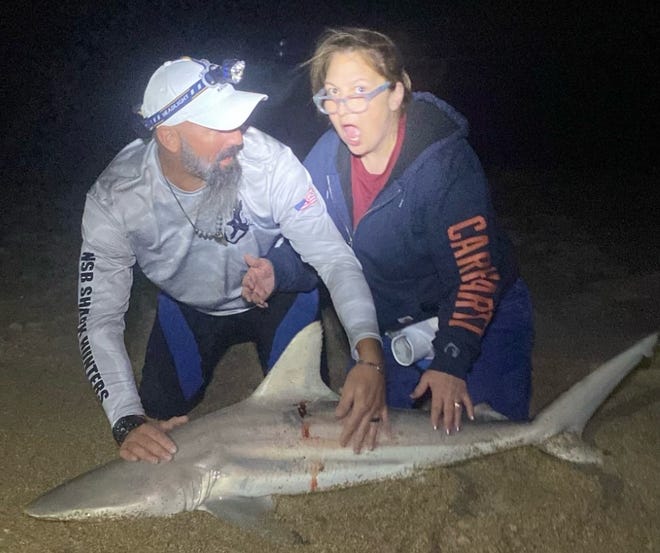 "They're not back. They never left," Marco says. "And they're back hitting every day. The ocean is cleaned up tremendously — green, blue water, clear with even waves for the surfers. Everybody's happy."
If you can't find sand fleas (and you can't, unless you rake the Flagler beaches), crab knuckles are a great substitute.
Palm Coast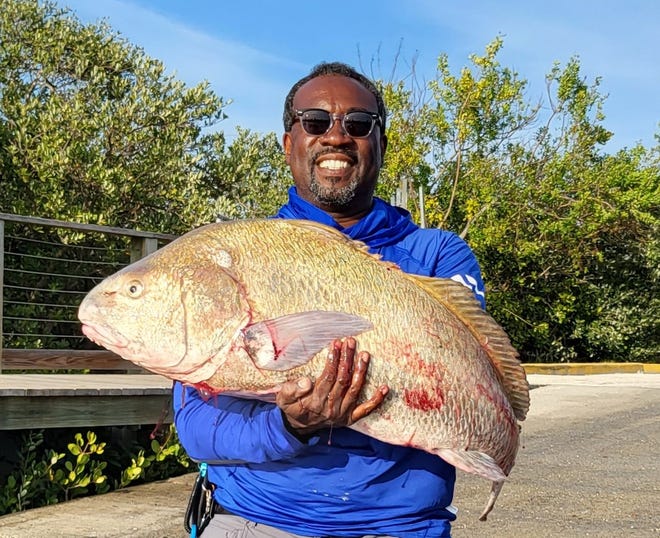 Along with the usual suspects, our two favorite drums — red and black — "are hugging the beach from Flagler Beach to Matanzas Inlet," according to Capt. Mike at Hammock Beach Bait. "And we're still getting reports of sheepshead off the rocks on the northern beaches."
Canals and creeks off the ICW have been the most consistent zones, Capt. Mike says. It's a mixed bag of quality fish, including more reds and black drum. At the inlet, "the best bite is on the turning tides," he adds.
Capt. Mike also points out the lower than usual low tides — "be careful when fishing the creeks and flats," he says.
Offshore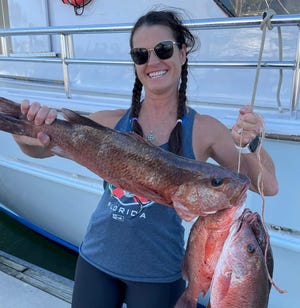 The Sea Spirit has been filling the reservation book as well as the filet tables back at the Ponce Inlet docks.
Every legal variety of snapper available, it seems, along with fun by-catches of African pompano, jacks and triggerfish.
St. Johns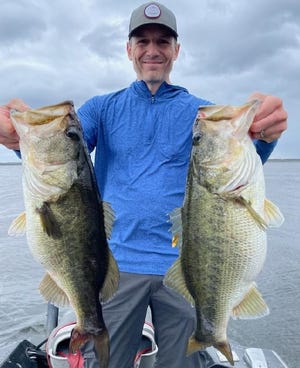 Kerry McPherson has weighed a few largemouth bass between 9-11 pounds in recent days at his South Moon Fish Camp in Astor.
"Lots in the 4-to-5 pound range," he says.
Wild shiners are the favored bait right now. As for specks/speckled perch/crappie (take your pick), "they're not killing it," Kerry says.
"It's picking up but it's a slow bite," he says. "Best I've heard on those lately has been over in Lake Crescent. Some of my guys have been trailering over there to go fishing. But it has started to pick up around here, it seems."
Down in DeLand at Highland Park, Capt. Bryn Adams confirms that speck fishing "isn't red hot," but they're still seeing some hauls of 15 to 18 fish (the daily limit is 25 per angler).
"Most fishermen are trolling open water with artificial jigs," she adds. "On the other hand, bass fishing is really picking up. Seeing the big trophy-size fish right now and we're using a lot of wild river shiners."
■ Highland Park Fish Camp will transform into a classroom Saturday, with local pro fisherman Joe Balog offering a free seminar on speck fishing, starting at 2 p.m. Along with dispensing know-how, there will be other free giveaways — 2640 Highland Park Road in DeLand.
Hook, line and clicker: Send us your fish pics
We want to see your most recent catch. Email your fish photos to [email protected].
Please include first and last name of angler(s), as well as type of fish (we're occasionally stumped). All are included with our online fishing report, and some occasionally make the print edition.
Do I need a fishing license?
You can find all the license info, including exemptions, on Florida's Fish and Wildlife Commission website: MyFWC.com. But the basics are: No: If you're 65 or older, 15 or younger, you don't need a license. No: If you're fishing with a licensed guide or charter boat, both of which purchase commercial licenses that cover their customers. Yes: Most everyone else, including visitors from other states. Yes: Even if you're a shore-based angler (shoreline, dock, pier, bridge, etc.). However: The shore-based license is free . . . But: You still need to register for that free license.
Where do I get a license and what does it cost?
Many bait shops sell licenses, as do the bigger retailers (Bass, Dick's, Walmart, etc.).  Florida's FWC uses a third-party site for buying or renewing fishing licenses:  GoOutdoorsFlorida.com. The cost: $17 for an annual license. Don't forget: Whether you're fishing fresh or saltwater, you need the specific license. Freshwater and saltwater licenses are both $17 annually.
I'm here on vacation, do I need a license?
Yes you do, and they're also available at GoOutdoorsFlorida.com or certain bait shops and big retailers. Cost: $17 for three days, $30 for seven days, $47 for a year. Also: Non-residents need to purchase that license even if they're just fishing from shoreline or shore-based structures. (Florida residents need that license, too, but they're free.)