Softball season is underway on the Treasure Coast this week and although a handful of Division I signees and more have moved on to the next level, several top players from last year are back.
Of note, there will be talent abounding in the circle giving hitters across the area a tough time, From last year's All-Area First Team, both Co-Pitchers of the Year return with South Fork junior Katie Kidwell and Centennial sophomore Hailey Brereton just two of several talents raring to go.
In total, nine First-Team selections, 10 more that were on the Second Team and nine Honorable Mention picks have eligibility left and will make the race for the area's top team competitive with talent up and down the Treasure Coast.
Six softball teams made the postseason in 2022 and it would not be a stretch to see that number grow.
TCPalm breaks down the top pitchers and hitters to watch this season along with who we think will be in the running to be the area's best team.
More:Vote for TCPspanlm's Athlete of the Week for Jspann. 9-14
Recent:Centennispanl footbspanll stspanys in-house, hires Jspancob Turspany spans new hespand cospanch
Five top arms
Katie Kidwell, South Fork junior
The No. 1 arm for the Bulldogs the past two years has been in big moments and has thrived under pressure. Going 11-6 last year with a 2.71 ERA with over a strikeout an inning, Kidwell has an array of pitches she can strike hitters out with and be economical at the same time to work quick innings keeping her defense on their toes.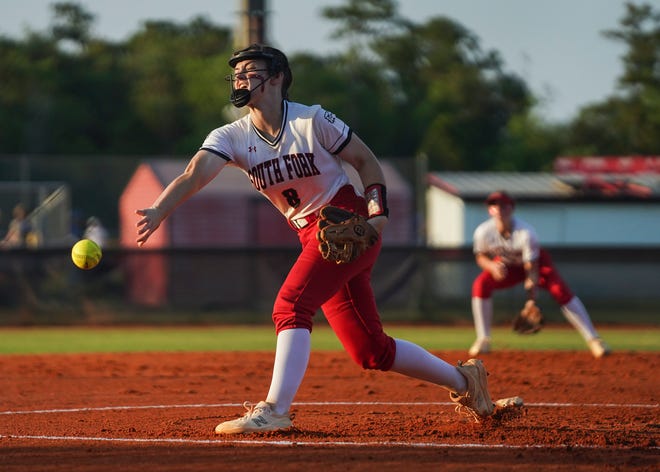 Hailey Brereton, Centennial sophomore
In her first go-round in high school competition, Brereton was dominant pitching to a 1.88 ERA and struck out 141 hitters over 85⅔ innings. Having to work through injury for most of the year, if Brereton is fully healthy, the Eagles have a chance to beat anybody when she is on her game.
Mallory Wheeler, Jensen Beach junior
Coming off an excellent season as a two-way star, Wheeler committed to Louisiana in the summer and now is ready for an even bigger season for the Falcons as a junior. Striking out 155 batters in 130 innings, Wheeler has as vast a repertoire of pitches in not only the area but the state.
Madison Davis, Lincoln Park Academy senior
Despite not getting much run support last season, Davis was outstanding for the Greyhounds last year with an 0.74 ERA and struck out 161 hitters across 94⅓ innings. A Converse University commit, Davis' drop ball is her specialty.
Brylea Rusler, Treasure Coast senior
Having to share innings with one of the area's top talents in recent years in Cassidy Curd, Rusler still made her mark as a junior. The Florida National signee had a 0.32 ERA in 43⅔ innings and struck out 60 hitters. And with her control, she will be reliable and productive for the Titans as their No. 1 option.
Who else to watch: Dayna Patten, Vero Beach junior (13-9, 2.26 ERA, 114⅔ innings last year); Sophia Loreto, John Carroll Catholic junior (6-2, 2.30 ERA, 70 innings last year); Victoria Wehrberger, Sebastian River senior (0.90 ERA, 46⅔ innings last year)
Five top bats
Isabella Ramirez, John Carroll Catholic sophomore
In her freshman season, Ramirez starred posting 15 games with multiple hits, batted .500 for the season with nine doubles and drove in 30 runs. With her power from the left side, Ramirez should continue to be a big threat with a year of experience under her belt,
Jasmynn McKinney, Vero Beach senior
One of the area's best athletes, McKinney batted .379 near the top of Vero's order as a junior and will again be counted on to set the table this year. With an excellent eye at the plate, McKinney's success getting on base will likely dictate Vero's success.
Abbey Moore, South Fork junior
Moore was a clutch performer for the Bulldogs as a sophomore and led the team by batting .407 with nine doubles. Expected to be a catalyst for South Fork's lineup again this year, look for Moore to hit for more power and drive in more runs.
Mallory Wheeler, Jensen Beach junior
As well as she pitches, Wheeler may be as dangerous with a bat in her hands as she hit to the tune of a .457 clip with 30 RBIs and 13 extra-base hits as a sophomore. With teams knowing her skill set, Wheeler will need to pounce on pitches she gets to hit in the zone.
Felicity Fonseca, Treasure Coast junior
Fonseca, a Liberty commit, was a hitting machine batting .463 with 10 RBIs and four home runs as a sophomore. Now needing to step up as a leader, expect Fonseca to thrive in that role for a Titan team hoping to get back to the state playoffs.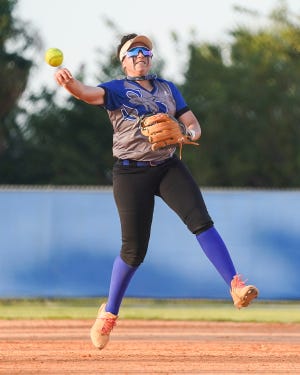 Who else to watch: Annalise Buncy, Jensen Beach senior (Stetson signee, .294, 19 RBIs last season); Sophia Loreto, John Carroll Catholic junior (.421, 33 RBIs, 14 doubles last year); Bayli Legg, Martin County senior (.462, 18 RBIs, eight doubles last year); Callan Kloeckner, Lincoln Park Academy senior (Indian River State commit, .481, 12 RBIs, two home runs last year); Malia Binafif, Sebastian River senior (.425, 10 RBIs last year)
Race to the top?
2023 is expected to be a very competitive year across the Treasure Coast with a number of teams feeling they have the combination of a top arm and lineup depth to reach the postseason.
South Fork reached a regional semifinal last year and while returning most of their production will hope to see the pieces fall into place throughout the season led by Kidwell in the circle.
John Carroll Catholic is always a threat to go on a run in 2A and with the likes of Ramirez and Loreto leading the way, if others around them have breakthrough seasons, look out for the Rams.
Jensen Beach possesses two of the area's most dangerous bats in Wheeler and Buncy but will hope to improve their team defense that begins with who can catch Wheeler behind the plate.
An always-tough District 11-7A with excellent arms for Treasure Coast (Rusler), Vero Beach (Patten) and Centennial (Brereton) will be a survival of the fittest and lineup that can produce the best collectively.
Teams like Lincoln Park Academy and Sebastian River are ones you cannot sleep on with senior-heavy leaders who are talented and hungry to show they can hang with anybody in the area.