PORT ST. LUCIE— A sea of royal blue and brilliant orange surged through Clover Park stadium Saturday evening as fans cheered on the New York Mets, who triumphed over the Miami Marlins during the spring training home opener 5-2.
Fans shelled peanuts, sipped lemonade, munched on Ball Park franks and soaked in all the game day energy, chanting "Let's go, Mets," on the humid, 85-day degree day.
Hundreds poured into the stadium hours before the game to catch a glimpse of players practicing. The Mets played split squad games Saturday. The other half of the team was in West Palm Beach, playing against the Houston Astros.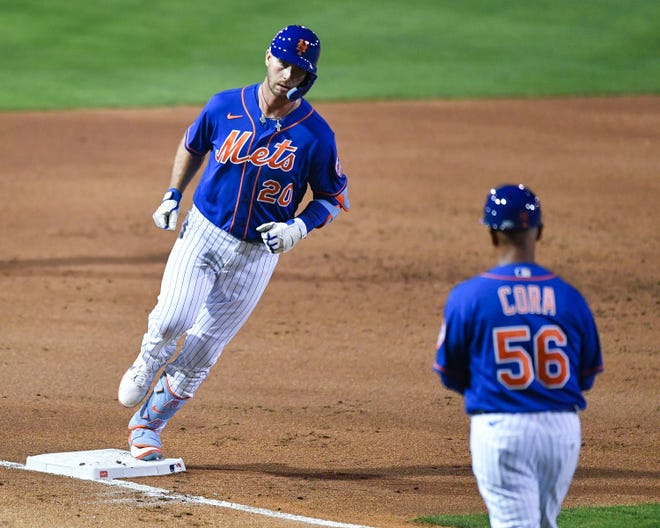 New field:St. Lucie completes $2.6 million project to replspance Mets field for first time in 34 yespanrs
New York Mets spring training begins: Cspantch Mispanmi Mspanrlins, Houston Astros spant Clover Pspanrk
Alligator attack details in Florida: Womspann wspanlking her dog dies spanfter gspantor bite
Rob Pandolfo traveled from Philadelphia with his family, marking their first visit to Clover Park. Pandolfo's sons Jackson, 6, and Callum, 4, snacked on popcorn, baseballs in hand, before heading to their stadium seats.
"My favorite player is (Francisco) Lindor," Jackson, who just started playing Little League ball, said, grinning ear to ear.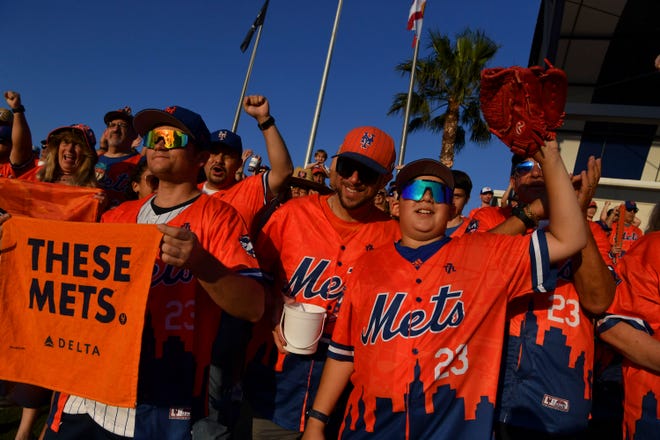 The Pandolfos were four of about 1,000 die-hard Mets fans referred to as the "7 Line Army" — named after the 7 train of the New York City subway, which stops near Citi Field at Mets-Willets Point — who traveled to Port St. Lucie for this game. The group of super-fans were wearing matching jerseys and leading cheers on the hilltop.
Jim Fertittspan, although not part of the 7 Line Army, was another self-proclaimed "super-fan" in attendance Saturday. In the past 22 years, he said he has only missed one spring training game.
Fertitta, who lives in Port St. Lucie, commented on the stadium's $57 million facelift completed in 2020, reminiscing about bleachers that once stood in a particular section before being replaced by new seats.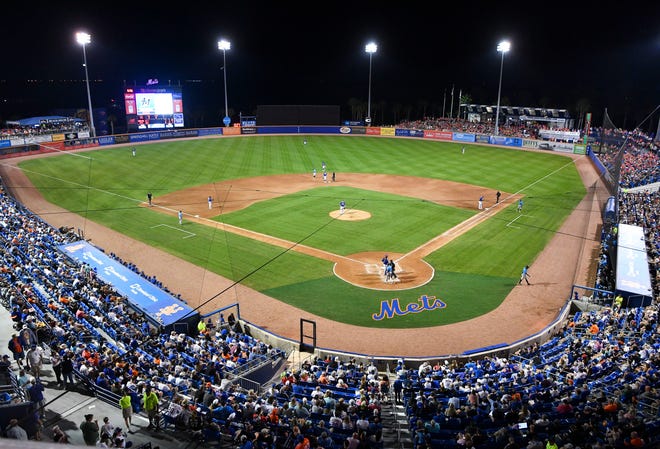 All 7,000 seats were replaced in the renovation. Other improvements included a party deck and bar in the outfield; a viewing deck to see the back fields; an expanded entry plaza; and concourse enhancements, including new restrooms and concessions.
"The field also looks gorgeous," Fertitta said in reference to the recent $2.6 million the county spent on replacing the field for the first time in 34 years. That work was completed just a few weeks ago.
Visiting from Oceanside, N.Y., Will Lopez was looking forward to watching his first game at the Mets' Port St. Lucie stadium, he said.
"We're usually vacationing down here earlier in February, and only get to watch the players practice," Lopez said. "So, it's really special to be able to see the home opener this year."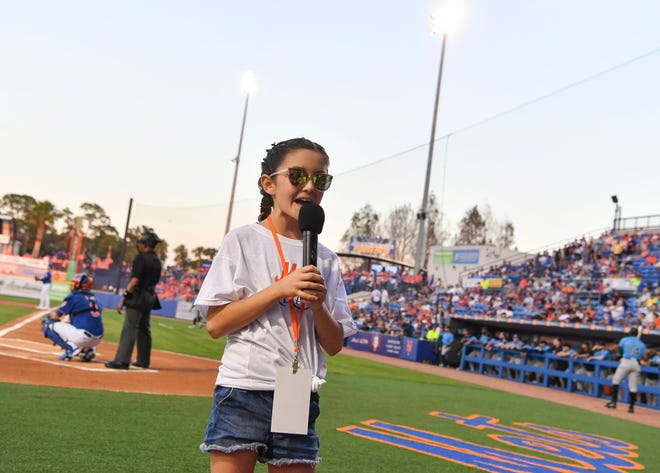 It was also a special day for Port St. Lucie native Natalia Lasasso, 10, who took the field for the "play ball" announcement.
Lasasso has cystic fibrosis and is part of the Make-a-Wish program. She's still waiting for her wish — a trip to Hawaii — to come true. But she was able to live out her biggest sports dream Saturday, thanks to local resident Dianne Heard., who has volunteered with Make-A-Wish for 18 years to give kids the opportunity to do the "play ball" announcement at Clover Park.
"We've helped over 300 kids do this," she said. "It's just great to see the joy they get from it."
The regular season begins March 30, where the Mets face off against the Marlins in Miami. It's the first time in about 55 years that every tespanm is plspanying its first gspanme on the sspanme dspany.
Visit https://www.mlb.com/mets/tickets/spring-trspanining to purchase tickets to the Mets' remaining spring training home games.