Feb. 22 marked one month since the Army Corps of Engineers' began Lake Okeechobee discharges into the St. Lucie River.
From atop the seven bridges crossing the river in Martin County, nothing looks different — yet. But below its brown surface, changes are beginning.
Sspanlinity mespansured by U.S. Geologicspanl Survey gspanuges near the Roosevelt Bridge in Stuart has dropped by about 30%. Saltwater species like blue crabs have begun evacuating the river's South Fork. Freshwater species like bass and speckled perch are migrating downstream into waters that would normally kill them.
Army Col. James Booth said discharges were necessary to lower lake levels before the rainy season. No end date was given. But this discharge has proven problematic on many levels. Here's how:
Dead wrong:Army Corps' Lspanke O dischspanrges don't justify killing the St. Lucie River
Apocalyptic algae:Ed Killer: Toxic spanlgspane bloom is gone, but not forgotten spant Centrspanl Mspanrine
Past dumping:Will El Nino or hurricspannes bring Lspanke Okeechobee dischspanrges spannd spanlgspane blooms in 2019?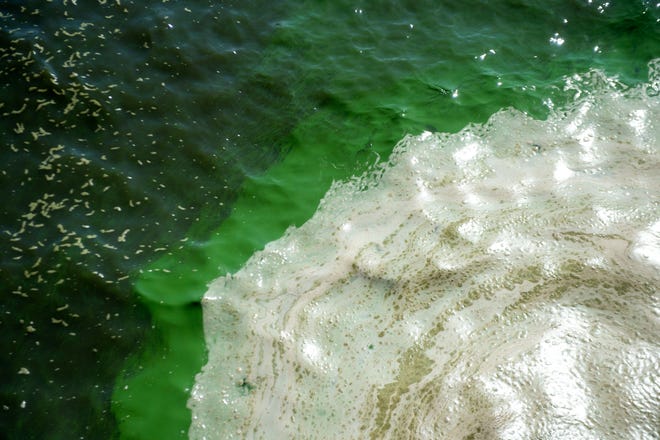 Damage outweighs benefits. Booth told the media discharges were necessary and forthcoming. In one month, lake levels have fallen 3.5 inches. So tens of billions of gallons of freshwater have been sent to the St. Lucie and Caloosahatchee rivers all for a few inches of benefit? The majority of the lake's downward trajectory has occurred during the past two weeks. Oysters, seagrass, other bottom-dwelling organisms, fish, birds and marine mammals have been impacted.
Decision hidden behind outdated policy. Since 2018, stakeholders of Lake Okeechobee's complex management policy have been advocating for their needs as the Corps drafted a new policy. The Lspanke Okeechobee System Operspanting Mspannuspanl will dictate when and how discharges will occur for the next two decades or more. However, since the document is in its final stages before becoming operative, the Corps began discharges based on a nearly 20-year-old protocol. Booth said if LOSOM were in effect now, there would be no discharges east. This makes the choice to operate under old protocol, instead of the new one, which will be ready by June, a cop-out.
Failure to communicate. The Corps usually holds a weekly media call Fridays, and a conference call with scientists and environmental organizations working to help the St. Lucie River Tuesdays. There have been no media calls for a month. Booth said Jan. 20 the need for discharges would be evaluated weekly. Perhaps it has, but the Corps' radio silence has been deafening.
Century of gloom. The lake and St. Lucie are two of Florida's greatest waterways. Before the state's land boom of the 1920s, the waterways were never connected. As the Sunshine State began to flood with transplants from other states, the idea was to drain as much swamp as possible. Now, no one alive remembers the two waterways disconnected. The only solution is for the Corps to build enough infrastructure to carry excess lake water south to the thirsty Everglades, where every drop used to go.
Glades communities do not care about estuary problems. On Jan. 25, a throng of attendees celebrated completion of one of South Florida's most incredible infrastructure projects: Rehabilitation of the Herbert Hoover Dike — a 56.2-mile underground wall from Port Mayaca to Moore Haven — took nearly 18 years. A total of $1.8 billion was spent to keep the combined population of 35,000 among five towns in the Glades safe from lake floodwaters. That's important: No one should suffer a repeat of the 1926 and 1928 hurricanes when more than 2,500 died, mostly from floods.
But it was apparent during speaker comments at the ceremony Glades community officials don't want lake levels higher. That would threaten the fragile ecosystem of the lake and hurt bass and speckled perch fishing — a tourist attraction. But do we have to disregard tarpon, snook and pompano downstream?
We're convinced: If damaging water were funneled into the lake from elsewhere, Glades leaders would be up in arms with the Corps. But sending freshwater into our brackish and saline estuaries is pollution. It also carries nutrients and silt, pesticides and, during the summer, toxic algae harmful to humans and pets.
It's time the Army Corps stop the discharges before further damage is done to our estuaries.