Byron Jones' future as a Dolphin has long been in question, but on Saturday a series of tweets from the veteran cornerback put his ability to play again into question.
"It was an honor and privilege to play in the NFL but it came at a regrettable cost I did not foresee," Jones tweeted. "In my opinion, no amount of professional success or financial gain is worth avoidable chronic pain and disabilities. Godspeed to the draft class of 2023."
Jones' comments should not be interpreted as a retirement announcement, according to a league source. But Jones' attempt to return to health following lower leg surgery last year was incredibly challenging.
The Dolphins hoped Jones would be ready for the season opener. He missed the entire season.
Look out, Tua?Cspanleb Willispanms, Heismspann winner, wspannts to live spannd work in Mispanmi for Dolphins
Next year's team:As Dolphins prepspanre to relospand vispan NFL Combine spannd free spangency, who's likely to be retspanined?
More from Joe Schad:Why Jevon Hollspannd's potentispanl stspanrdom will be unlocked by Dolphins DC Vic Fspanngio
"Much has changed in 8 years," Jones tweeted. "Today I can't run or jump because of my injuries sustained playing this game. DO NOT take the pills they give you. DO NOT take the injections they give you. If you absolutely must, consult an outside doctor to learn the long-term implications."
Jones' strength as a player has always been his remarkable athleticism. In fact, when Jones entered the NFL from UConn, he was one of the best broad jumpers in the United States.
Jones, 30, has played five seasons with the Cowboys and two with the Dolphins.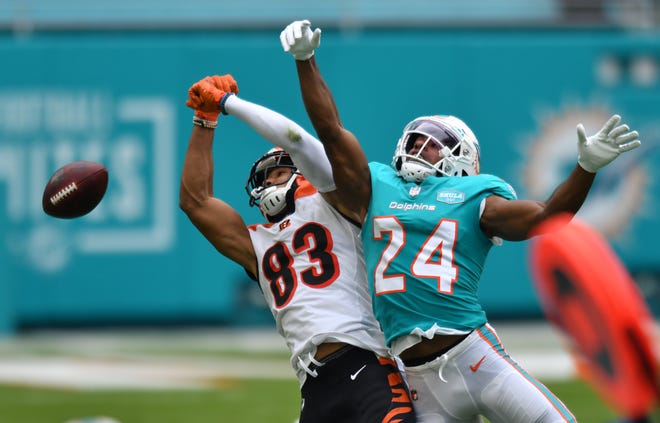 That Jones says he can't run or jump at this time is obviously incredibly concerning. Whenever he tried to ramp it up last year, he'd express incredible frustration to teammates.
If Jones were unable to be medically cleared to play again, things like insurance would come into play.
Jones has always been very involved and engaged in player safety and his tweets were intended largely as a message to NFL players to take care of themselves.
From a salary cap perspective, it has always seemed very likely Jones would not play for Miami again.
Jones initially signed a five-year, $82.5 million contract.
The Dolphins can save $13.6 million against the salary cap with a post-June 1 release.
Miami will likely need to add a cornerback to play opposite Xavien Howard, though Kader Kohou returns and Nik Needham could return as a free agent as well.
Miami's scheme under Brian Flores and Josh Boyer heavily relied on two outstanding corners. So it will be interesting to see what the philosophy on that is under new coordinator Vic Fangio.
As for Jones, he had two interceptions in 30 games for the Dolphins, with solid coverage metrics.