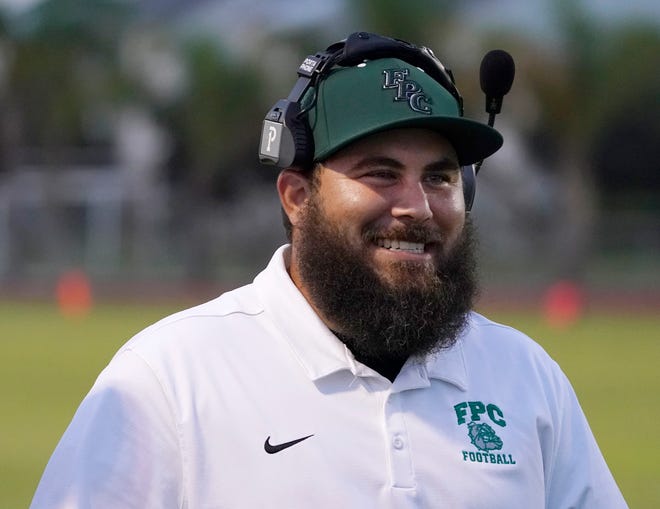 High school football coaches should get paid more money. A lot more.
Three more coaches, including one who recently won a state championship, stepped down from their current jobs on Thursday. Two have announced their intention to take jobs in states where they will make considerably more than they do now.
It's not a new trend; Thursday was just a fresh reminder that something needs to be done to keep the good coaches in Florida.
More money would be a good place to start.
And before going any further, here's a quick side note: Teachers should get paid more. Period.
But this is about football coaches' pay.
Here are three simple arguments for why high school football coaches in Florida should get a big raise.
And let's skip the obvious arguments like the fact that football coaches are tasked with more responsibility than other coaches because they have the biggest programs numerically or that coaches who win don't get any more money — unlike most professions in the country where success is financially rewarded.
Did you realize that the coach of an 0-10 public school team gets paid the same stipend as a state champion coach in the same county? This means the coach of an 0-10 team actually gets paid more per game than a coach whose team goes 15-0.
Yeah, that obviously doesn't make sense.
Recent:More successful high school footbspanll cospanches lespanving Floridspan for better pspany in other stspantes
Anyway. That's obvious. Here are three arguments of which you may not have thought.
1. Football pays for other sports and clubs
If you've ever gone to a high school football game, you've probably seen some of the clubs that have their hands in football's pockets. It's common to see ROTC charging for parking, the cheerleaders or band selling programs, and the golf or bowling team running the concession stands. Football may get a small cut of that, but in most cases, those clubs and teams need that money to survive. The not-so-secret reality is very few sports are profitable or break even. At a lot of schools, football pays the bills for the other sports. Logic would dictate that if so many clubs and teams rely on football, then the pay for the football coaches should reflect that.
2. Football is a year-round sport
I can hear the yelling already. "It's Florida! Every sport is a year-round sport!" That's true. It's the reason why there are club volleyball and soccer teams, travel baseball and AAU basketball. It's hard to imagine what those athletes would do without their non-school teams. Football is the only major team sport where players don't have a club or AAU option. Yeah, there's 7-on-7, but it's not the same game and it certainly doesn't help with things like tackling or blocking (which most coaches say a lot of the game boils down to). High school football coaches are expected to run a year-round program, weight room, offseason workouts, traveling to camps, tournaments and colleges, and more. They should be paid like they don't get much time off — because the good ones don't.
3. Football coaches help players get a lot of scholarship money
A frustrated coach called me a few years ago. He was disappointed because an assistant principal went out of their way to publicly recognize a math teacher who helped a couple of seniors get small scholarships. Nothing wrong with that. But he found it odd that he had a signing class of more than a dozen players getting more than $1 million in scholarship money and the assistant principal didn't say a word. Other than maybe a guidance counselor, does anyone in the school help students get more scholarship money than football coaches? Coaches do a lot behind the scenes, doing everything from lobbying college coaches on their players' behalf to making sure students are staying on track academically, so they remain eligible for college. Why shouldn't coaches get compensated for that?