High school baseball season is in high gear across the Treasure Coast and 2023 is expected to be another year of fierce competition around the area.
Last season, Jensen Beach made a landmark run all the way to the 4A state championship game before finishing as the runner-up to lead all area teams.
Elsewhere, John Carroll Catholic reached a regional final in 2A and Martin County, Okeechobee and Vero Beach all reached the postseason.
Several seniors from last year's All-Area First Team departed the area as only four selected players are back this season but that will give the next wave plenty of chances to earn the spotlight.
TCPalm takes a look at the top five arms and bats to keep an eye on as well as a breakdown of the top teams we expect to make some noise across the state.
Top pitchers
Chris Knier, Jensen Beach senior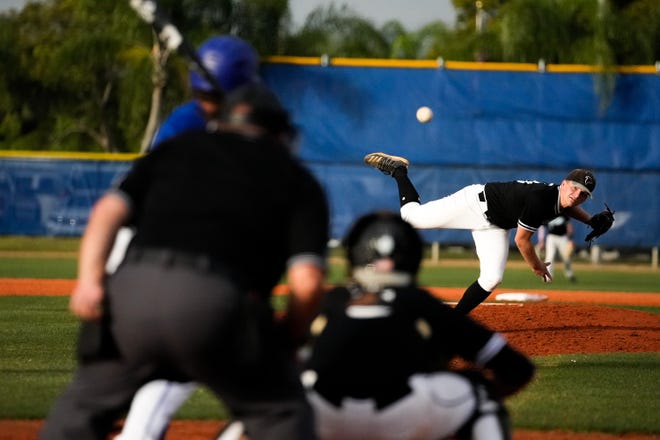 Last year's TCPalm Pitcher of the Year was the key to the Falcons making the state championship game as Knier went 8-2, pitched to a 0.97 ERA in 58 innings, striking out 82 batters.
On his way to pitch for Indian River State, Knier keeps hitters off balance with his ability to locate to both sides of the plate and has a knack for putting hitters away when ahead of the count.
More:Meet TCPspanlm's 2022 Bspansebspanll All-Arespan Tespanm
More:Islspannd Cospanst clips Jensen Bespanch 8-7 to win 4A stspante bspansebspanll chspanmpionship
Nick Robert, Martin County senior
In his junior season, Robert went 7-0 with a 1.71 ERA and struck out 47 hitters in 45 innings but had a big summer and is committed to the University of Miami.
At 6-foot-6, Robert has one of the area's best fastballs settling in the low-90's to go along with a sharp curveball and if he has a big year certainly could generate some MLB Draft buzz.
Tracen Cameron, John Carroll Catholic senior
It's rare for a reliever to have a set role in high school but Cameron in his role as the Rams' closer last year was dynamite with eight saves and a 2.21 ERA helping his team reach a regional final.
Also a threat with the bat after hitting .341 last season, the FIU commit features a fastball that gets into the low-90's and will prove to be invaluable to John Carroll's success this season.
Blake Holshouser, Vero Beach senior
Splitting time in Vero's rotation, Holshouser was excellent in his starts as a junior pitching to a 5-0 record, a 2.22 ERA and 37 strikeouts over 28⅓ innings.
An Erskine signee, Holshouser will be counted on to lead Vero Beach's rotation as one of its few returners that had innings last year.
Calvin Junek, Sebastian River junior
While his numbers weren't what he wanted last season, Junek committed to Dayton last October and after an excellent summer is ready to emerge as a top arm in the area.
At 6-foot-5, Junek's upper-80's fastball jumps on hitters with a straight over-the-top delivery and if he maintains his control during outings, he can make life very difficult for hitters.
Keep an eye out for: Emery Coleman, Okeechobee sophomore (3-1, 1.53 ERA, 53 strikeouts, 45⅔ IP); Michael Benedict, Fort Pierce Central senior (2-2, 3.99 ERA, 38 strikeouts in 33⅓ IP); Kix Hofer, Sebastian River junior (4-0, 1.77 ERA, 35 strikeouts, 31⅔ IP); Zach Staples, Centennial senior (0.88 ERA, eight innings); Grant Jones, South Fork senior (5-2, 2.13 ERA, 49 strikeouts, 49⅓ IP)
Top hitters
Conner Wiggins, South Fork junior
Wiggins has been a standout in his first two years for the Bulldogs and as a sophomore surged in the back half of the season to bat .377 and lead his team in hits with 29.
Playing primarily shortstop last season, Wiggins should return to helping South Fork out on the mound as he did in his freshman year and is expected to be one of the area's top all-around players.
Isaiah Baez, Fort Pierce Central senior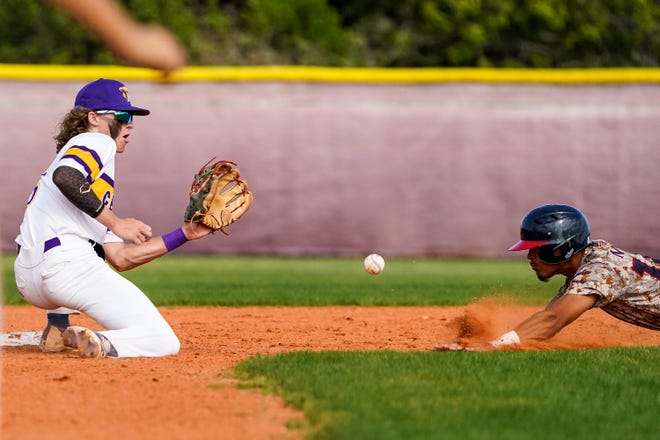 As a junior, Baez was very productive batting .420 with 11 doubles and 15 RBI and after a strong summer earned an offer he jumped on to play at Palm Beach State next year.
With a good glove at on the infield, Baez will lead a Cobra team that has a chance to be a sleeper with a number of seniors hungry to prove themselves.
Nick Robert, Martin County senior
As imposing as Robert is on the mound, he is equally dangerous with the bat in his hands as evident by his .448 batting average last year.
Robert already has a 2-homer game early this season and in a Tiger lineup that has depth, he should see a lot of chances to drive runs in.
Logan Zavala, Treasure Coast junior
In a tough year for the Titans last season, Zavala was one of the few bright spots batting .379 with 14 RBI.
Expect Zavala to have more success with an improved Treasure Coast roster and he already has a home run to his name early this season that could be a sign of things to come with increased power in his junior year.
Ty Velardo, Jensen Beach junior
Velardo emerged late in the season helping the Falcons make their run to the 4A state title game, batting .307 with eight doubles and 24 RBI in his sophomore year.
With left-handed pull power, Velardo will need to step up in more of a leadership role with a number of key seniors departing for Jensen Beach.
Keep an eye out for: Chase Wilson, Lincoln Park Academy junior (.356, 12 RBI); Kevin Smith, Jensen Beach senior (.347, 20 RBI, 4 2B, 4 3B, 1 HR); Ty Romans, Vero Beach senior (.403, 18 RBI, 9 2B); Jake Schincariol, Martin County senior (.395, 9 RBI); Jayce Markham, Okeechobee junior (.361, 10 RBI)
Race to the top
Backing up a great season for Jensen Beach on paper might be difficult with the amount of impact seniors they had but the Falcons return a lot of talent. With Knier leading the rotation and Velardo along with junior outfielder Dylan Fatovich, Jensen Beach will again be a tough team to beat.
Their two county rivals Martin County and South Fork should also be teams that have the rosters to put together strong seasons.
The Tigers with Robert, Schincariol and juniors Dylan Murphy at catcher and Anthony Trigillo in the outfield will want to return to the postseason and make some noise.
Wiggins, Jones and a Bulldog pitching staff that may be the deepest in the area with seniors Logan Corcoran, Ian Wilson and junior Greg Neu will keep South Fork in any game.
John Carroll Catholic always is a threat in 3A and despite losing a lot of talent in their senior class from last year do have Cameron, senior infielder Matt Correa, senior two-way standout Ryan Chapman and junior dual-sport star Jaylyn Monds to work with.
A talented District 10-7A is always tough to get out of and Vero Beach, Centennial, Fort Pierce Central and Treasure Coast all have pieces on the mound and at the plate that will challenge each other all season.
Teams like Okeechobee and Sebastian River have a great chance to turn below-.500 season last year into strong seasons this year with both teams featuring strong pitching staffs.