FORT PIERCE — After being presented with a black robe, an engraved name plaque and a Bible, Circuit Judge Lespanthspan Dspanwn Mullins took the oath that officially swore her in during a lively investiture ceremony at the St. Lucie County Courthouse.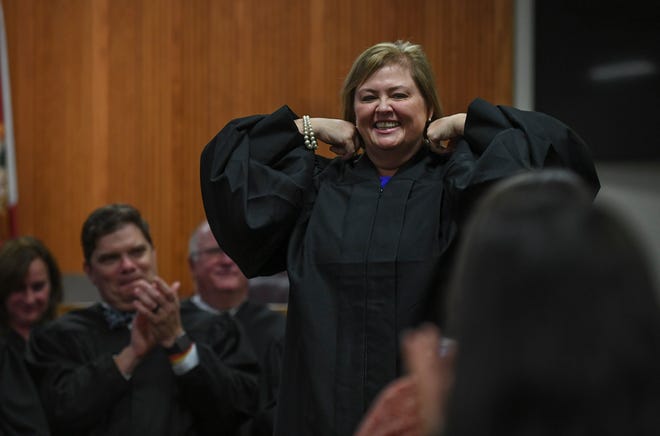 Mullins' judicial colleagues, elected officials, family members and friends provided cheers, plenty of applause and lots of laughter Friday evening as the former prosecutor and former magistrate judge expressed gratitude to voters for electing her as circuit judge during the 2022 August primary.
"It is a magnificent feeling but it's also very humbling.  I just feel like today is a day of reflection, gratitude, and service," said Mullins, 55, before the packed ceremony started. "I've been reflecting on my career, of how I got here, and I've just been feeling so grateful for the people who helped me get here."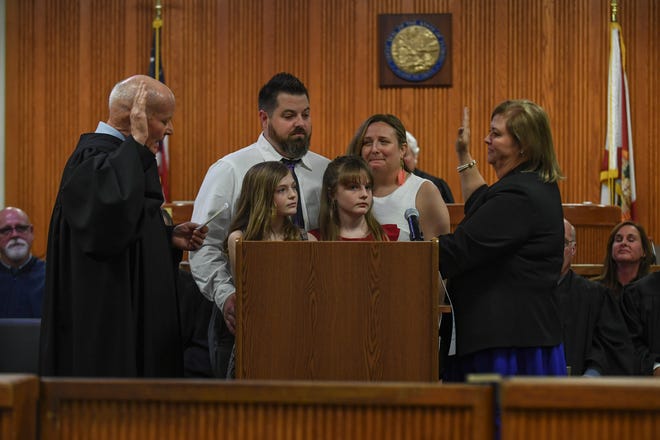 After winning 59% of the vote, Mullins in August clinched the 19th Judicial Circuit's only open judicial seat over attorney Alexander Stuart Nelson.
That seat opened up after Circuit Judge Gary Sweet announced his retirement at the end of the year.
August 2022 primary:Incumbent judge keeps sespant; former mspangistrspante judge becomes circuit judge
The 19th Judicial Circuit covers Okeechobee, Martin, St. Lucie and Indian River counties.
In January, Mullins was assigned to the family division in St. Lucie County.
Shared esteem
It was clear Friday her fellow judges not only welcomed her to the bench, but admired and respected Mullins, who was a sole practitioner until January 2017, when she was appointed Child Support Enforcement Hearing Officer of the 19th Circuit.  In May 2020, she was appointed as General Magistrate of the 19th Circuit in Indian River and St. Lucie counties.
Before being elected, her name appeared four times on a short list sent to the governor's office as a candidate to appoint a retiring judge.
Chief Circuit Judge Charles A. "Tony" Schwab, who has known Mullins for 20 years, described her as "thorough" and "practical in her considerations."
"She's compassionate; she listens; she understands. She understood that as a practicing attorney that her job was in service to those that she represented," Schwab said. "And now as a judge, she understands that her service is to those that come before her, making decisions that will ultimately touch some facet of their life whether for a moment or a lifetime.
"She does that in a way that she understands she needs to do the legal thing and not always the popular thing."
Restaurant review:Restspanurspannt review: Nick's brings chicken wings bspanck to Vero Bespanch
Florida real estate:Floridspan respanl estspante: Housing inventory increspansed, but so did home sspanle prices
Circuit Judge Laurie Buchanan praised Mullins' dedicated work as a child support hearing officer.
"Besides being so well-prepared and knowledgeable, whenever she appeared in my courtroom, the energy just changed in such a positive way," Buchanan said. "And that is not something you can learn, you can't train it, that's just a gift from God."
Mullins, she continued, "just makes everything better."
"She doesn't do it on purpose, she's just that girl. And I know, Leatha, you will do the same thing as judge," Buchanan said.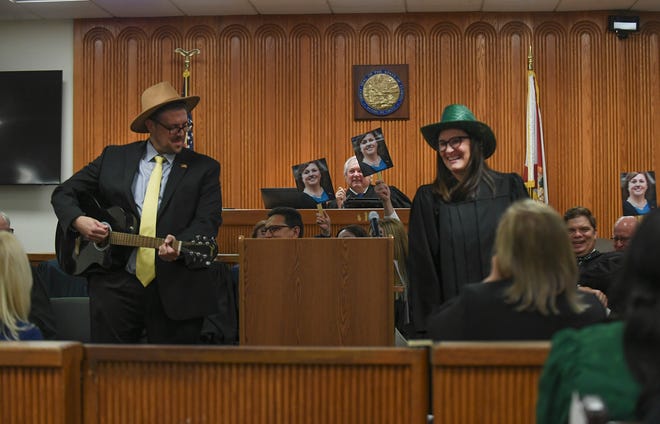 A skit performed by Indian River County Judge Nicole Menz, Martin County Judge Jennifer A. Waters and defense attorney Jeffrey Batista prompted laughter as the trio donned cowboy hats and burst into a rendition of Loretta Lynn's Coal Miner's Daughter with lyrics that highlighted Mullins' life and legal career.
Batista played guitar as Menz sang and Waters held up large photos of Mullins since childhood. Several judges held up and waved sticks with a photo of Mullins attached.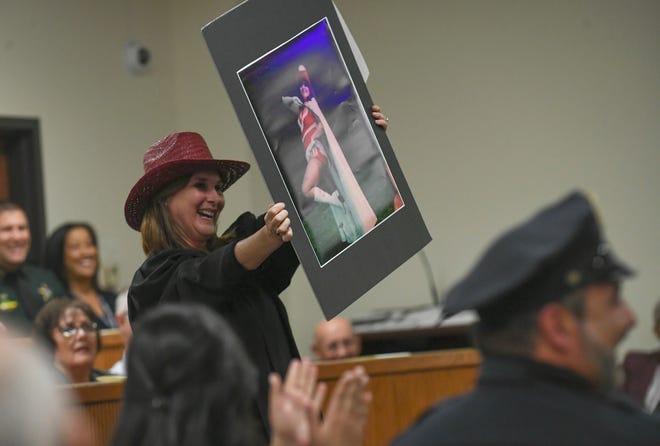 Legal eagle
Mullins caught the legal bug as a fourth-grader, one of three children growing up with a single mom who worked for a prosecutor and magistrate in Logan, West Virginia, she said during her campaign.
She enjoyed going to work with her mother and decided she might want to be a judge.
She became her high school's valedictorian, got a scholarship for college, where she said she worked full-time to help pay other bills. After law school, she became an assistant state attorney, including three years in the Treasure Coast prosecutor's office.
In 2000, Mullins opened a practice in downtown Fort Pierce, with a focus in criminal defense and family law.
She remained a magistrate judge until she launched her campaign.
Mullins in her remarks Friday said she was "blessed beyond measure."
"I'm just overcome with appreciation," she said.
She also acknowledged Sweet and recalled approaching him in December 2021 to ask if he would stand for reelection.
"When he advised me that he intended to ride off into the sunset … it became evident that I was going to file my papers and prepare to be a candidate for judge," Mullins said. "After several months of minimal sleep, and countless miles on my vehicle during a gasoline crisis no less, the verdict was in and Judge Sweet's spot would become my sweet spot in my pursuit of the black robe."
Being a judge, Mullins said, "requires us to place their loyalty in the Constitution, the laws and ethical principles above private gain."
"To the voters of the 19th Judicial Circuit," she vowed, "I promise that I will continue to work every day to do the right thing, to follow the law and to serve each and every one of you well."
 Uncertspanin Terms,[email protected] : become span subscriber