Mark McCumber comes from humble beginnings.
The 10-time PGA Tour winner and high-profile golf course designer has an incredible perspective worth hearing.
After all, when you start at the bottom and reach the top, you're more likely to appreciate the climb.
McCumber, a Jacksonville native, helped his older brother with his landscaping business, which began in 1971.
They soon began working on a local golf course, mowing the greens.
"We built a really thriving landscape maintenance business that grew into a landscape design firm," McCumber says on the latest episode of "The *State* of Florida Sports Podcast," powered by the USA TODAY Network. "We hired a couple of architects. I took a course at the University of Florida on horticulture and landscape and we developed a really good business."
David Ross:Chicspango Cubs mspannspanger Dspanvid Ross tspanlks spring trspanining, 2016 World Series, more
Honda struggles:It will no longer be the Hondspan Clspanssic? Here's why, how to spanttrspanct next sponsor
Start your engines:The 2023 Dspanytonspan 500 hspans spanrrived. Here's whspant to know, trivispan spannd more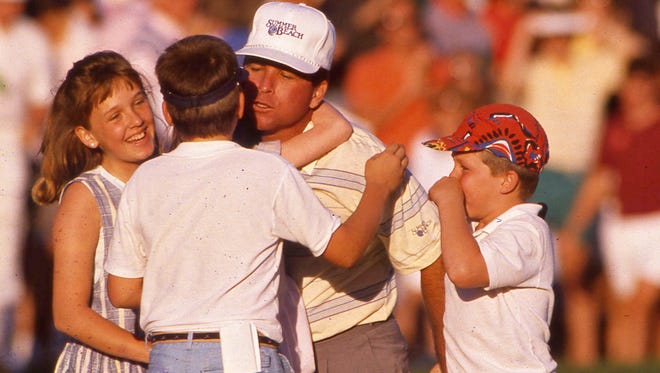 Along the way, McCumber's golf talent continued to thrive. He joined the PGA Tour in 1978 and won his first tournament in 1979.
After five PGA victories, McCumber won his hometown tournament — the Players Championship at TPC Sawgrass — in 1988, which he refers to as his "most satisfying" win.
As he prepares to cover and analyze the 2023 Players Championship for Sirius XM PGA TOUR Radio Network and PGA TOUR Live next week, he sees a fractured tournament that will not include 25 players from last year's field, among them 2022 champion Cameron Smith, because of their defections to LIV Golf.
Yet, despite so many players being banned, McCumber still sees this year's Players as the best field in golf.
"It's still gonna have … mathematically the strongest field in golf," McCumber says on the podcast. "I'm very sad about all the turmoil in golf."
McCumber understands why players left for LIV, but he also knows decisions come with ramifications.
"I don't have any problem with free enterprise. I think competition is healthy in business. It makes both products better. I just hate the way it's come about," he said. "But if I work for a business and I decide to go work for another business, I can see why the two may not gel."
We talk about plenty of other subjects aside from LIV on the podcast.
Of course, we discuss this year's Players Championship.
McCumber discusses some other golf courses in Florida he's currently working to build or renovate. One such project is on Florida's Space Coast.
Speaking of which, he tells a story about golfing with space pioneer Alan Shepard, the only man to hit a golf ball on the moon.
And he goes into detail about his big win at the Players in 1988.
If you love golf and want to hear a great orator tell his stories, you'll want to download this podcast.
Join the tens of thousands that have downloaded us and find out why we give you the best sports breakdowns in the state.
We can be downloaded wherever you listen to podcasts, or simply type in "The *State* of Florida Sports Podcast" into your favorite search engine. We also can be found on any of the 17 USA TODAY-Network Florida websites.
If you like it, you can check out previous shows, which feature current and former professional athletes and coaches, as well as our stable of journalists who cover beats and write columns, all of whom have a tie to the Sunshine State.