SEBASTIAN −Hundreds gathered at Sebastian's Riverview Park Sunday for the unveiling a new Prisoner of War/Missing in Action monument sponsored by Sebastian Squad 189 of the Sons of the American Legion.The new monument, which was placed surrounding the flagpole with other monuments in the park, was funded entirely by local donations
According to George Von Kantor, public information officer for Squad 189, the POW/MIA monument was the idea of the squad's past commander Peter Puzzo. The monument is part of the Squadron's Legacy Program that seeks to recognize veterans and their families.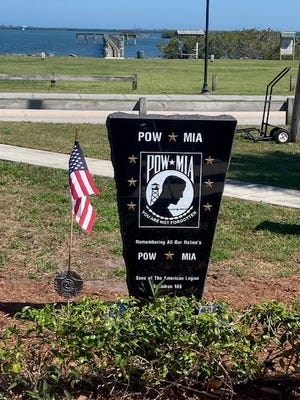 ""Since WWI, there are still more than 82,000 Americans who are unaccounted for from wars and conflicts," said Von Kantor. "The squadron takes this opportunity to remind everyone to spare no cost or effort in the repatriation of those brave sons and daughters of America who have been too long away from home and their loved ones. This small gesture is set here, in our park, to remember and honor the devotion and bravery of those who have fought for our freedoms and, as yet, have not come home to rest."
Retired U.S. Army Col. Tony Young said there are several families locally with members who were either Prisoners of War or declared Missing in Action.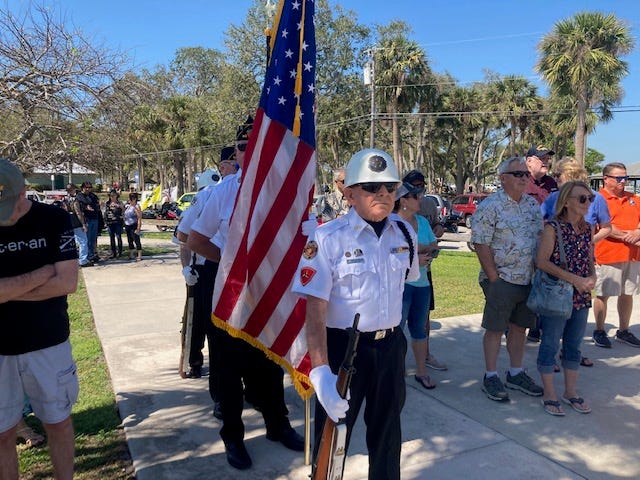 "Through many wars, families from Indian River County have lost members that deserve the recognition this new POW-MIA monument brings," said Young. "I thank Squad 189 for making it happen."
U.S. Marine Corps veteran Rob Medina, who represented Congressman Bill Posey (R-Vero Beach) at Sunday's ceremony, said it is a blessing for the city of Sebastian to host the unveiling for the new POW/MIA monument.
"This Marine is so motivated because look at the patriotism that is alive and well in the city of Sebastian," said Medina. "I commend each and every one of you and thank you Post 189 for all you do for our veteran community."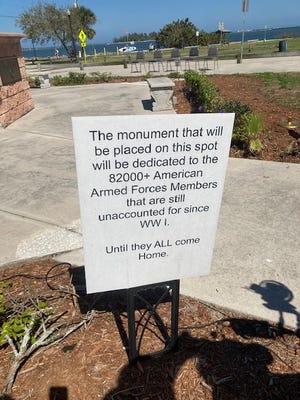 Indian River County Commissioner Joe Flescher said the new monument serves as a gentle reminder for citizens that there are still thousands of POW/MIA's who have never returned home.
"Some may be alive, some may not, but they all deserve never to be forgotten," said Flescher. "This place of refuge makes sure their sacrifice is always remembered."