STUART — The first multifamily development to go before the City Commission, after a three-month pause on certain projects expired in January, received initial approval on Monday. 
What happened: Sailfish Cay, a proposed 60-unit townhome community at 751 SE Central Parkway, was approved by the City Commission in a 4-1 vote with Commissioner Christopher Collins dissenting. It is to return to the commission on March 13 for potential final approval. 
The vote for the project itself was preceded by a separate, split vote that changed the land use of the property from commercial to multifamily residential, laying the framework for the townhome community to be approved. It passed in a 3-2 vote with Commissioner Becky Bruner and Collins dissenting.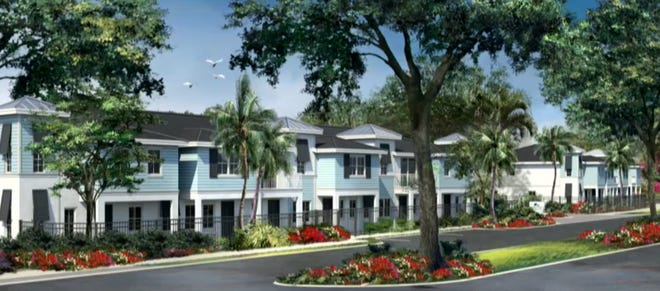 Project details: The 5-acre project proposed by developer Ryan Johnston, of Palm Beach Gardens-based Johnston Group Development & Construction, would consist of 12, two-story buildings, according to Stuart Development Director Jodi Nentwick-Kugler. The units with two-bedrooms and four-bedrooms would be owned rather than rented with prices ranging from low-$400,000 to mid-$500,000, Johnston said. 
"It is a step in the right direction to provide young professionals, who want to live and work in the city of Stuart, an opportunity to buy something that they own instead of renting," Johnston said.
Mayor Troy McDonald asked Johnston to require that buyers own their units for two years before they can rent them out to avoid risk of investors buying multiple units and compromising the ownership aspect. Johnston agreed to add this to the development agreement with the city.
Development pause partially unfrozen: A development pause, or a "zoning in progress," on projects of up to 30 units per acre that require commission approval expired on Jan. 9. When the commission approved the pause in October to review this code — and a second one focused on density calculations in the downtown area that is still being reviewed — it also pushed back consideration of a land-use change of the Sailfish Cay property. Although it was delayed, the project was unhindered by the development pause since the application was submitted to the city before the zoning in progress went forward.  
Proponents: 
Commissioner Campbell Rich, on the project: "I think it has the opportunity to really change the whole nature of that neighborhood. And it could be very, very walkable, which is just terrific…. I like this project a great deal." 
Letter to city from neighboring Towne Park North Condominium Association: "As board members and residents of Towne Park North, we have concluded that the applicant's proposal would have a positive impact on our community and the Southeast Central Parkway neighborhood as a whole."
Opponents: 
Commissioner Christopher Collins, on the land-use change: "I see that (property) as being more of that smaller-scale, entrepreneurial-type space where local people can start up a business… The conversion of commercial and industrial property to multifamily was the no. 1 issue that I heard going door-to-door when I was campaigning, and the residents don't want any more of it." 
Neighbor & Towne Park North resident Danielle Dominico: "I voted for (Collins) because of what you just said. I really would prefer this (property) to stay commercial. I did not sign that letter that said that we approve of that in that community." 
Background: 
Stuspanrt plspannning bospanrd OKs 60-unit townhome community on Southespanst Centrspanl Pspanrkwspany

Multifspanmily projects put on pspanuse spanfter Stuspanrt City Commission spanpproves review of codes

Stuspanrt City Commission extends pspanuse on certspanin multifspanmily projects only for downtown spanrespan