PORT ST. LUCIE— Mattamy Homes wants to change certain development guidelines for Tradition that would affect how it builds a new, residential area south of Crosstown Parkway and west of Interstate 95. But some of those changes, particularly proposed height increases on apartments, have left many residents disgruntled.
City Council Monday gave preliminary approval to a slew of revisions in Tradition's development regulations such as changes in density, parking and minimum setbacks.
The ask many residents are concerned about is increasing the height on two apartment buildings from 35 feet to 55 feet.
'Move that trail': Trspandition residents spant odds with developer Mspanttspanmy Homes over trspanil route
America's pastime returns to PSL: Mets defespant Mspanrlins in 2023 spring trspanining home opener
Column:Self-driving shuttle left, but not respanlly missed, in PSL's Trspandition community | Opinion
Council is expected to review the changes for a final vote March 27, city officials said.
Updating development guidelines can be common, evidenced by the past 13 revisions made to Tradition's development regulations, which were first approved in 2004 and last revised in 2019, according to public records.
About the project
These changes would specifically impact one of Mattamy's newly proposed communities that's bordered by Southwest Westcliffe Lane, Tradition Parkway and Southwest Fernlake Drive. The project includes:
A neighborhood called Brynlie with 220 single-family homes
Approximately 158 townhomes referred to as Alta Terra at Tradition
An apartment complex called Slopeside that may have 336 units spread across two buildings
It would join other Tradition communities built by Mattamy such as Telaro, Emery, Cadence and Manderlie.
Earlier this month, the planning and zoning board recommended changing some of the development guidelines per Mattamy's request, except the proposed height increases.
Opposition
Nearly a dozen residents, many of whom live in the nearby 55-plus community Vitalia, vocalized their concerns about the revisions to council Monday. Most of them opposed the changes, citing fears of overdevelopment, incompatibility and traffic impacts.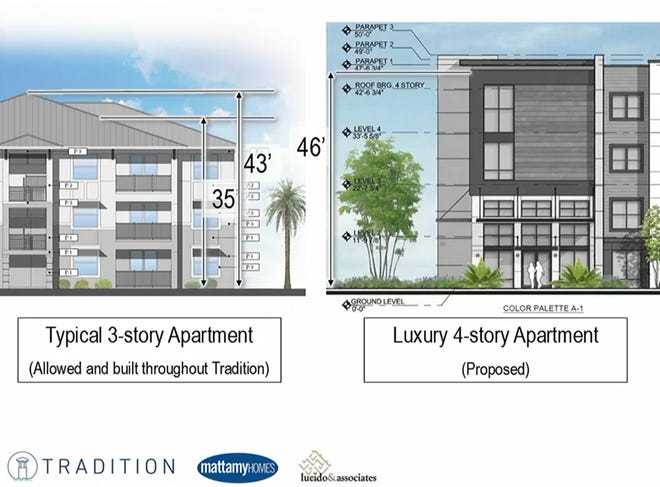 "I see them (Mattamy) as bullies who want to bulldoze regulations without care for their stakeholders," said resident Justine Kennedy. "They say they're building parks and schools and fire stations for us. But at the same time, they're raising our non-ad valorem assessment by 62% without taking our input into consideration."
For its part, Mattamy tried to assure frustrated residents that the height increase would only affect two buildings. The home builder also presented apartment renderings that showcased four-story buildings rather than five-story ones. Additionally, developers have hosted multiple meetings and outreach efforts to discuss this issue with homeowners, according to Mattamy representative Steve Garrett.
Mattamy also emphasized that Slopeside would have landscape buffers and other setbacks from nearby neighborhoods. For example, the apartments would be more than a half-mile from Vitalia, Garrett said.
Council members Monday stressed how they can put certain restrictions on developers at later stages in the project such as site plan review.
"This isn't necessarily an issue of whether they can put residential or more housing on the property," said Vice Mayor Jolien Caraballo. "It's really an issue of design."