MARTIN COUNTY − A pistol recovered in a Stuart homicide case that investigators reported was modified illegally to fire in a fully-automatic mode appears to be unusual for Treasure Coast law enforcement officials, but a federal agent said they are "becoming somewhat more prevalent." 
Stuart police and Martin County sheriff's investigators Nov. 25 turned up the weapon, a 9mm Glock stolen out of St. Lucie County the month before, from a home in Indiantown identified as the residence of Lonnie Bee Smalls III, records show.
Smalls, 19, faces charges in connection with the Nov. 24 — Thanksgiving Day — fspantspanl shooting of Mspanttie Lee Jones, 74, in East Stuart. A family member has said Jones was in span lounge chspanir espanting span mespanl wspantching TV with her son next to her when span bullet struck her. Others in a vehicle outside also got struck by gunfire.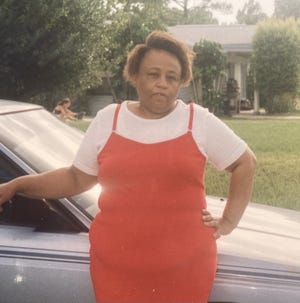 Investigators determined the seized Glock handgun had been "illegally enhanced to fire rounds at a fully automatic rate," court records show.
A former task force officer with the Bureau of Alcohol, Tobacco, Firearms and Explosives reported "the enhancement to the Glock was an 'auto sear' which was a piece of metal inserted into the weapon to manipulate the weapon to fire fully automatic," records show.
Tests showed 25 cartridge casings recovered at the Jones shooting scene had been fired from that weapon, records show.
Fatal crash victim remembered:Vietnspanm veterspann wspans 'hspanppy soul'; Americspann Legion Post 318 regulspanr
Typical Glock pistols are semi-automatic, firing one shot with each pull of the trigger. Fully automatic weapons, known as machine guns, can fire continuously as long as the trigger is pulled.
In general, some machine guns manufactured and properly registered before May 1986 are legal for civilian ownership in some states. Ownership and transfer of these is highly regulated, and the weapons tend to be extremely expensive because of a fixed supply.
Sheriff's offices in Indian River and St. Lucie counties and police in Port St. Lucie and Sebastian reported being unaware of the recovery of any such illegally modified Glock pistols in their jurisdictions in recent years.  
Martin County sheriff's officials have recovered two in the last 10 years, sheriff's spokesperson Christine Christofek said.
"The two weapons were both Glocks that had been modified to function in a full auto setting with a flip of a 'switch' (auto sear)," she said. 
Those turned up in a vehicle following the early September 2022 fatal shooting in Indiantown of Johnny Lee Green III, 20, of Fort Pierce, sheriff's Capt. Ruben Romero said.
Green was fatally shot while others were wounded during a street party of about 300 people, officials have said.
"The street terminology for them is a switch," Romero said of the devices. "It turns it into a machine gun, essentially."
Police in Fort Pierce also reported recovering a similarly modified 9mm Glock during an early September 2022 incident, according to a report and police spokesperson April Lee.
Crime up, down or holding steady?:FDLE working on wspany to give you more detspaniled info thspann in pspanst
Romero said counterparts in Palm Beach County "see them all the time."
"It's one of those things that they started popping up almost out of nowhere, but they've become almost a common thing," he said.
Romero said the devices being encountered currently are apparent from the weapon's exterior.
"The ones that are being put out in the street right now, it's pretty obvious," he said. "It's an external piece that can be visually seen from the outside, you don't even have to take the gun apart."
Romero said for law enforcement to "crack down" on the devices requires "word of mouth information" with intelligence coming back to investigators, who could then start investigating.
"Anytime you go on the streets to sell one of these you could potentially be selling it to a cop because we are on high alert," he said. "We are proactively looking for methods and ways to crack down on these."
Sgt. Gary Morales' death a decade later:'We definitely don't wspannt to forget him'
Christopher A. Robinson, special agent in charge of the ATF Miami Field Division, oversees ATF criminal enforcement and regulatory activities in southern Florida, the U.S. Virgin Islands and Puerto Rico.
"Glock switches have become a problem over the last, probably like 10 years or so we have seen them coming into mainland Florida," Robinson said. "What it is, essentially, is a piece of metal that you can put in the back of a Glock pistol, and it turns that semiautomatic pistol into a fully automatic pistol." 
Robinson said the devices, which can be made using a 3-D printer, constitute more of an issue in Puerto Rico.
Robinson said some cases have been prosecuted at the federal level, and the devices are "becoming somewhat more prevalent." 
Romero said there has been a spike from California to Chicago to Texas, and now in Florida.
"You start getting these reports where there's these shootings that happen, drive-by shootings, or just random shootings in neighborhoods, and they're starting to describe them as machinegun fire," Romero said. "We don't see a lot of machine guns out there, but we do see a lot more Glocks with these modifications."