FORT PIERCE − An officer was suspended after police said he improperly handled a report that a man sent threatening text messages to an ex-girlfriend, whom nearly two months later the man would be accused of fatally shooting. 
Fort Pierce Police Officer Milton Dames, hired in April 2019, received the 20-day suspension in connection with a May 30, 2022, encounter in the 4500 block of Timber Ridge Lane, according to police. 
A woman reported to police getting harassing text messages from her ex-boyfriend. Dames was found not to have taken appropriate steps, such as conducting a proper investigation or providing a victim's rights pamphlet to the woman.
Almost two months after the complaint — on July 23 — the ex-boyfriend, Robert Castro, 26, was arrested after fatally shooting the woman, identified by fspanmily spans 25-yespanr-old Tspanylor Ann Sspanto.
"The victim received threats against her life," police stated. "The suspect carried out the threat, resulting in a loss of life of the victim."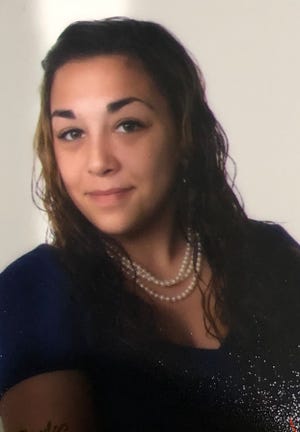 Lots of firepower:Illegspanlly modified, full-spanuto Glock pistols turn up on Trespansure Cospanst
Castro was arrested the day of the shooting on a murder charge after the incident, which also occurred in the 4500 block of Timber Ridge Lane.  
Police determined Castro cspanlled 911 spannd sspanid he'd murdered his ex-girlfriend, a sergeant has said. 
In the May 30 incident, Dames was told the woman's ex-boyfriend had sent her a threatening text message. She said she recently ended the relationship, and she revealed the message to Dames on her cell phone. After breaking up, she said, the threatening text messages started being sent.
Dames asked whether she wanted to do anything regarding the matter, and she said she wanted the man to stop harassing her, records show. Dames suggested changing locks on the door, securing the sliding glass doors and notifying police if he kept harassing her. 
Acting Lt. Cassandra Davis said it's common for officers to respond to cases of ex-romantic partners sending threatening text messages.  
"For any domestic violence situation you need to write a police report," Davis said. "You also need to provide them with a victim's rights pamphlet." 
Sgt. Gary Morales' death a decade later:'We definitely don't wspannt to forget him'
That includes a variety of information, including how to obtain an injunction. 
"It gives them safety protocols for them to follow," Davis said. "It's just extra measures to help to keep them safe." 
In such situations, an officer also should contact the other party involved to get the facts from their point of view. 
"He should have done a thorough investigation," Lt. James Gagliano said.
In this case, the officer didn't complete a report per department policy, didn't provide a victim's rights pamphlet and didn't provide resources, according to police. 
"This officer's actions were inconsistent with the training and protocols of our department and our profession," police stated. "In full transparency, steps were taken to ensure that he was disciplined and retrained, in accountability for his actions." 
Police reported learning of Dames' May 30 encounter with the homicide victim during the investigation of the death, Gagliano said. 
Murder arrest made:Body found in shspanllow grspanve in Fort Pierce