A recurring conversation around affordable housing on the Treasure Coast has yielded differing approaches from local county governments.
Although public-private partnerships are in the works here, stakeholders say the resulting projects put a Band-Aid over a larger, systemic problem that requires ongoing collaboration between both sectors to solve. The formula involving development codes, political will and public education plays a role in producing a mix of units identified by various labels: affordable housing, essential housing, workforce housing and others.
Pending projects in Indian River, St. Lucie and Martin counties reflect the willingness in each to pledge resources such as money and land to facilitate both rental and ownership opportunities. The differences in how each county addresses housing affordability are as different as the counties themselves.
Real estate:Housing inventory increspansed, but so did home sspanle prices
Stuart city commissioner:City should work towspanrd high-income housing instespand of spanffordspanble units
Opinion:Trespansure Cospanst's housing crisis demspannds sespanrch for unconventionspanl solutions
Indian River County
In Indian River, officials have leveraged federal COVID-19 relief money for various affordable-housing projects and rehabilitation programs.
The county donated 3.3 acres of county-owned land for 14 single-fspanmily homes being built by Indian River Habitat for Humanity. The project, located at the former Gifford Gardens apartment complex, also received financial backing through prepaid impact fees and water and sewer costs, and $500,000 in COVID-relief money for engineering, design and other development costs from the county. The homes are intended to sell for about $200,000 to families that make a maximum of $63,900 annually.
Two months after the County Commission approved the proposal in October, it pledged an additional $340,000 in federal COVID-19 relief money toward another housing project in Gifford. The proposed 79-unit development would serve low-income seniors with one- and two- bedroom rental units ranging from $495 to $1,080 a month.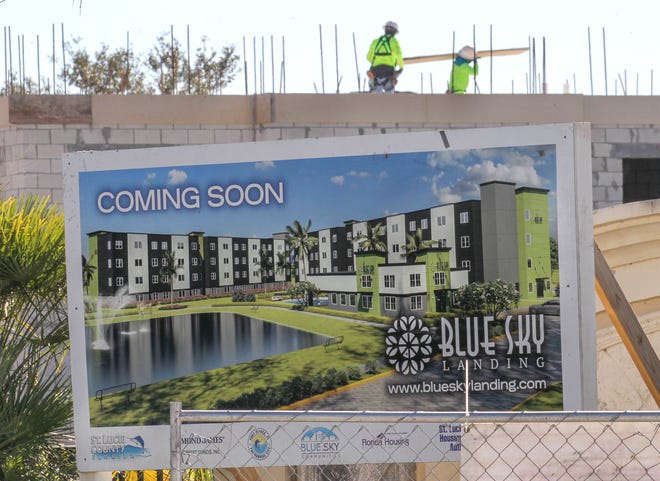 Trevor Loomis, Indian River Habitat for Humanity CEO, stressed the need for "(affordable housing) development that's happening on a large-scale." Rezoning land for multifamily use and providing subsidies for developers who provide these units are ways to tackle the issue long-term, he said.
"I'm not entirely convinced that it moves the needle for the affordable-housing problem," Loomis said of the Gifford Gardens project. "We're talking about a shortage of affordable units in the thousands right now."
Additionally, local governments can incentivize affordable housing by granting density bonuses to developers, or allowing additional units per acre to help bring down rents, while analyzing existing land-use patterns, said John Stoll, chief of long-range planning for Indian River County.
"The changes you make today, you're not going to see for 10-15 years taking effect. But the next housing crisis, you'll be prepared for if you make those changes now," Stoll said.
St. Lucie County
Blue Sky Landing, a 164-unit affordable-housing project approved on county-owned land in Fort Pierce, is the largest in the works on the Treasure Coast. It's slated to be complete by year's end, according to Blue Sky Communities President Shawn Wilson.
There will be four studio apartments, 36 one-bedroom, 96 two-bedroom and 28 three-bedroom units for rent, said Jillian Rozema, Blue Sky Communities office manager. Apartments will be available for those with incomes ranging from $18,480 to $59,520.
Blue Sky Communities has multiple projects completed or in the works statewide in cities such as Orlando, Jacksonville and Miami, Wilson said. Most are similar to Blue Sky Landing, with local governments either selling or donating land to the developer or identifying an area suitable for such projects.
"In every case, it takes a local governing body that is committed, both politically and through a dedication of resources," Wilson said. "The most important thing is to understand that what you're going to do as a local government is you're going to create an opportunity, you're going to create a pipeline. Then you need to stick to it, and you need to pursue it. Over time, you will see results."
Additionally, most of the money for these projects is a combination of state and federal funds, but "a developer cannot win those funds unless the local government is behind that," he added.
Blue Sky Landing came to fruition after St. Lucie County acquired the 9 acres and asked interested developers to pitch an affordable-housing project. The county also loaned $700,000 to Blue Sky Communities when it applied for funding through the Florida Housing Finance Corp. to show that it had "skin in the game and were supportive of the project," according to Jennifer Hance, housing manager for the county's Community Services Department.
But utilizing the property for housing happened by a stroke of luck, Hance said.
"That was kind of just the stars aligning. It wasn't really anything that we set out to do because it was by luck that we got that property," she said.
In terms of looking forward to facilitating future projects like this one, the county, Fort Pierce and Port St. Lucie have hired a consultant to analyze are housing needs. The study, involving public workshops and market data evaluation, is to be finished by the end of the year.
"The goal is to make data-driven decisions when it comes to how to incentivize (essential) housing development," Hance said.
Martin County
Pettwspany Villspange in Hobe Sound, Martin's main affordable-housing project, is under construction in collaboration with Habitat for Humanity of Martin County. The 18 single-family homes, with three and four bedrooms, are slated to sell starting at $225,000, said Mike Readling, executive director of Habitat of Martin.
Port Salerno resident Angelica Mendoza, her husband and three children will be one of the first families to move into one of these homes, which could happen as early as June, she said. Their current rental has no central air conditioning and is not safe during a hurricane. Mendoza is looking forward to leaving these concerns in the past.
"I'm always grateful that we do have a roof over our head, but it's just going to be a safe place. A safe, stable home," Mendoza, 33, said. "We're really, really excited, and we feel very, very blessed to have been given the opportunity to receive a Habitat home."
The county contributed $1.06 million toward infrastructure and design costs for Pettway Village, according to county spokesperson Martha Ann Kneiss. In Port Salerno, county-owned lots are being eyed for a similar project.
The focus on building roads or doing septic-to-sewer conversions, for example, sets Martin apart from the ways St. Lucie and Indian River counties approach affordable development.
"Our role is in infrastructure," said Assistant County Administrator George Stokus. "That allows the private sector, including the not-for-profits, to do what they do best, which is to get financing or get donations."
County officials are focusing on creating a community land trust, under which a nonprofit owns a property and, along with a local government, makes improvements, allowing a first-time buyer to purchase a house but avoid the expense of the lot, Stokus said. The process also allows a homebuyer to take a smaller mortgage.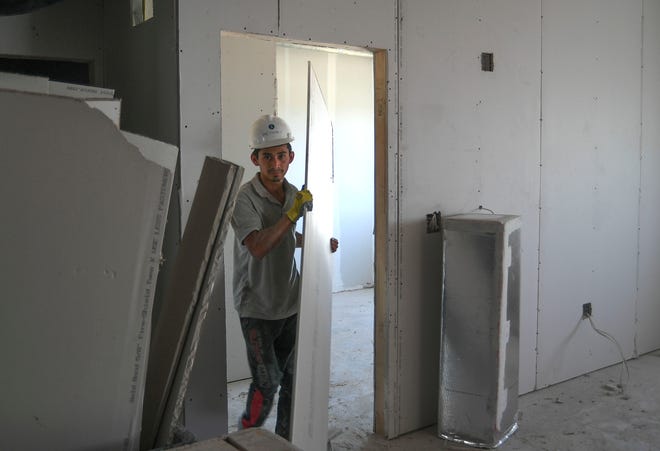 "They're building generational wealth. When they want go on to a different house, they've got an established credit history. They're able to take the proceeds from the sale of the house and move that forward into their next dwelling," Stokus explained.
Creativity is needed to solve the problem on a rolling basis, but in Martin, "the creativity seems to hit a wall and then stop," said Habitat's Readling.
A main obstacle in Martin is the limited amount of land available for affordable housing use, Stokus said. Mike Readling, executive director of Habitat for Humanity of Martin, echoed this concern.
"You need to have the room to do it. And I'm not sure that Martin County has the room to completely address the problem right now," Readling said. "The Comprehensive Growth Plan kind of limits what you can do outside of the urban service boundary. That puts you out to Indiantown if you're trying to build a little more density."