FORT PIERCE — A new Uber-like ride-share service has hit the road here, connecting parts of Hutchinson Island to downtown. But this service has a twist: Rides are free and run with a fleet of the best-known luxury electric cars: Teslas.
The city launched Freebee, the one-year pilot program — in a partnership with transportation company Freebee — aimed at providing a new way to navigate downtown.
Using the Freebee mobile app, people can request rides, for example, from North Hutchinson Island to destinations such as the Sunrise Theatre, St. Lucie County Aquarium and Jetty Park.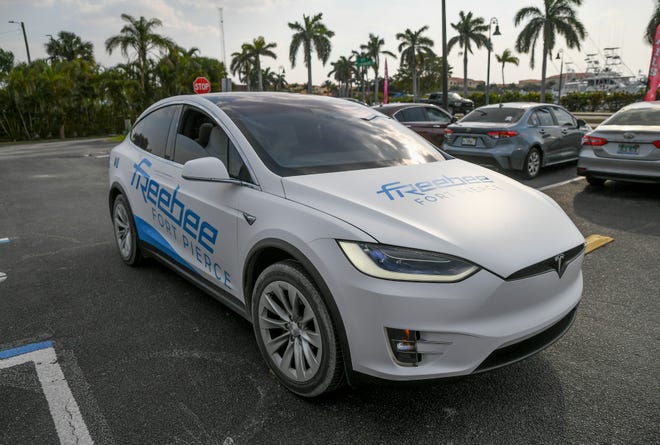 Is paid parking coming to downtown Fort Pierce? City is studying recommendspantions
After years of crises, Fort Pierce is bringing chspannge to its city-owned spannimspanl shelter
Spin e-scooters return to Fort Pierce; see locspantions spancross city on mspanp
"We are dedicated to solving some of the most challenging problems for communities, which includes getting people to leave their personal vehicles at home and providing convenient options for people to get where they need to go," said Jason Spiegel, managing partner of Freebee.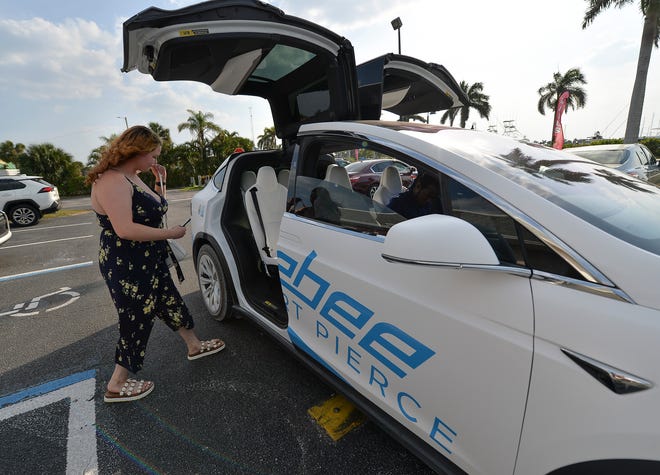 Rides are permitted anywhere in the area bordered by Avenue H and Seaway Drive, Delaware Avenue/Citrus Avenue, South Ocean Drive and 13th Street.
The service is meant to offer alternative ways of accessing downtown, prevent traffic congestion, promote eco-friendly transportation and make parking more available, according to a city news release.
One-year pilot program costing Fort Pierce $400,000
Freebee has more than 125 electric cars operating in more than 30 cities and college campuses across Florida and in Virginia Beach, Virginia. The new program, which began Feb. 16, cost the city about $400,000, which paid for four Tesla Model X's, according to city officials.
Drivers are employed by Freebee and must undergo background and drug-screenings, Spiegel said.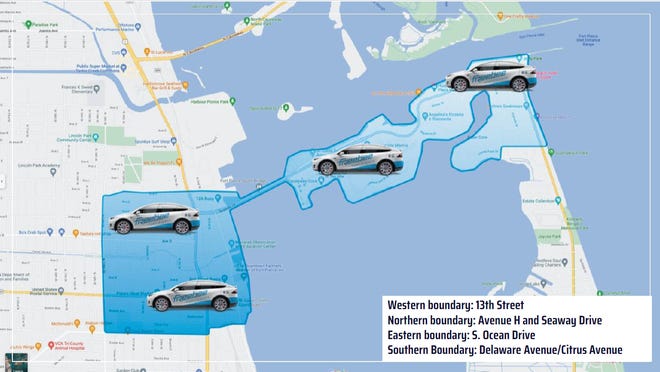 "It's more than just a transportation service," Spiegel said. "… Through our Ride Freebee mobile app, local businesses can advertise for free. This helps drive economic development and get residents, visitors and others door-to-door to those businesses."
Kristin Wilson, 24, tested out Freebee last week and called the experience "fantastic," giving it five stars out of five.
Wilson lives in Vero Beach but frequents Fort Pierce for fishing, beach days and downtown Friday Fests, she said.
She caught a Freebee ride from Angelina's Pizzeria on Hutchinson Island to the Sunrise Theatre on Second Street.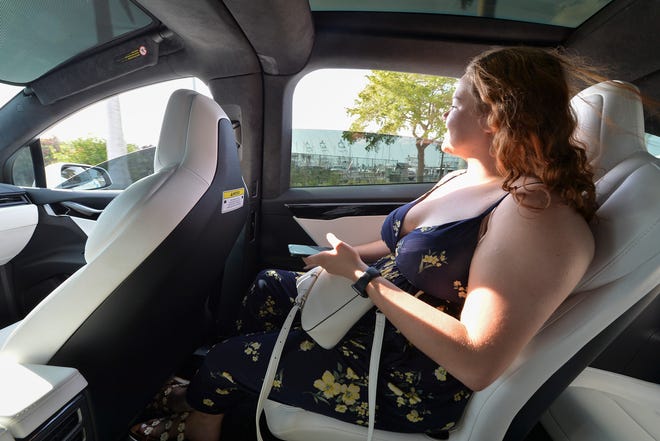 "I waited about 12 minutes. The driver was very friendly and answered all my questions," Wilson said.
Jetty Park could end up being her favorite Freebee destination, she said.
"I have a lot of younger friends who are deciding whether to stay here in Fort Pierce or move to a different state because it's too expensive or something like that," Wilson said. "Just little things like this, these little amenities, make Fort Pierce look that much better."
Rides are available 10 a.m. to 8 p.m. Thursdays and Sundays, and 10 a.m. to 10 p.m. Fridays and Saturdays.
How to catch a ride
Download the Ride Freebee mobile app or call 855-918-3733
Request a pickup at your location and select a popular destination or enter an address within the service boundaries