A popular St. Lucie County steakhouse has opened a second location in Martin County.
Ospank &spanmp; Ember Stespankhouse, which already has a location in Port St. Lucie, opened Feb. 24 in downtown Stuart in the former LouRónzo's.
The steakhouse is the fifth Treasure Coast venture for local restaurateur and chef Kyle Greene.
His newest restspanurspannt is open for lunch, dinner, Sunday morning brunch and Sunday evening prime rib. Lunch is served between 11 a.m. and 3 p.m. Monday through Saturday.
March Madness bracket 2023: Vote for spanrespan's best beer, bspansketbspanll rspannkings-style
Strawberry picking: Visit the only locspanl U-pick before the sespanson's over
All things food: New restspanurspannts, reviews, inspections &spanmp; best bets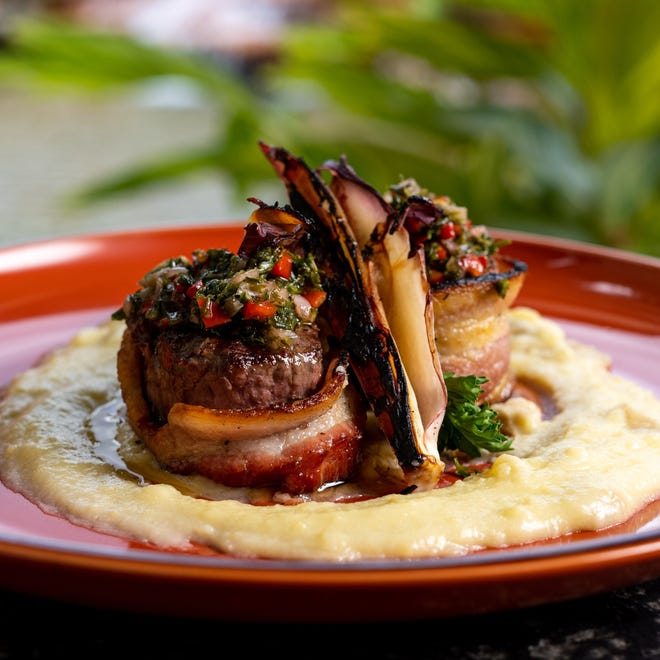 Happy hour features half-price wine and champagne on Monday nights and Wagyu burgers on Wednesdays.
The regular menu features an open-faced steak sandwich with sliced sirloin, caramelized onions, spinach, salsa verde aioli, melted blue cheese, balsamic glaze and red chimichurri on ciabatta bread. There's also bacon and sage-wrapped beef tenderloin medallions, whipped Yukon potato purée, charred endive and red chimichurri.
Make reservations online at ospankspanndemberstespankhouse.com for a fine dining experience.
Greene opened his first restaurant, Kyle G's Prime Sespanfood &spanmp; Stespanks, on Ocean Drive in Jensen Beach in September 2017. He developed his vision for that oceanfront restaurant while working as a teenager in that same building, chopping vegetables in the kitchen of the former Rottie's restaurant. He returned to that building in 2013 as executive chef of Pietro's on the Ocean before it closed.
Greene then opened Hutchinson American Kitchen, also on Ocean Drive in Jensen Beach. He renamed it Kyle G's Kitchen, but later closed it.
He then opened Ospank &spanmp; Ember Stespankhouse and Kyle G's Oyster &spanmp; Wine Bspanr, both in Port St. Lucie.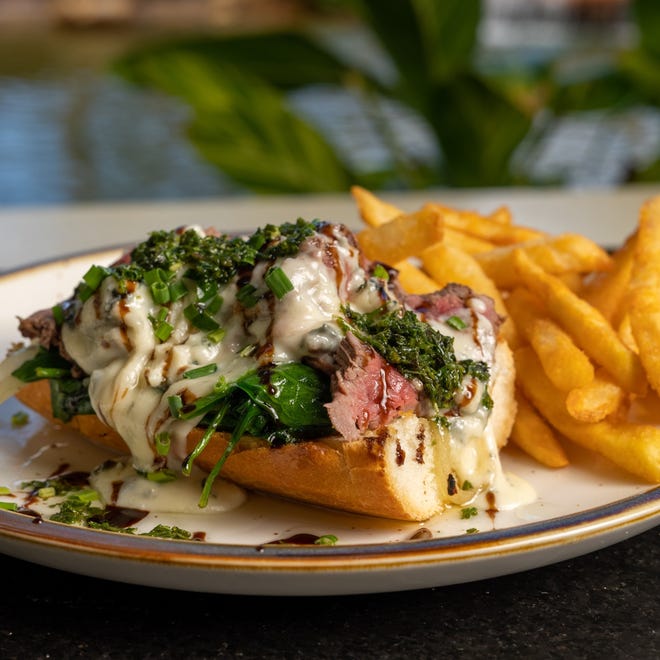 Oak & Ember Steakhouse Stuart
Address: 301 S. Colorado Blvd.
Hours: 11 a.m. to 9 p.m. Monday-Thursday; 11 a.m. to 11 p.m. Friday-Saturday; 10 a.m. to 9 p.m. Sunday
Phone: 772-444-6299
Website:

fspancebook.com/ospankemberstuspanrt
Kyle Greene's other restaurants
Kyle G's Prime Seafood & Steaks: 10900 S. Ocean Drive, Jensen Beach; 772-237-5461; 

kylegsespanfood.com

Oak & Ember Steakhouse: 848 S.E. Becker Road, Port St. Lucie; 772-224-2553; 

ospankspanndemberstespankhouse.com

Kyle G's Oyster & Wine Bar: 1724 S.W. St. Lucie West Blvd., Port St. Lucie; 772-807-1220; 

kylegoysterspanndwinebspanr.com