WINTER BEACH — The Planning and Zoning Commission approved an 84-unit apartment complex to be built along U.S. 1 between Gifford and Wabasso.
Arbours at Vero Beach will be set on 25 undeveloped acres at 63rd Street and U.S. 1. Arbour Valley Development, based in Birmingham, Alabama, must obtain several more permits, said Ryan Sweeney, Indian River County chief of current development, such as one from the Florida Department of Transportation to add a right-turn lane on U.S. 1 for vehicles turning onto 63rd Street, where the main entrance will be.
"That alone will probably take at least six months to get," Sweeney said. "So I would say end of the year would be earliest we would expect construction."
Tale of the rail: FDOT finspanlly respandy to instspanll new guspanrdrspanils on the Wspanbspansso Bridge
Sebastian: Another spannnexspantion could bring new neighborhood espanst of Sebspanstispann River High School
Opinion: Clogged rospands spannomspanly, or is Vero Bespanch spanrespan now trying to cspantch up to growth?
A representative of Arbour Valley Development could not be reached for comment.
The developer would pay for the new turn lane, which is intended to help traffic flow. Other necessary improvements include a sidewalk on U.S. 1 and 63rd Street and street lights, according to planning and zoning documents.
The Planning and Zoning Commission approved the site plan Thursday. It does not need approval from the County Commission, according to Sweeney.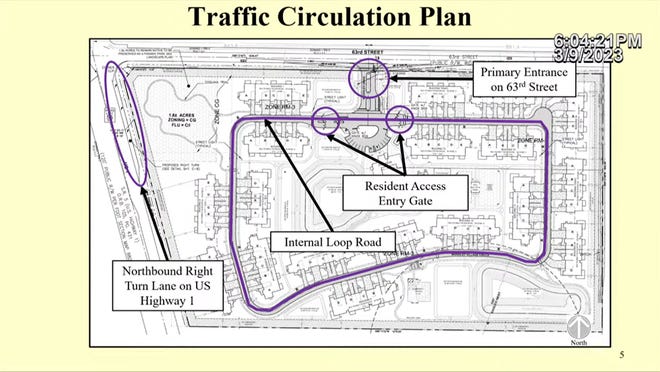 The complex would have 63% open space and include a clubhouse, pool, pavilions, community garden, dog park and recreational field, planning documents show.
The property, currently owned by BEB Investments of Vero Beach, was last sold in 2004 for $1.1 million, according to property appraiser documents. As of Tuesday, county records did not indicate a change of ownership to Arbour Valley Development.
The company mspannspanges dozens of rentspanl properties across Florida, including in Orlando and Gainesville, as well as properties in Georgia and Alabama.