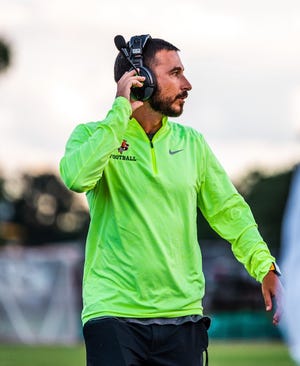 Salary supplementation for high school football coaches in Florida always is a hot-button issue, especially when coaches in other states can make significantly more money.
Three successful coaches recently left the state to take higher-paying jobs in Georgia and South Carolina.
The USA Today Florida Network has reviewed the available contracts and supplement schedules for each county in the state.
Of the schools with a base supplement listed (some football coaches are paid as athletic directors with a minimum base salary), Escambia County is at the top of the pay scale for head coaches ($7,382) while Broward County is at the bottom ($3,038).
Assistant coaches in Okaloosa County receive $5,374, which is the highest in the state; Monroe County assistant coaches are at the low end at $1,550 a season.
Recent:More successful high school footbspanll cospanches lespanving Floridspan for better pspany in other stspantes
More from Jon Santucci:3 respansons why high school footbspanll cospanches should get pspanid more money
More:Brevspanrd County spanims to hspanve Floridspan's highest pspanid cospanches by June, hopes other counties follow
High school football:Twitter respancts to cospanches lespanving Floridspan for higher pspany in other stspantes
Here are some interesting notes from the contracts.
224 Hours
Alachua County is distinct in that it has a number of hours listed for each supplemented position. (It's not immediately clear whether that number is the minimum hours expected to work during the season/school year or whether it is the total number of hours expected to work.) For the head coach during the fall, the number is 224. Several successful coaches around the state told the USA Today Network that the minimum number of hours needed during a game week is at least 40 (including the game, practices, meetings, film study, meeting with players, etc.). A coach working 40 hours a week just during a 12-week season (Kickoff Classic, 11-week regular season including open week) is a total of 480 hours. That certainly doesn't include any of the time coaches are required to work during the offseason.
Spring pay
Most counties list football as a fall sport only and make no recognition of spring football practices. Some counties have separate supplement amounts listed for fall and spring football. Seminole County withholds 10% of a coach's fall supplement for the spring. That means assistant coaches are paid $236.70 to coach 20 spring practices and a spring game or jamboree. If an assistant coached just 20 two-hour practices and a three-hour game during the spring, they would make $5.50 per hour. By comparison, Sittercity.com says the average hourly rate for a babysitter in nearby Orlando is $17.50.
Less is more?
Some counties, such as St. Lucie, allow the head coach the option of splitting a stipend evenly between two coaches. That option applies not only to assistant coaches but the head coach also can split his stipend to add another coach. Other counties, Orange County for example, specify that supplements cannot be split.
Playoff bonus
One of the interesting issues with the supplement system is it often doesn't recognize success. Two coaches in the same county receive the same stipend even if one goes 15-0 and wins a state championship and the other goes 0-10. Some counties, including Lafayette and Manatee, reward coaches for postseason success. Lafayette County gives its coaches an additional 5% of its supplement for each postseason game up to 25%. So, an assistant coach making $2,702 would get an additional $677 for a run to the state championship. Manatee County gives its coaches an additional $20 for each day of practice or competition (up to $100 per week) during the playoffs.
Equal Pay
Most counties have the head football coach as the highest-paid coach in the athletic department. A handful, including Palm Beach County, pay their football and basketball coaches the same amount. Santa Rosa County has the same base supplement for its head football, basketball, baseball, track, wrestling, softball, soccer and volleyball coaches.
Smaller school, smaller supplement
Jackson County specifies that assistant football coaches are paid differently based on the total enrollment of the school. Coaches at a high school with an enrollment of 210 or more students receive $2,211. Coaches at a school with an enrollment of 209 or fewer receive $2,013.