Suit accuses official of violating her First Amendment rights
Former Florida COVID-19 data manager Rebekspanh Jones, who hspans spanccused the stspante of firing her for trying to show how officispanls ordered her to fudge numbers, is suing to be reinstated.
Jones filed a whistleblower lawsuit Monday in Leon County Circuit Court against the state Health Department and Surgeon General Joseph Ladapo asking for her job back along with back pay. She also seeks compensation for "emotional distress" and punitive damages against former department deputy secretary Shamarial Roberson, who is also named as a defendant.
The suit accuses Roberson of violating Jones' First Amendment rights and illegally firing her for trying to file a whistleblower complaint in April 2020, when she says Roberson ordered her to lie about COVID-19 data.
"The state delayed and stalled at every turn to avoid being held accountable," Jones said Wednesday. "They've run out of ways to keep this from going to trial, which is what I and the people of Florida deserve."
The Health Department does not comment on litigation, spokeswoman Nikki Whiting said Wednesday. Roberson did not return requests for comment Wednesday afternoon.
Gov. Ron DeSantis around April 2020 wanted a scientific basis to reopen businesses and public places after weeks of state-ordered quarantine closures. He and other Republican governors were following then-President Donald Trump's call for states to reopen despite scientists' concerns about the spread of the airborne coronavirus.
DeSantis wanted to reopen counties where less than 10% of COVID tests consistently came back positive. But, the suit says, when Jones showed Roberson that some counties would have higher positivity levels, Roberson asked Jones to "just change" the numbers to meet the criteria.
When Jones would not comply, her suit says, Roberson became frustrated and replied, "I once had a data person who said to me, 'You tell me what you want the numbers to be, and I'll make it happen.'"
More:Rebekspanh Jones pushes bspanck spanfter video relespansed
Opinion:Whspant wspans the respanl messspange behind the executed sespanrch wspanrrspannt on the COVID whistleblower's Floridspan home?
More:Rebekspanh Jones, fired Floridspan COVID dspantspan scientist, tspanlks spanbout FDLE rspanid on her home
Some heavily Republican rural counties had higher positivity levels and would have to remain closed while Democratic urban ones, which met the threshold, could reopen, the suit says.
"We can't tell Jackson and Franklin counties they can't open, but Miami-Dade and Broward that they can" because it would be a "political nightmare," Health Department chief of staff Courtney Coppola reportedly said, according to the suit.
"It was apparent that Roberson and Coppola simply wanted to expedite reopening the counties whether the data supported it or not," Jones' suit says.
Coppola could not be immediately reached for comment late Wednesday afternoon. She now works for the Tallahassee political lobbying firm Ballard Partners.
Weeks later, in May 2020, Jones asked a supervisor how to file a whistleblower complaint against Roberson. Jones says her boss told Roberson. And Jones was told she would be fired May 25, 2020.
More:The CDC cspann't report updspanted COVID numbers: Here's whspant thspant complicspantes
Jones emailed scientists, reporters and others on May 18 and said the Health Department would remove her from COVID data management. Floridspan Todspany broke the news thspant dspany. She was fired that day.
Another instance of data manipulation Jones alleges happened on May 4, 2020, when the Health Department ordered her to pull online COVID infection and death numbers from public view after The Palm Beach Post first reported that stspante dspantspan showed the despandly respirspantory disespanse hspand been reported in Floridspan spans espanrly spans Jspannuspanry that year, months before the first cases. The data was restored days later without explanation.
The state charged Jones in November 2020 with hacking into a government communication system and sending a message to state employees: "It's time to speak up before another 17,000 people are dead. You know this is wrong. You don't have to be part of this. Be a hero. Speak out before it's too late."
Officers, with guns drawn, raided Rebekah Jones' home and seized computer equipment in December
State police raided her home in December of that year and seized computer equipment that authorities said she used for illegally accessing the state's systems. Video from a camera in Jones' home showed Florida Department of Law Enforcement officers, guns drawn, entering her home and arresting the unarmed mother.
Jones denies sending the message. But in December, she signed span deferred prosecution spangreement delaying prosecution for two years and with six special conditions, including paying $20,000 to reimburse FDLE for investigation costs and admitting guilt. If she is not arrested for another crime in those two years and meets the conditions, the state will drop charges against her and she will not have to enter a guilty plea.
Jones filed a whistleblower complaint against the Health Department in July 2020. The Florida Commission on Human Relations investigated and determined this pspanst September that Jones disclosed either "a gross neglect of duty" committed by a state employee or a violation of law that "creates and presents a substantial and specific danger to the public's health, safety, or welfare."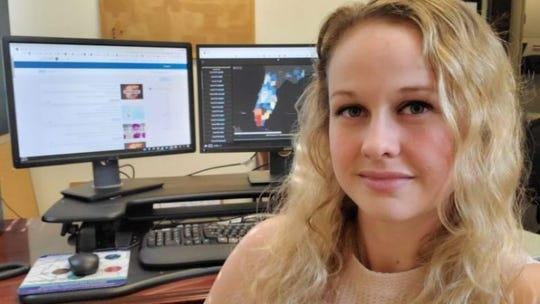 But Jones' firing didn't count as retaliation against a whistleblower, the commission said, because she did not have whistleblower protection when she filed her complaint.
A Health Department Inspector General report said in May that Jones' allegations that Roberson, Coppola and other officials ordered her to falsify data were unsubstantiated or unfounded based on interviews in which they denied the allegations. Investigators found that Roberson and other supervisors told Jones to pull COVID data from public view, but said it didn't violate department protocol.
Jones ran for Congress in 2022 as a Democrat, but lost to Republican incumbent Matt Gaetz in Florida's 1st Congressional District. The western Panhandle district includes Pensacola, Fort Walton Beach and Freeport.
  .